Happy January! Or what I like to fondly refer to as the month when the internet gets bombarded with recipes for salads and smoothies.
But let's not get into a funk over the whole dieting thing. Which consequently has never really been my forte. I'm sure that doesn't surprise anyone here.
Instead of depriving ourselves, let's drink smoothies with chocolate in them (YES!) and eat big, hearty salads that don't make us feel like we are eating rabbit food. Deal? Good.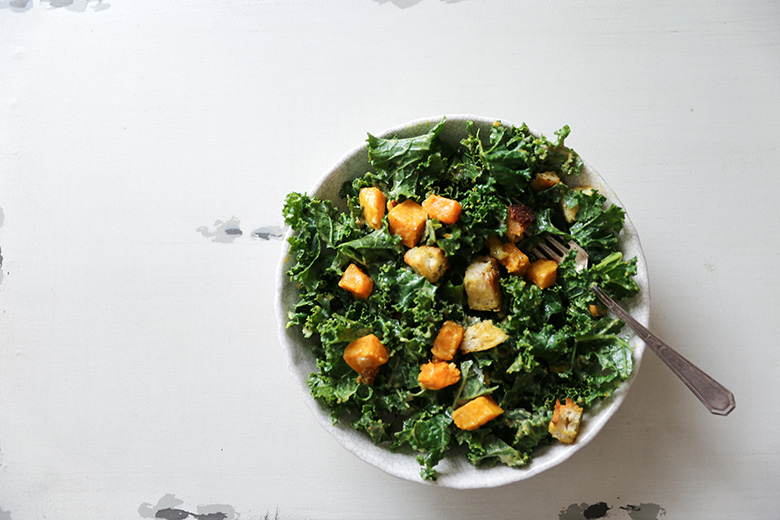 So how does one construct a leafy green salad that doesn't feel like rabbit food? Well, here is what I like to do. I start by choosing kale, not only for the nutritional benefits, but also because it has a big chew factor. All that chewing makes me feel like I'm eating something substantial. Then I add in roasted butternut squash for a hint of something sweet. And garlic and preserved lemon peel for a little zip. And because I'll never give up on bread (can't stop, won't stop), I toss in some crunchy croutons. But not any old croutons. These are homemade spiced croutons and they are a million times better and more flavorful than any store-bought versions. Trust me. Oh and don't forget about the dressing. Tahini paste makes a dressing that is so rich and creamy, it's hard to believe it's completely vegan. This stuff is magic.
I hope you give my Kale and Butternut Squash Salad with Indian-Spiced Croutons a try. It's totally NOT rabbit food.
Cheers,
Liz
Ingredients
For the Salad
4 cups peeled and cubed butternut squash
1 small shallot, peeled and thinly sliced
2 garlic cloves, peeled and minced
4 tablespoons extra-virgin olive oil, divided
1/2 tsp. salt, divided
1/2 tsp. pepper, divided
1/2 tsp. curry powder, divided
4 cups cubed bread (a rustic loaf works best for this)
1/4 tsp. garam masala
1/8 tsp. ground ginger
1 large bunch of kale, thick stems removed and discarded
2 tablespoons preserved lemon peels, diced

For the Dressing
3 tablespoons fresh squeezed lemon juice
3 tablespoons tahini paste
2 tablespoons extra-virgin olive oil
1/2 tsp. sugar
Instructions
Pre-heat your oven to 400 degrees. In a large bowl toss the butternut squash, shallot and garlic with 2 tablespoons of the olive oil and 1/4 tsp. each of the salt, pepper and curry powder. Transfer to a rimmed baking sheet and bake in your pre-heated oven for 20 minutes, stirring once halfway through cooking time. The squash should be tender and starting to brown in a few places. Remove from the oven and set aside.
Using the same bowl, toss the cubed bread with the garam masala, ginger and the remaining olive oil, salt, pepper and curry powder. Transfer to a second rimmed baking sheet and bake in your pre-heated oven for about 10 minutes, or until the bread is dry and slightly crisped. Remove from the oven and set aside.
Meanwhile, tear the kale leaves into bite sized pieces and toss them in a large bowl. Make the salad dressing by whisking together all of the ingredients in a small bowl until smooth.
Assemble the salad. Toss the kale with the dressing until well coated. Gently fold in the roasted butternut squash mixture, the croutons and the preserved lemon peel. Serve and enjoy.
https://www.floatingkitchen.net/kale-and-butternut-squash-salad-with-indian-spiced-croutons/