I had the idea for these Maple Cranberry and Dark Chocolate Scones on Thanksgiving Day. And of course, I had to attempt to make them RIGHT AWAY. Because over the years, I've learned that if I don't execute an idea almost immediately, it will get lost forever in the milieu that is my brain, never to be seen or heard from again.
So…since I had used up all my fresh cranberries for Thanksgiving, I had to go to the grocery store on the day after Thanksgiving to buy some more. This did not go well. Because there wasn't a fresh cranberry within a 20 mile radius of my home. A fact that I should have anticipated. All the cranberries had all been snatched up for Thanksgiving. So I had no choice but to wait. And try to not lose the idea for these scones until the grocery stores had a chance to re-fill their shelves.
But now, I'm well stocked (cranberries everywhere!) and ready for Christmas baking. I love using cranberries all December long, in everything from savory breads to sweet treats (and don't forget to throw in a few salads in for balance!). They add such a wonderful, festive touch to any recipe!
These Maple Cranberry and Dark Chocolate Scones aren't just any ordinary cranberry scone. Nope. These babies are filled with roasted cranberries.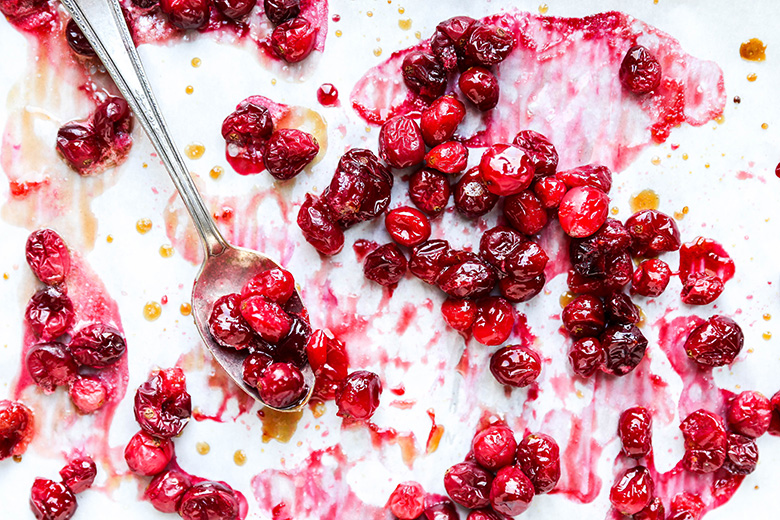 I didn't want to use dried cranberries ('tis the season for fresh!), and I worried that fresh cranberries would be too tart in the final baked good (the base recipe for these scones isn't overly sweet), so I came up with the idea of roasting the fresh cranberries first with maple syrup before folding them into the scone batter. The cranberries get slightly soft and sweet, and end up somewhere between a dried cranberry and a fresh cranberry. It's the perfect middle ground.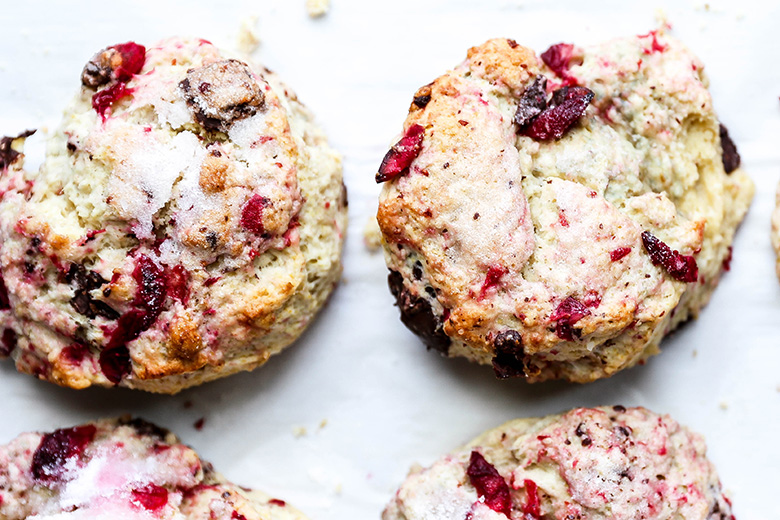 Because I was thinking these scones would be for Christmas morning, I added in big chunks of dark chocolate to make them more decadent. But you could skip the chocolate if you want something more virtuous. I also made them fairly large, using my 2 3/4-inch biscuit cutter. Again, feel free to make them smaller if you don't want to overdo it (or if you have to feed a crowd on Christmas morning).
One thing that's important in this recipe is to let the roasted cranberries cool COMPLETELY before adding them to the scone batter. Also, the batter will be wet (and will probably turn a little bit pink), and your hands will get messy. But that's OK. It will all work out!
Cheers,
Liz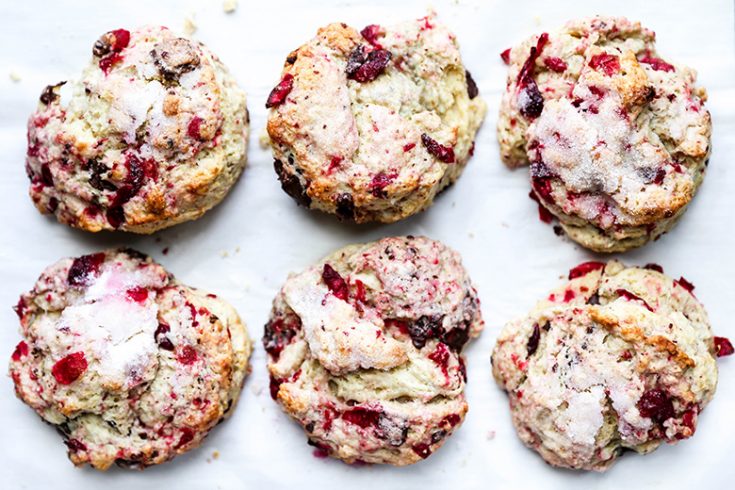 Maple Cranberry and Dark Chocolate Scones
Yield: Makes 9-12 scones

Prep Time: 30 minutes

Cook Time: 20 minutes

Total Time: 50 minutes
Ingredients
1 cup fresh cranberries, thawed if frozen
2 tablespoons maple syrup, divided
2 1/2 cups all-purpose flour
1/2 cup quick cooking oats
2 1/2 tsp. baking powder
1/2 tsp. baking soda
3/4 tsp. salt
3/4 cups (12 tablespoons) unsalted butter, cubed and chilled
3/4 cups cold buttermilk
1 egg
1/2 tsp. vanilla extract
1/2 cup chopped dark chocolate
2-3 tablespoons sugar
Instructions
Pre-heat your oven to 400 degrees.
Spread the cranberries out onto a rimmed baking sheet lined with parchment paper. Then drizzle with 1 tablespoon of the maple syrup. Transfer to your pre-heated oven and roast for 10 minutes. Remove and set aside to cool completely.
In the bowl of your food processor with the blade attachment, combine the flour, oats, baking powder, baking soda and salt. Add the cold butter and pulse until you have a coarse crumb.
In a small bowl, whisk together the buttermilk, egg, vanilla extract and the remaining tablespoon of maple syrup. Then add this liquid mixture to your food processor and pulse until the dough has just barely come together. Be careful not to overmix the dough.
Transfer the dough to a large bowl and use a wooden spoon to fold in the roasted cranberries and chopped dark chocolate. Then turn the dough out onto a piece of parchment paper dusted with flour and use your hands to shape the dough into a round disk, flattening it so it's about 1-inch thick. The dough will be slightly wet and tacky. You can flour your hands to help prevent the dough from sticking to your hands.
Using a round biscuit or cookie cutter (I used a 2 3/4-inch biscuit cutter), cut out circles and place them on a large baking sheet lined with parchment paper. Re-shape the dough scrapes and continue cutting out circles until all the dough has been used up. Sprinkle the tops of the circles with sugar, then transfer the baking sheet to your pre-heated oven and bake the scones for 17-18 minutes, or until golden brown around the edges. Remove the baking sheet from your oven and allow the scones to rest for 10 minutes before transferring them to a wire rack to continue cooling.
These are best when enjoyed on the day of baking. Leftovers can be stored in an airtight container at room temperature for 1-2 days and re-warmed slightly before eating.
SaveSave
SaveSave
SaveSave
SaveSaveSaveSave
SaveSave
SaveSave