This post was originally published here November 14, 2014. I've since updated the text and photographs. I hope you try out these cute little sweet potato stacks this Holiday season!
I'm officially declaring these Mini Sweet Potato Gratins to be the cutest sweet potatoes EVER!
Some people may even call them adorable.
And they are fully ready to steal the show at Thanksgiving. Because while these little stacks may be small in stature, they certainly aren't lacking in the taste department. They're packed with all the flavors you've come to expect from your favorite sweet potato casserole: butter, brown sugar, cream, cinnamon, orange, pecans and more. Every bite is pure bliss.
I based the idea for these Mini Sweet Potato Gratins off my Great Aunts (or maybe my Moms?) sweet potato casserole recipe that we make every year at Thanksgiving. But instead of putting all the ingredients into one large casserole dish, I decided to portion them out into the wells of a standard sized 12-cup muffin tin. Like I said before. Very cute.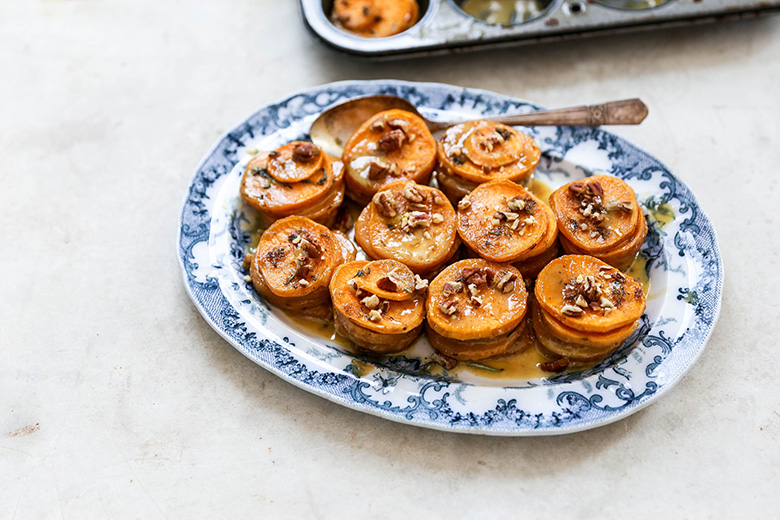 Because everything has been sized down, these gratins take only 30 minutes to fully bake. If oven space is a premium, you can bake theme off in the morning, transfer them to your serving dish, then just re-heat them for a quick minute in the microwave before serving. I've done this before. No harm, no foul!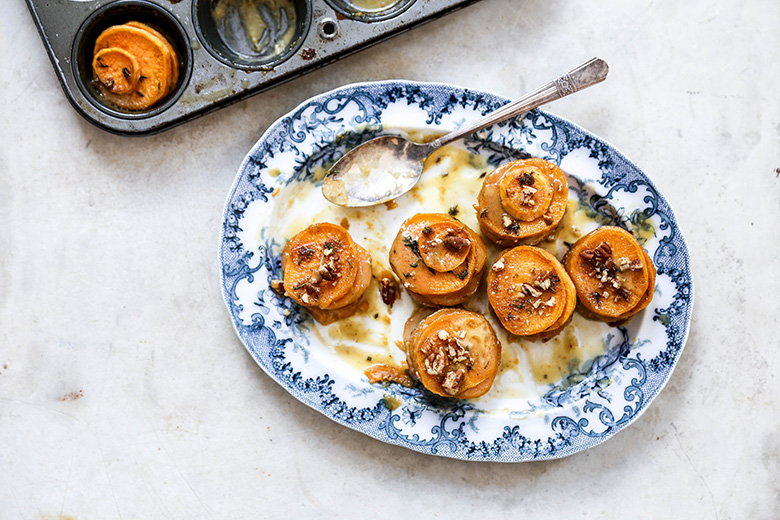 I've got a few tips that will help make these Mini Sweet Potato Gratins no fail. First, make you sure buy long, skinny sweet potatoes. Think about the size of the wells of your muffin tin when you're selecting the sweet potatoes. You want to be sure the slices will fit inside the wells! And second, these gratins will release easily from their wells, but I do recommend using a small, flexible silicon spatula to help you do this task. You'll be able to get under the stacks and lift them out flawlessly in one piece, resulting in the best possible presentation!
Cheers,
Liz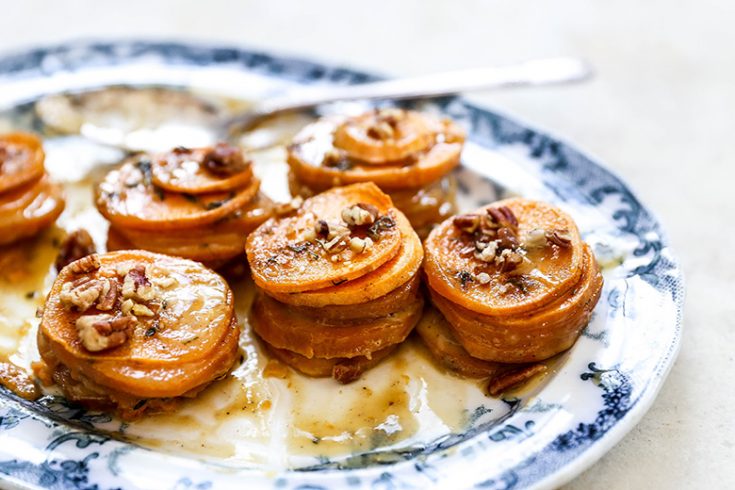 Mini Sweet Potato Gratins
Yield: Serves 6 (2 gratins/person)
Prep Time: 15 minutes
Cook Time: 30 minutes
Total Time: 45 minutes
Ingredients
6 tablespoons brown sugar
3 tablespoons unsalted butter
3/4 tsp. fresh thyme leaves, minced
3/4 tsp. fresh rosemary leaves, minced
3/4 tsp. fresh orange zest
1/2 tsp. salt
1/4 tsp. black pepper
1/4 tsp. ground cinnamon
About 3 medium sweet potatoes, peeled and thinly sliced
About 1 cup heavy cream
1/3 cup chopped pecans
Instructions
Pre-heat your oven to 375 degrees. Generously coat a standard 12-cup muffin tin with non-stick cooking spray.
Add the brown sugar and the next seven ingredients (through the cinnamon) to a small microwave safe bowl. Microwave for 30-60 seconds, or just until the butter is completely melted, then stir to combine all the ingredients. Set aside.
Add the sweet potato slices to a large bowl. Scrape the brown sugar mixture over the sweet potato slices. Then use your hands to toss and coat the slices with the brown sugar mixture.
Layer the coated sweet potato slices in your prepared muffin tin, using about 5-7 slices per well. You want the stack to come just to the top of the well. Then slowly pour a scant tablespoon of heavy cream into each well.
Transfer the muffin tin to your pre-heated oven and bake the sweet potato gratins for 30 minutes. The sauce should be bubbling and the potatoes should be cooked through (you should be able to easily insert a small paring knife into the stack).
Set the muffin tin aside to cool for 5 minutes. Then using a small flexible spatula, carefully remove the gratins from their wells and place them on a serving plate. Spoon the excess sauce that remains in the wells over top of the gratins. Then top each gratin with some of the chopped pecans. Serve immediately.