Fresh citrus is a reason to love January.
A month that I find rather difficult to fully embrace sometimes. I don't know if it's the post-Holiday blues or the relentless assault of winter, but it's all too easy to casually slip into a bit of a slump these days.
So to keep my spirits up, I try to find the joy and celebration in the small things that January has to offer. Like bright pink grapefruits and intoxicatingly fragrant Meyer lemons. And if you take a peak at the list of this months #EatSeasonal recipes, I think you'll notice that my fellow blogging friends might be feeling the exact same way as me. Because it's a bit of a citrus party up in here!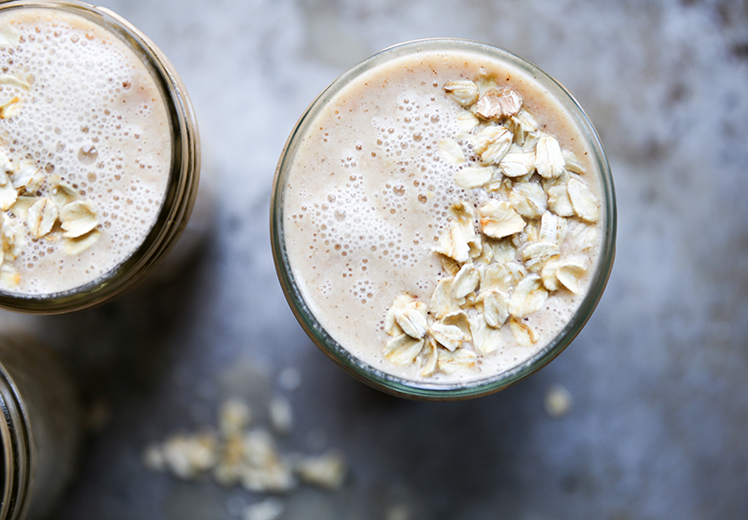 I've been feverishly buying up every variety of citrus that I can get my hands on. And now, I've got way more than one person can reasonably consume. Whenever I find myself with an embarrassingly large quantity of something, it generally ends up in morning smoothies. Hence, the birth of this Oatmeal and Citrus Smoothie.
I used half of a pink grapefruit and a whole orange, but you could certainly use whatever combination of citrus fruits you like/have on hand. However, this smoothie isn't very sweet to begin with, so I'd definitely recommend sticking with the less pucker-inducing varieties. This was also my first time adding toasted oats to a smoothie. The oats result in a thicker smoothie and provide a nice little nutritional boost as well. It's definitely something worth repeating. Since I was sticking with the "oat-theme", I used a bit of oat milk in the recipe. But if you can't find oat milk, you can use whatever variety of non-dairy milk you prefer.
Make sure you check out Becky's seasonal produce guide, and the recipes from my blogging friends below, to get inspired to shop, cook and eat seasonally during the month of January. And don't forget to show us what you've got! If you make my Oatmeal and Citrus Smoothie or any of the other recipes for this months list (or if you come up with your own seasonal creation!), be sure to post it and tag it with the hashtag #eatseasonal on social media so we can see it!
Cheers,
Liz
Ingredients
1/4 cup old-fashioned oats
3/4 cups oat milk (or other non-dairy milk)
1 tablespoon agave nectar
2 tsp. chia seeds
1/2 tsp. vanilla extract
1 peeled and frozen banana, cut into chunks
1 orange, peeled and cut into chunks
1/2 pink grapefruit, peeled and cut into chunks
Instructions
In a small dry skillet, toast the oats over medium-high heat until they become fragrant, about 2-3 minutes. Remove from the heat and set aside to cool.
Add the toasted oats, milk, agave nectar, chia seeds and vanilla extract to your blender. Let this sit for about 5 minutes. Then add the banana, orange and grapefruit. Blend on high until smooth. Pour into glasses and serve immediately.
https://www.floatingkitchen.net/oatmeal-and-citrus-smoothie/
January Eat Seasonal Recipes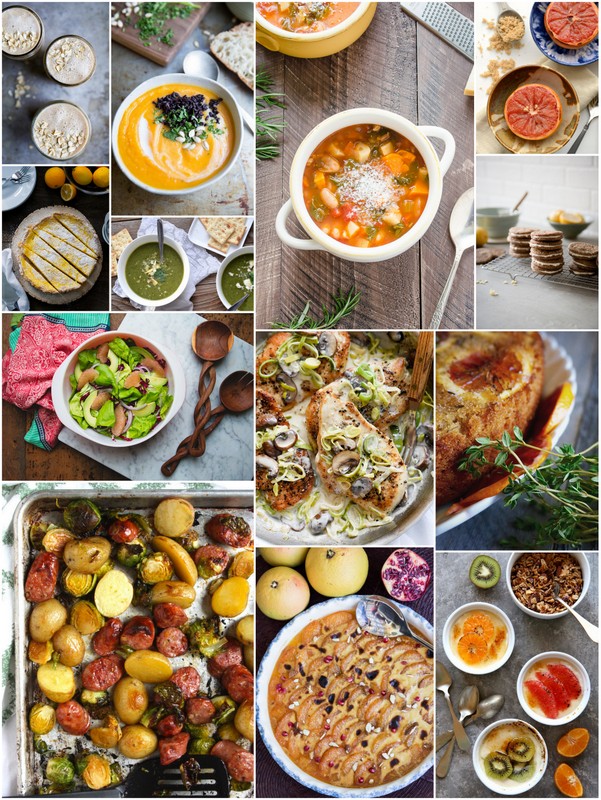 Butternut Squash, Carrot and Orange Detox Soup by Vintage Mixer
Winter Minestrone Soup with Pancetta by Flavor the Moments
Broiled Grapefruit by Bless This Mess
Gluten Free Gingersnaps with Lemon Cream Filling by Cafe Johnsonia
Meyer Lemon Tart by Kitchen Confidante
Potato and Leek Soup with Kale by Mountain Mama Cooks
Grapefruit and Avocado Green Salad with Citrus Vinaigrette by Food for My Family
Creamy Mushroom and Leek Chicken Breasts by Foodie Crush
Blood Orange Brûlée Upside Down Cake by Suitcase Foodist
Maple-Cayenne Sausage, Brussels Sprouts and Potato Sheet Dish by Project Domestication
Pink Grapefruit with Burnt Honey Custard by Letty's Kitchen
Yogurt Brûlée with Winter Fruit by Completely Delicious
Grapefruit Pound Cake with Ginger Marshmallow Icing by Climbing Grier Mountain