Disclosure: This post is sponsored by Blue Diamond Almonds. Ditch the chips and grab some Game Changing Flavors this football season! Enter for a chance to win the Ultimate Football Party Prize Pack, get great savings and ideas for delicious snack hacks at GameChangingFlavors.com.
Hi Friends! I'm back from my Thanksgiving hiatus. I've missed you! Tell me what you've been doing these past few days. Eating leftovers? Shopping? Making Christmas cookies? Decorating your house?
Me? I haven't been up to anything particularly newsworthy. Mostly I've just been laying low, watching sappy Holiday movies and trying to re-group (and digest!) before all the Christmas madness starts. Sorry for being so boring. I'll try to have something more exciting to report next time.
There is, however, one thing about today that isn't boring. And it's this Salty, Sweet and Smoky Popcorn Snack Mix.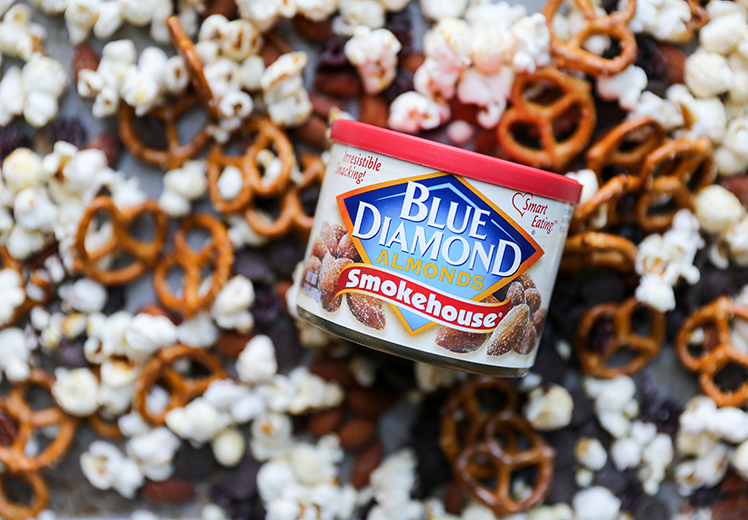 Let's break it down: stovetop kettle corn (the only way to make popcorn, in my opinion), pretzels twists, dried cranberries, chocolate chips and Smokehouse Blue Diamond Almonds. What's not to love, right? It's a great combination of flavors and textures. And the Smokehouse Blue Diamond Almonds pack so much flavor, that additional seasonings aren't even necessary here.
This snack mix is as easy to make as it is to eat. And it's so much healthier than those pre-made store bought versions because you have control over the salt, sugar and fat content. Definitely do yourself a favor and start making snack mixes at home! You won't regret it!
My Salty, Sweet and Smoky Popcorn Snack Mix is perfect for any party or gathering. And it's especially well suited for game day. Whether you're heading out to the game, or sitting around the television at home, I guarantee you're going to want a big bowl of this stuff in front of you!
Cheers,
Liz
Ingredients
2 tablespoons vegetable or canola oil
1/2 cup yellow corn kernels
2 tablespoons granulated sugar
1/2 tsp. salt
3 cups pretzel twists
2 cups Smokehouse Blue Diamond Almonds
1 cup dried cranberries
1 cup dark chocolate chips
Instructions
Heat the oil in a large pot over medium-high heat. Add 3-4 corn kernels, cover the pot and listen for them to pop. Once they have popped, quickly add the remaining 1/2 cup of corn kernels to the pot and sprinkle the tops with the granulated sugar. Immediately cover the pot and reduce the heat to low-medium. Shake the pot back and forth over the heat, making sure to hold down the lid, continuing to do so until the popping has slowed down considerably. Remove from the heat.
Carefully remove the lid from the pot and transfer the popcorn into a large bowl. Add the salt, tossing the popcorn as you sprinkle it in.
Allow the popcorn cool slightly, then stir in the pretzel twists, almonds, dried cranberries and chocolate chips. Serve and enjoy.
This popcorn snack mix is best when enjoyed the day that it's made, but it can be stored in an airtight container at room temperature for up to two days.
https://www.floatingkitchen.net/salty-sweet-and-smoky-popcorn-snack-mix/