When it comes to versatility in the kitchen, there aren't too many dishes that can hold a candle to a Dutch baby. They can easily go savory or sweet. They seamlessly transition from breakfast to dinner (and every meal in between!). And depending on your mood, you can go as minimal or maximal as you wish with the toppings. Even without a single embellishment, a warm Dutch baby straight from the oven is still one of the most delicious things I can think of.
Not to mention, they are one of the simplest foods that I know how to make. Just mix up a few pantry staples in a single bowl. Then pour that batter into a hot, buttery skillet to bake until it's wonderfully puffed and golden.
All those beautifully misshapen bubbles are enough to make anyone go weak in the knees!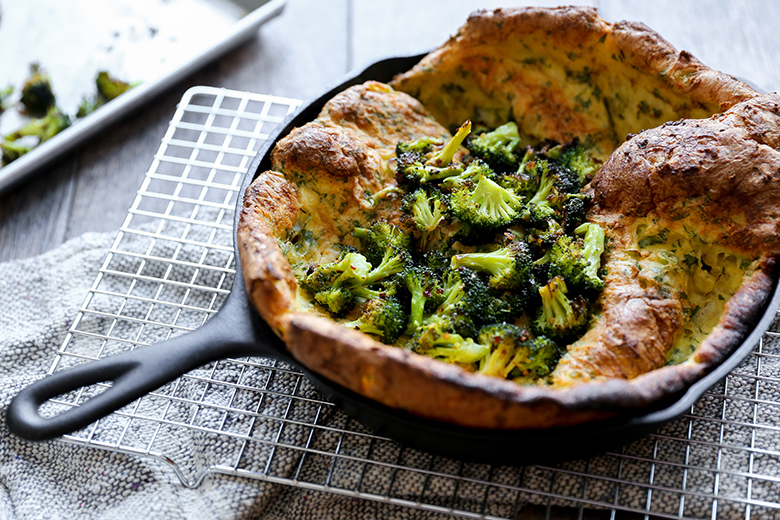 Today, we're going the savory route with a bit of Parmesan cheese, some sliced scallions, fresh herbs and a big pile of roasted broccoli. If you want, you can serve this Dutch baby with a couple of slices of bacon on the side for one heck of a satisfying breakfast. Or pair it with soup and a salad and enjoy it at lunch or dinner. Whatever you decide, just make sure you gobble it all up in one sitting, because Dutch babies are really best when eaten immediately after being made. But I have a feeling you'll have no trouble accomplishing that task.
I'm sharing this Savory Dutch Baby with Roasted Broccoli today as part of our monthly seasonal eating guide organized by Becky of Vintage Mixer. Be sure to check out her February produce guide for lots of winter inspiration. And scroll down below to see what my other blogging friends made this month!
Cheers,
Liz
Ingredients
For the Dutch Baby
4 eggs
1/2 cup whole milk
1/2 cup all-purpose flour
2 tablespoons grated Parmesan cheese
1 scallion, white and light green parts thinly sliced
2 tablespoons fresh parsley, roughly chopped
1 tsp. fresh thyme leaves
1/8 tsp. salt
1/8 tsp. black pepper
4 tablespoons unsalted butter

For the Broccoli
3 cups broccoli florets
3 tablespoons extra-virgin olive oil
1/2 tsp. salt
1/2 tsp. red pepper flakes
Zest and juice from 1/2 lemon
Instructions
Make the Dutch baby. Pre-heat your oven to 425 degrees. In the bowl of your stand mixer with the whisk attachment, combine the eggs and milk. Add the flour and whisk until incorporated, scrapping down the sides of the bowl as necessary. Then whisk in the Parmesan cheese, sliced scallions, parsley, thyme, salt and black pepper. Set aside.
Meanwhile, melt the butter in a 10-inch cast iron skillet over medium heat. Once the butter is melted and the skillet is hot, pour in the batter. Carefully transfer the skillet to your pre-heated oven and bake for 25 minutes. The Dutch baby will puff up during cooking, but once it's removed from the oven and starts to cool it will deflate slightly.
Meanwhile, roast the broccoli. In a medium bowl, toss the broccoli florets with the olive oil, salt and red pepper flakes. Spread the broccoli out onto a large rimmed baking sheet. Transfer to your pre-heated oven and roast for 15 minutes. Remove from the oven and sprinkle the lemon zest and juice over the roasted broccoli.
To finish, top the Dutch baby with the roasted broccoli. Slice and serve immediately.
https://www.floatingkitchen.net/savory-dutch-baby-with-roasted-broccoli/
February Eat Seasonal Recipes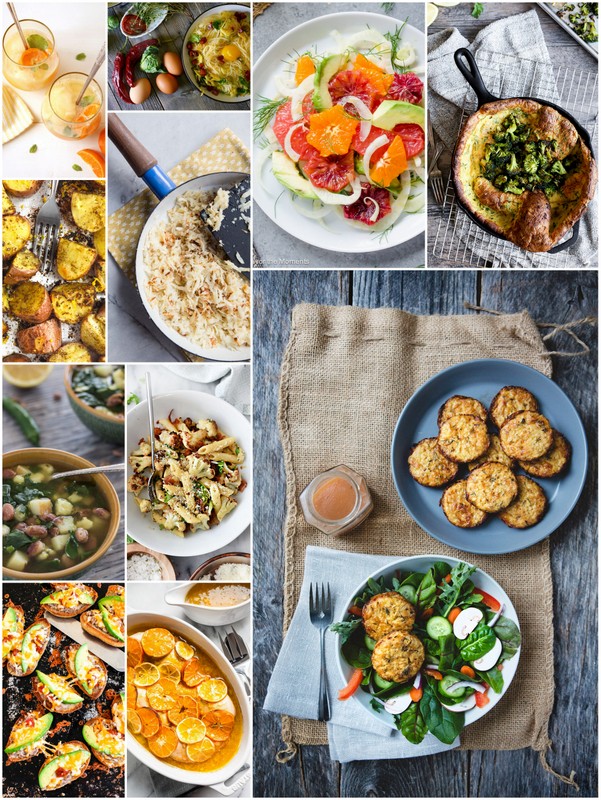 Tangerine Sorbet Champagne Floats by Completely Delicious
Chorizo & Brussels Sprouts Pasta Carbonara by Suitcase Foodist
Citrus, Fennel, and Avocado Salad by Flavor the Moments
Roasted Red Potatoes with Zahatar and Lemon by Project Domestication
Parsnip Hash Browns by Vintage Mixer
Greens and Potato Soup with Hominy and Pinto Beans by Letty's Kitchen
Penne Pasta with Cauliflower and Pancetta by Foodie Crush
Rosemary Cheddar Cauliflower Cakes by Food for My Family
Creamed Brussel Sprout Tater Tot Casserole by Climbing Grier Mountain
Mexican Molletes (avocado, bean & cheese melts) by Simple Bites
Honey Mustard Citrus Chicken with Mango Chutney by Kitchen Confidante