I feel like a jerk. Because I've been holding out on you guys. I made this pasta recipe a couple weeks ago, but unfortunately I didn't get around to sharing it until now. I'm sorry. I got all caught up in some kind of cherry–induced delirium. My sincere apologies. I hope we can still be friends. And I hope that I can convince you guys to run – not walk – to the grocery store to get the ingredients for this recipe.
Who doesn't love pasta, right? But pasta topped with beer-battered, fried jalapeño peppers? That's major. Like whoa.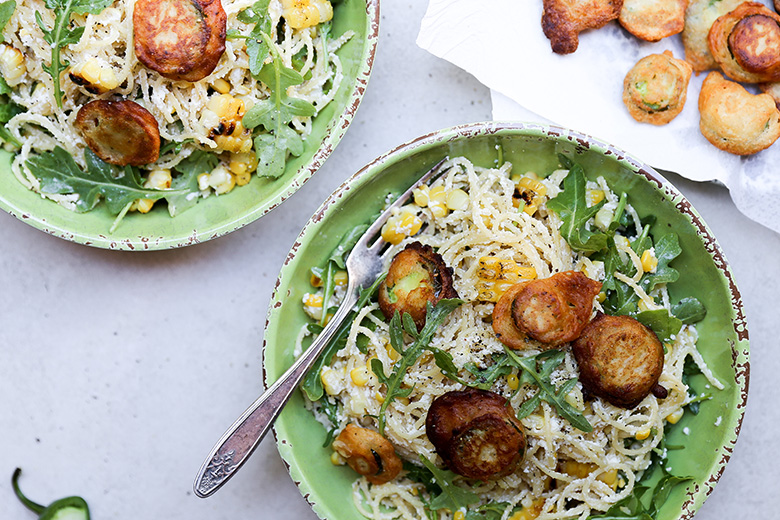 At first when I came up with the idea of putting fried jalapeño peppers on pasta I was all like "is it totally freaking weird that I want to do this?". But trust me when I say it's not weird at all. In fact, it's nothing short of amazing
Now, if you think this recipe is going to be way too spicy for you, I urge you to reconsider. Because the creamy ricotta, slightly sweet grilled corn and starchy spaghetti all help to mellow out the little bit of kick that comes from the jalapeño peppers. Still concerned? Then slice out the seeds and white pith of the jalapeños before you batter and fry them. This will make them less spicy, so you can eat without the fear of heat.
Cheers,
Liz
Ingredients
For the Fried Jalapeños
Vegetable oil for frying
1/4 cup flour
1/2 tsp. garlic powder
1/2 tsp. salt
1/4 tsp. black pepper
1/4-1/3 cup beer (I used an IPA)
2 jalapeños, sliced into 1/8 – 1/4 inch rounds

For the Pasta
1/2 lb thin spaghetti
1 cup full fat ricotta cheese
2 tablespoons Parmesan cheese, grated
1/2 tsp. salt
1/2 tsp. black pepper
4 ears corn on the cob, grilled and kernels sliced off
3 cups arugula
Extra-virgin olive oil
Instructions
Bring a large pot of salted water to a boil.
While you are waiting for the water to boil, fry the jalapeño slice. Add enough vegetable oil to a heavy bottom saucepan so that it covers the bottom by about 1-inch. Heat the oil over high heat. In a small bowl, mix together the flour, garlic powder, salt and pepper. Add the beer, mixing with a fork, until the batter is the consistency of thick pancake batter. Working with several jalapeño slices at a time, add them to the batter and toss to coat. Then carefully drop them in the hot oil. Fry the jalapeño slices until they are browned on both sides, about 1 minute per side. Transfer the fried jalapeño slices a paper towel-line plate to drain. Continue working until all the jalapeño slices are dipped and fried. Carefully remove the oil from the heat and discard it once it has cooled.
Add the spaghetti to the pot of boiling water and cook according to the package instructions. Drain, reserving about 1 cup of the cooking water.
In the same pot that you cooked the spaghetti, mix the ricotta, Parmesan, salt, pepper and about 1/2 cup of the reserved cooking water to create a sauce. Add back the drained spaghetti along with the corn kernels and arugula, tossing until well combined and the pasta is evenly coated. If necessary, you can add a couple more splashes of the cooking water to thin the sauce out to your desired consistency.
Transfer the spaghetti to a large serving bowl or to individual serving dishes. Top with the fried jalapeños. Drizzle with a little extra-virgin olive oil, if desired. Serve immediately.
https://www.floatingkitchen.net/spaghetti-with-grilled-corn-arugula-ricotta-and-fried-jalapenos/