This post was originally published here July 10, 2015. I've adjusted the recipe slightly. And updated the text and photographs to reflect those changes.
It always feels somewhat shameful to admit that I'm not much of a breakfast foods person. I've tried to overcome this debilitation throughout the years. But nothing has ever really stuck. I'm content with my black coffee, banana and peanut butter. That's been my breakfast of choice for many years now. And I don't see myself getting tired of it anytime soon.
What can I say. I like my routine.
I do, however, love a good breakfast pastry. But I tend to treat them more like a mid-morning snack (second breakfast, anyone?), instead of having them for actual breakfast. So yes, please give me all the donuts, coffee cakes, muffins and MORE. But just give them to me around 11:00am. Deal?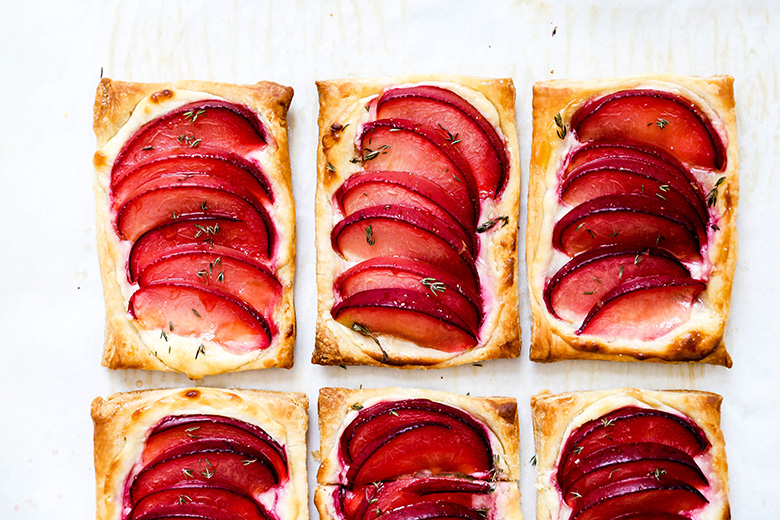 When stone fruits are having their peak season (= NOW!), I regularly make these Plum Cream Cheese Breakfast Pastries. The recipe only requires six ingredients. And I can sometimes even turn them out in less time than it would take me to get to my favorite bakery and back. Now that's winning.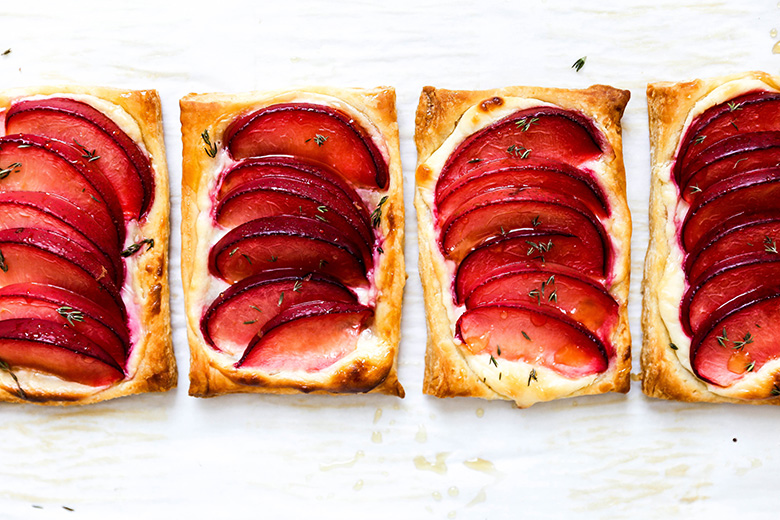 Also, they are total show stoppers. I love how effortlessly gorgeous these pastries bake up. The sliced plums really pop against the bed of slightly sweetened cream cheese and golden brown pastry edges. They look all kinds of fancy. But you and I secretly know their humble beginnings.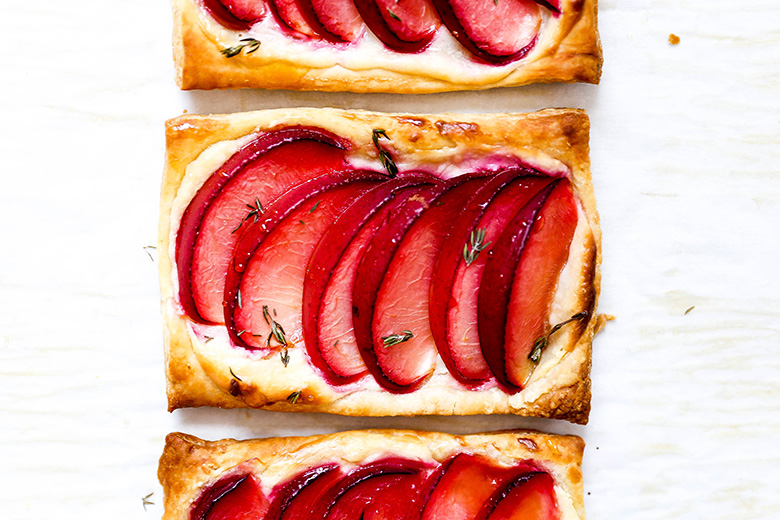 If you haven't fully embraced store-bought puff pastry yet, you really should start. It's one of those ingredients that I think everyone should keep in their refrigerators/freezers at all times. It really is a work horse in the kitchen, going seamlessly from savory to sweet applications. And it provides so much flaky, buttery goodness with minimal effort. Puff pastry has certainly saved me on many occasions. And I'm happy to give it the credit it deserves.
Any stone fruit can be used in this recipe. So go ahead and try making these pastries with peaches, nectarines or even cherries. It's all good!
Cheers,
Liz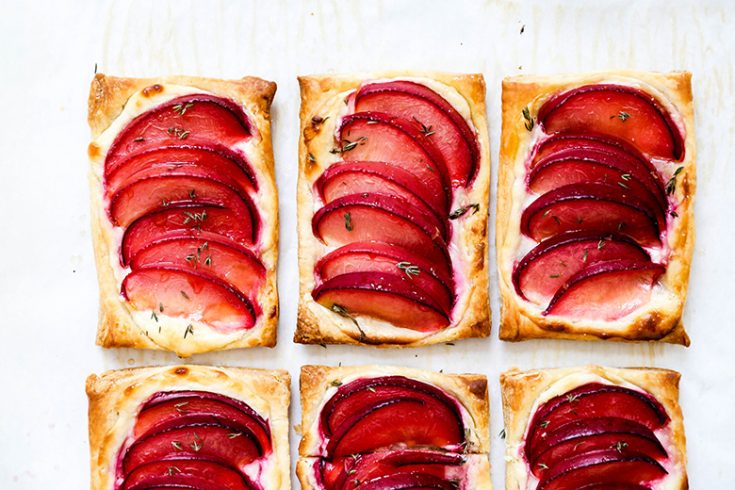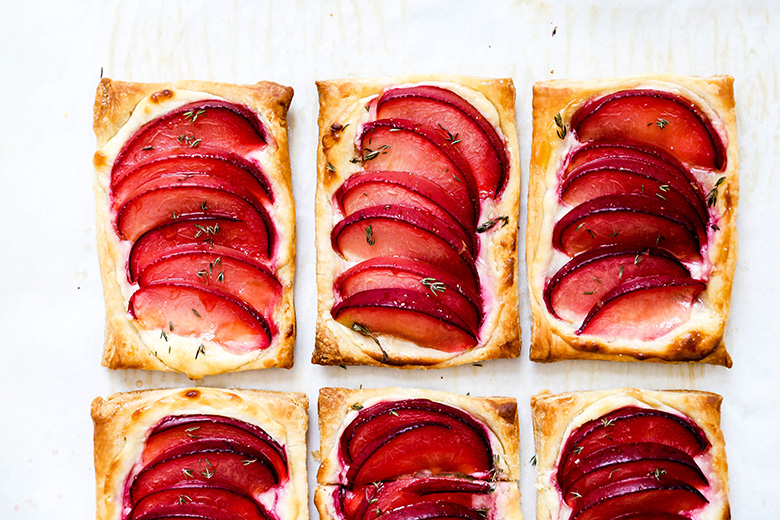 Plum Cream Cheese Breakfast Pastries
Yield: Makes 6 pastries
Prep Time: 15 minutes
Cook Time: 25 minutes
Total Time: 40 minutes
Ingredients
4 ounces cream cheese, softened at room temperature
2 tablespoons maple syrup, divided
1/2 tsp. vanilla extract
1 sheet puff pastry, thawed according to the package instructions
2-3 plums, pitted and sliced
1 tsp. fresh thyme leaves
Instructions
Pre-heat your oven to 425 degrees. Line a large baking sheet with parchment paper and set it aside.
In a medium bowl, whisk the cream cheese with 1 tablespoon of the maple syrup and the vanilla extract until completely smooth. Set aside.
Unfold the sheet of puff pastry and cut it into 6 rectangles. Place the rectangles on your parchment paper-line baking sheet and prick the surfaces all over with the tines of a fork. Divide the cream cheese mixture evenly between the rectangles. Then spread it out, leaving a small border around the edge of each rectangle.
Arrange the plum slices on top of the cream cheese mixture, overlapping them slightly. You'll need 5-7 slices for each rectangle, depending on the size of your plums. Sprinkle with a few fresh thyme leaves.
Transfer the baking sheet to your pre-heated oven and bake the pastries for 22-24 minutes, rotating the baking sheet once halfway through. The pastries should be golden and puffed.
Remove the baking sheet from your oven and drizzle the pastries with the remaining maple syrup. Let the pastries rest on their baking sheet for about 5 minutes before serving.
These pastries are best when they are enjoyed on the same day they are made.