Disclosure: Thank you to the Beef Checkoff for hosting me at their headquarters in Denver, Colorado. I'm proud to say that I'm now more confident cooking with beef! All opinions expressed are entirely my own.
Two weeks ago I traveled to Denver, Colorado with a small group of food bloggers, dieticians and nutritionists to learn about all things beef. The trip was hosted by the Beef Checkoff, an organization funded by cattle farmers and ranchers that is aimed at increasing consumer knowledge about beef production and consumption in America. And let me tell you, the folks at the Beef Checkoff did not disappoint. Because holy cow (pun intended), did I learn A TON on this trip.
As a result, I'm feeling much more confident (and more excited!) about incorporating beef into my diet on a regular basis. So I thought I'd share a few tidbits that I picked up. And of course, I've got a mouthwatering beef recipe to go along with it. So get ready to commence drooling!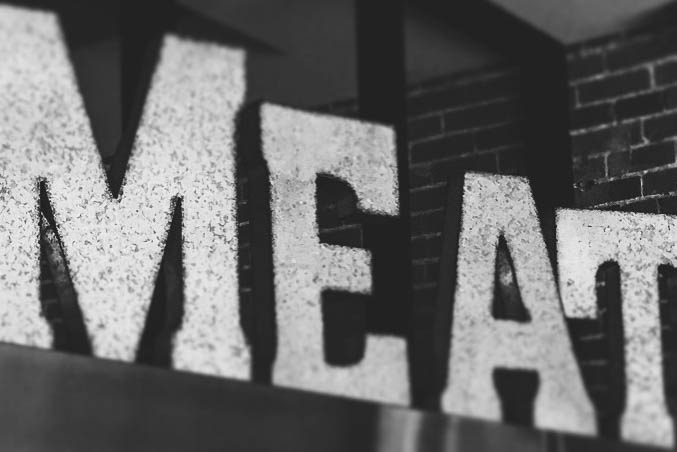 We all know that protein is an important part of our nutrition. And there are a lot of ways in which we can incorporate protein into our diets. But admittedly, I kind of forgot how great beef is as a source of protein. One 3-ounce serving of lean beef provides 25 grams (which is about half) of the Daily Value for protein. Do you know how much cooked quinoa you'd have to eat to achieve that level? 3 cups. And peanut butter? How about 6 tablespoons. That's a lot of eating! And the calories from all those extra servings can add up quickly, which makes a single serving of lean beef look like a pretty smart choice.
I also learned that due to changes in cattle breeding and fat trimming methods over the years, there are now more than 35 cuts of beef that qualify as "lean" (FDA definition of lean = less than 10 grams of total fat, 4.5 grams or less of saturated fat and less than 95 milligrams of cholesterol per 3.5-ounce serving). Which is great news! Because it means that as consumers, we have so many options when it comes to incorporating beef as part of our healthy diets.
But with all the choices of lean beef available, it can be hard to decide which cut(s) to buy when you're at the grocery store staring face to face with the meat case. The names can be confusing (often one cut of meat can go by multiple names) and the best way to prepare different cuts isn't always obvious. That's when the Interactive Butcher Counter comes in handy. You can get names, nutritional information, preferred cooking methods and even links to recipes right from your phone! Make sure to bookmark it and use it next time you're out shopping. I think you'll find it really useful!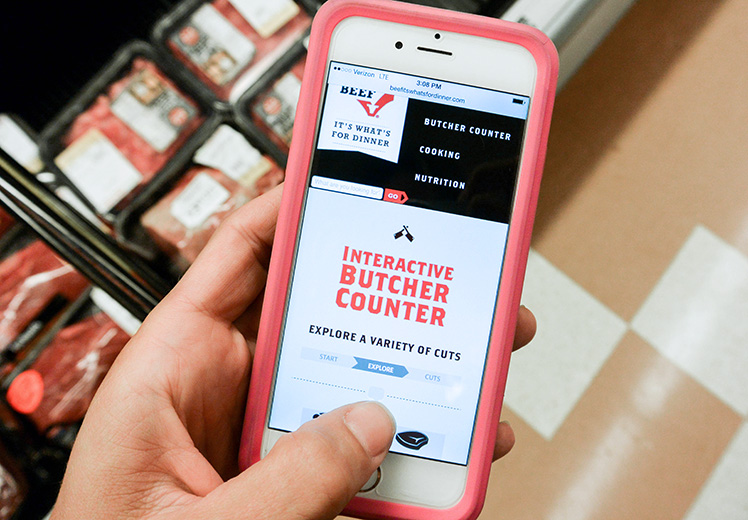 OK, I know you're probably all chomping at the bit, so let's chat briefly about these Grilled Tenderloin and Eggplant Open-Faced Caprese Sandwiches. Which are the epitome of summer right now. Oh and by the way, summer is most certainly NOT over yet. So back away from the pumpkin. Seriously, people. We've still got meat to grill, tomatoes to eat and ice cream to churn. Let's not rush things.
I used tenderloin for this recipe, which is one of my favorite cuts of lean beef. And then I piled it high on top of some grilled bread with grilled eggplant, tomatoes, fresh mozzarella, basil and a drizzle of balsamic vinegar. These babies work great for lunch or dinner. And you can eat them cold or warm. Which makes them kind of a perfect little sandwich, if I do say so myself.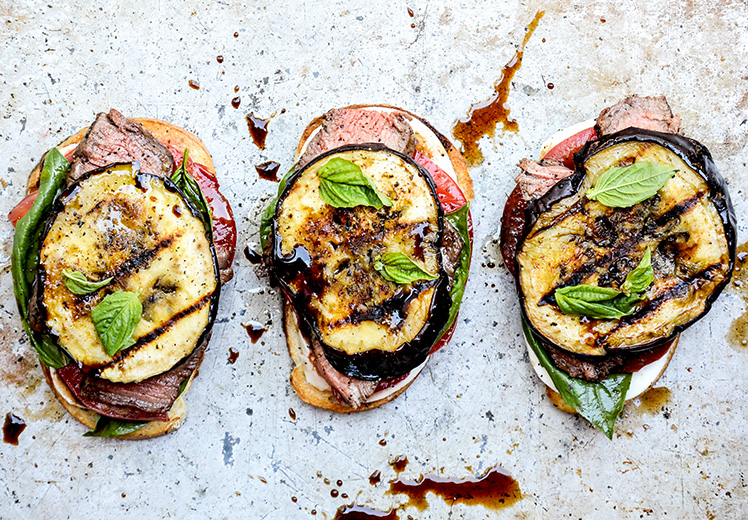 One of the most important things you can do to get a great beef eating experience is to make sure you are cutting the beef against the grain (i.e. cutting perpendicular to the grain, not parallel or with the grain). I know we've all heard that a million times. But it's really important. If you can't tell which way the grain is running (it can be hard if you've got a rub or sauce on the beef), just test a small little corner of the beef before diving right in with your knife!
Cheers,
Liz
Ingredients
For the Tenderloin
1 lb beef tenderloin steaks, about 1-inch thick
1 tsp. salt
1 tsp. brown sugar
1/2 tsp. black pepper
1/2 tsp. ground coffee
1/8 tsp. cayenne pepper
1 1/2 tsp. extra-virgin olive oil

For the Sandwiches
1 medium-large eggplant, cut into 1/2-inch thick slices
8-10 slices of rustic bread
Extra-virgin olive oil
Salt and black pepper
2 large tomatoes, sliced
8-10 slices fresh mozzarella cheese
Fresh basil leaves
Balsamic vinegar
Instructions
Grill the tenderloin. Remove the tenderloin steaks from your refrigerator and place them on your counter top to come to room temperature, about 15 minutes.
Meanwhile, pre-heat your grill to medium. Mix the salt, sugar, black pepper, coffee and cayenne pepper together in a small bowl. Add the olive oil and stir until a paste forms. Then rub the paste into a thin layer all over the sides of the tenderloin steaks.
Place the steaks on the grill and cook for about 10-15 minutes, flipping the steaks once during cooking and checking the internal temperature for your desired level of doneness (145 degrees = medium-rare; 160 degrees = medium). Remove the steaks from the grill and place them on a clean plate. Set aside.
Brush both sides of the eggplant and the bread slices with some of the extra-virgin olive oil and sprinkle with a little salt and pepper. Place on your grill. Cook the eggplant until tender and browned, about 6-8 minutes, flipping once halfway through cooking. Grill the bread until slightly crisp, about 1-2 minutes per side. Remove everything from the grill and set aside.
Thinly slice the tenderloin steaks against the grain.
Assemble the sandwiches. Layer the mozzarella cheese, tomatoes, basil leaves, sliced tenderloin and eggplant onto the slices of grilled bread. Drizzle with a little balsamic vinegar. Serve immediately.
https://www.floatingkitchen.net/grilled-tenderloin-and-eggplant-open-faced-caprese-sandwiches/
I hope what I'm about to write makes sense. Because in my current state of sleep deprivation, things are a bit fuzzy.
You see, I was in Portland, Oregon last week conferencing and having a heck of a fun time. There were donuts, beers, cocktails, old friends, new friends and several late nights in a row. And to finish things out, I took the red-eye home. Woof.
I'm still feeling the effects of that overnight flight today. And all those other decisions that I made about sugar and alcohol consumption are catching up with me, too. I see a nap in my near future.
I'm too tired to even think of a brilliant segue for right here. Forgive me.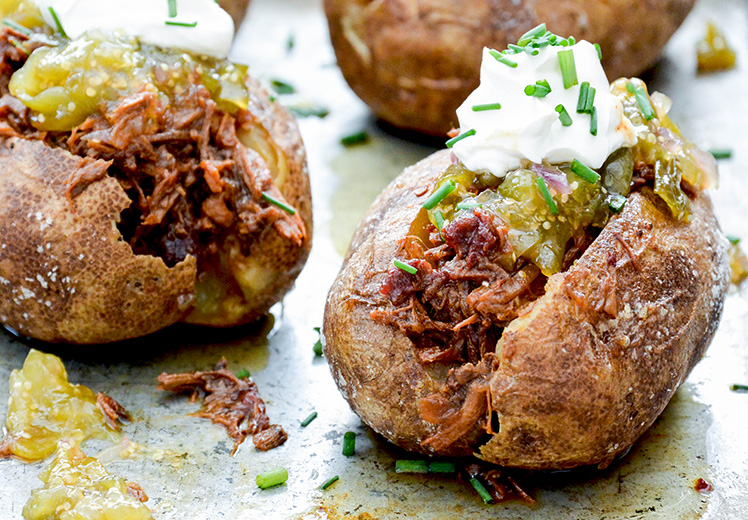 So how do you guys feel about leftovers? Personally, I love them because they give me a little break from the normal cooking routine. And that is something that is always much appreciated.
Usually I try to re-purpose my leftovers into a new dish, or else they start feeling a bit tired and boring by around day three. Kind of like how I'm feeling right now. So when I found myself with a lot of leftover shredded barbecue beef from making tacos recently, I decided to stuff some of it into a few baked potatoes for a new spin. Which seriously has got to be one of the best decisions I've made in a while. Comfort food WIN!
Wait. I take that back. Making a savory-sweet tomatillo jam for topping these stuffed baked potatoes was an even better decision. Because holy smokes is this stuff addicting! You'll want to put it on anything and everything that comes out of your kitchen.
These Baked Potatoes with Shredded Barbecue Beef and Tomatillo Jam are so good, no one would ever guess you made them with leftovers!
Cheers,
Liz
Ingredients
For the Barbecue Beef
1 boneless beef round roast (about 3 lbs), trimmed of excess fat
1 tablespoon vegetable oil
2 cups diced onions
6 garlic cloves, minced
1 cup ketchup
1/3 cup packed brown sugar
1/4 cup apple cider vinegar
2 tablespoons Worcestershire sauce
2 tablespoons chipotle peppers in adobo, chopped
1 tablespoon chili powder
1 tsp. black pepper

For the Tomatillo Jam
1lb tomatillos
½ cup sugar
½ cup minced shallots
Juice and zest of 1 lime
½ tsp. salt

For the Potatoes
6 large russet potatoes, washed and dried
About 1 tablespoon extra-virgin olive oil
Salt
Sour cream
Fresh chives, minced
Instructions
Make the shredded barbecue beef. Place the beef roast in your slow cooker and set aside. In a large non-stick skillet, heat the vegetable oil over medium-high heat. Add the diced onions and cook until softened, about 5 minutes. Stir in the minced garlic and the remaining ingredients and let the sauce simmer for about 5 minutes, stirring occasionally. Pour the sauce over the beef roast in your slow cooker. Cover and cook on LOW for 10-12 hours or on HIGH for about 6 hours. Then using a couple of forks, pull the beef apart into shreds. It should come apart very easily at this point. Let the shredded beef continue to cook for an additional 20-30 minutes. This recipe makes more shredded barbecue beef than you'll need for the baked potatoes. Leftovers can be stored in an airtight container in your refrigerator 2-3 days. They make great tacos and sandwiches!
While the beef is cooking, make the tomatillo jam. Remove and discard the papery husks from the tomatillos. Rinse them well and then chop roughly. Toss the chopped tomatillos into a bowl with the sugar. Let them sit at room temperature for about 1 hour, stirring once or twice during this time. Heat a large non-stick skillet over medium-high heat. Add the tomatillos, any accumulated juices and the shallots. Cook, stirring frequently for about 15 minutes, or until the jam has thickened and the tomatillos are almost broken down. Stir in the remaining ingredients and cook for an additional 1-2 minutes. Remove from the heat and set aside. Once cooled, the tomatillo jam can be stored in an airtight container in your refrigerator for about 1 week.
Bake the potatoes. Pre-heat your oven to 350 degrees. Using a fork, poke several holes all over the surface of the potatoes. Lightly coat the potatoes in the olive oil and sprinkle with salt on all side. Place the potatoes directly on your middle oven rack. On the lower rack, place a baking sheet or piece of aluminum foil to catch any drips. Bake for 60-70 minutes. The flesh should be soft and a small knife should go into the potatoes easily. Carefully remove the potatoes from the oven.
Assemble the baked potatoes. Cut a slit into the top of each potato and then gently squeeze together the ends to create an opening. Stuff some of the shredded barbecue beef into each potato. Top with the tomatillo jam, a dollop of sour cream and some minced chives. Serve immediately.
https://www.floatingkitchen.net/baked-potatoes-with-shredded-barbecue-beef-and-tomatillo-jam/