This post was originally published here July 18, 2014. I've since updated the text and photographs. These adult slushies are the best way to stay cool. I hope you try them!
OK it's time for my yearly rant. You ready?
IT'S STILL SUMMER!!!
No pumpkin. No Halloween candy. No. No. No.
I almost fully lost my mind last week when I spotted an entire aisle of Halloween candy at the grocery store on the first day of August. Seriously. That's insane. We all need to take a breath and pump the brakes.
So today, and for the rest of the Summer, I'm going to be bringing you fresh, vibrant recipes that celebrate all the gorgeous fruits and vegetables that the season has to offer. And there are A LOT of offerings right now (= cue produce anxiety). Everything seems to be "in" at the markets. And I'm prepared to tackle it all. I hope you're with me.
Also, I'm bringing you boozy slushies. Have I won you over yet?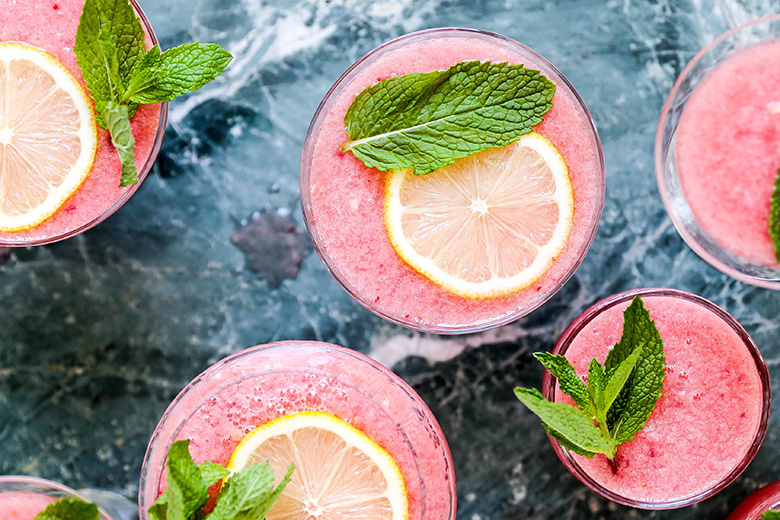 Watermelon is a mainstay in my refrigerator this time of year. When it's really hot, it's one of the few foods that I actually want to eat. Nothing tastes better on a 90 degree day than a big, juicy slice of watermelon. Well, expect maybe one of these Watermelon Limoncello Prosecco Slushies!
These Watermelon Limoncello Prosecco Slushies are just the thing for these dog days of Summer. They will cool you right down. And they will have you feeling pretty darn good (from both the cooling refreshment AND the alcohol!) REAL quick. They are such a fun and festive cocktail to serve up at a small, casual gathering. Personally, I like to enjoy mine while basking in the glow of the late Summer sun.
Now doesn't that sound like a good time? I think it's a MUCH better activity than say, carving pumpkins or trick-or-treating.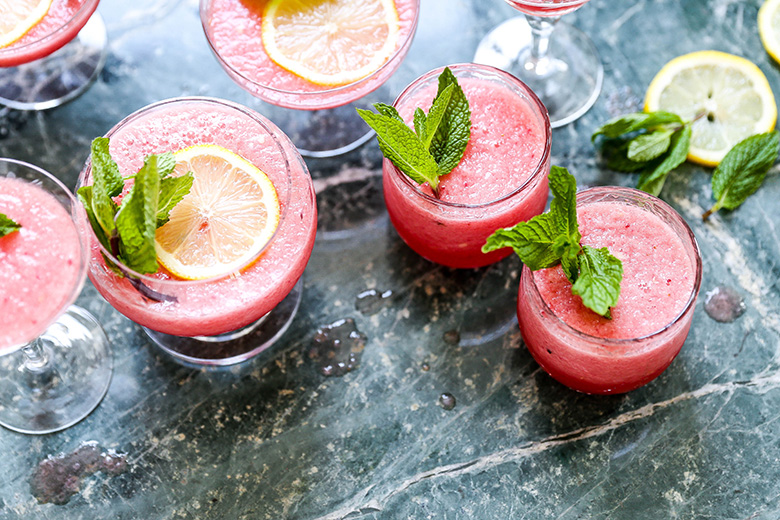 To get the proper slush-like texture, you do need to freeze the watermelon before adding it to your blender. So be sure to factor in enough time for that. Other than that, these cocktails are a breeze to make. I think you'll be hooked after one sip!
Cheers,
Liz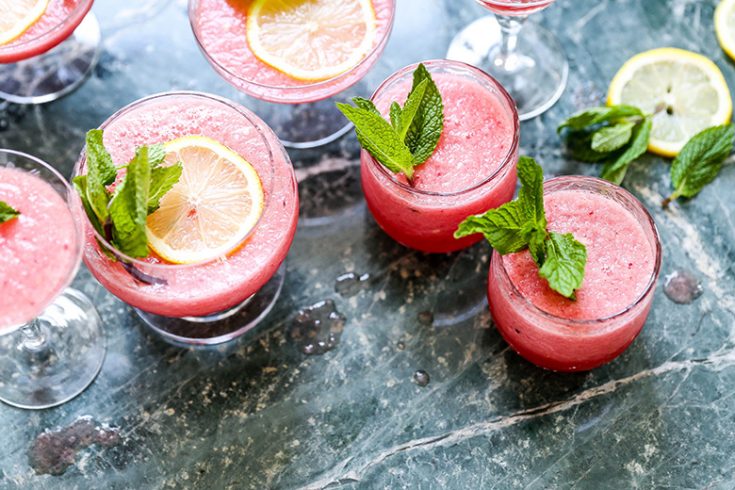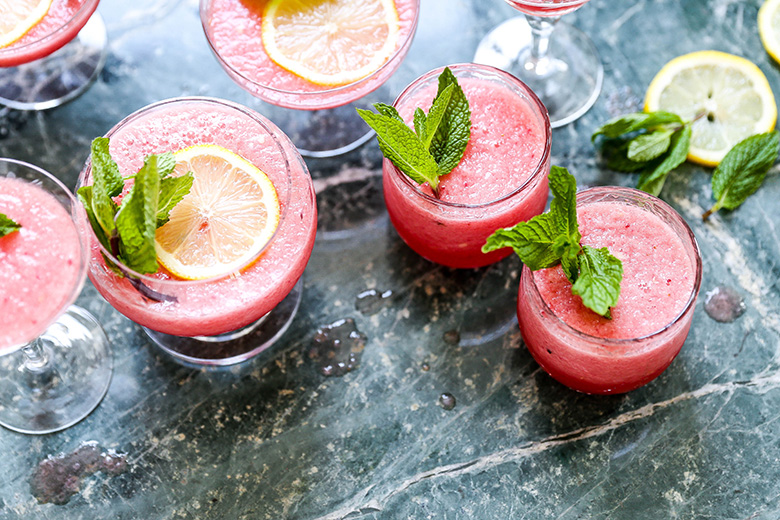 Watermelon Limoncello Prosecco Slushies
Yield: Serves about 4
Prep Time: 5 minutes
Additional Time: 2 hours
Total Time: 2 hours 5 minutes
Ingredients
4 cups seedless watermelon, cubed
1 cup ice
1-2 tsp. granulated sugar, optional
3/4 cups limoncello, chilled
3/4 cups Prosecco, chilled
Lemon slices, for garnish
Fresh mint, for garnish
Instructions
Place the cubed watermelon in your freezer for about 2 hours, or until frozen.
Place the frozen watermelon in your blender along with the ice, sugar and limoncello. Blend on high for 1-2 minutes. Then add the Prosecco and blend until just combined, about 10-20 seconds.
Divide the slushies into serving glasses. Garnish with lemon slices and fresh mint, if desired. Enjoy immediately.