This post was originally published here September 8, 2014. I've since changed the recipe slightly. And I've updated the text and photographs to reflect those changes.
It's been many years since I've been in school. But I can still taste all the after-school snacks like it was yesterday!
My list of "favorites" was long. Hi-C Fruit Punch, Hostess Cupcakes, Handi-Snacks, Fruit Roll-Ups, Fig Newtons. And I could go on. I was always a connoisseur of snacks!
The internet is filled with many homemade or "copycat" versions of some of my favorite after-school snacks. But these Whole Wheat Fig Shortbread Bars are not that. Because while they do boast a jammy fig filling sandwiched between layers of cookie dough, I certainly wouldn't call them a copycat Fig Newton. The cookie part here is more shortbread-like (rich, buttery and crumbly!) and less cake-like. And while I haven't had an actual Fig Newton in a while, I suspect these aren't are sweet.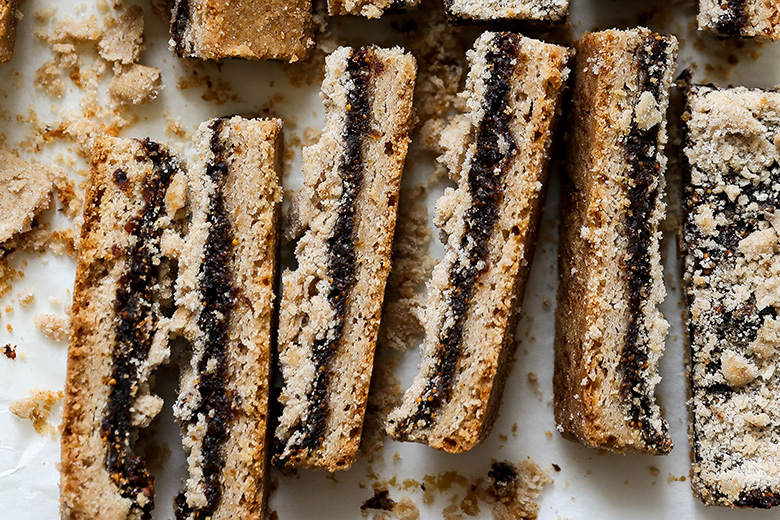 This recipe uses dried figs for the filling. Do not substitute fresh figs here. Since the dried figs will eventually end up in your food processor, don't bother chopping them up. Just be sure to pull off and discard the small woody stem. The dough for the crust is also made in your food processor. And there is absolutely no need to clean it out in between steps. Hooray for less dishes!
Of course, you can enjoy these Whole Wheat Fig Shortbread Bars the same day they are made. But I actually prefer them a day or two after. Because the moisture from the fig filling softens the bottom crust ever so slightly. And I just love that subtle contrast in textures.
What was your favorite after-school snack as a kid (or as an adult!)?
Cheers,
Liz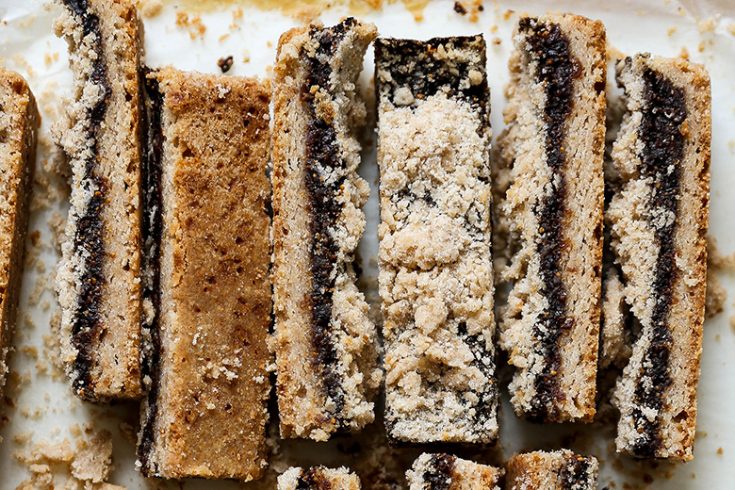 Whole Wheat Fig Shortbread Bars
Yield: Makes about 14 bars
Prep Time: 10 minutes
Cook Time: 35 minutes
Additional Time: 20 minutes
Total Time: 1 hour 5 minutes
Ingredients
For the Fig Filling:
1 1/2 cups dried figs, stems removed
3/4 cups apple juice
1 tsp. vanilla extract
1/8 tsp. salt
For the Crust:
1 cup whole wheat flour
1 cup all-purpose flour
3/4 cups granulated sugar
1/2 tsp. ground cinnamon
1/4 tsp. salt
3/4 cups (12 tablespoons) salted butter, cubed and chilled
Instructions
In a saucepan over medium heat, bring the figs and apple juice to a simmer. Cook for about 5 minutes, stirring occasionally. Remove the saucepan from the heat and stir in the vanilla extract and salt. Set aside to cool slightly.
Pre-heat your oven to 350 degrees. Line an 8 X 8-inch baking pan with parchment paper, leaving some hanging over the sides. Set aside.
In your food processor fitted with the blade attachment, pulse together the flours, sugar, cinnamon and salt. Add the butter and pulse until the dough resembles a coarse meal. Remove 1 cup of the dough and set it aside. Dump the remaining dough into your prepared baking pan. Then use your hands or the back of a measuring cup to press the dough down evenly and firmly into the bottom of the pan. Set aside.
Transfer the figs and any remaining liquid to the bowl of your food processor fitted with the blade attachment (no need to clean it out from above). Blend until the figs are broken down and the filling resembles a paste. Spoon the fig filling on top of the pressed dough and carefully spread it out over the surface.
Take the remaining crust mixture and squeeze it between your fingers to form little clumps, dropping them over the fig filling as you work. Transfer the baking pan to your pre-heated oven and bake for 28-30 minutes. The edges should be slightly browned, but the top will still be somewhat pale. Remove the baking pan from your oven and set it on a wire rack to cool for about 20 minutes. Then use the overhanging parchment paper to lift the bars from their pan, placing them on the wire rack to continue cooling. Once completely cooled, slice and enjoy.
These bars can be stored in an airtight container at room temperature for 4-5 days.