This post was originally published here June 19, 2013. I've adjusted the recipe slightly. And I've updated the text and photographs to reflect those changes.
You could probably pile anything on top of a crispy baguette slice and I'd eat it. Because I'm fully obsessed with all things pertaining to crostini/bruschetta/toast/whatever name you want to give it. And I've got quite a few recipes here in the archives to prove it.
These Bruschetta with Ricotta and Basil Pesto are a long time favorite of mine. And they were overdue for a glow-up. I've been making these little bites since 2013, which feels like a lifetime ago…especially with respect to the food blogging world.
But despite their advanced age, they are still perfect to me in every single way. And I love making them in August and September, when I have plenty of cherry tomatoes and fresh basil to go around.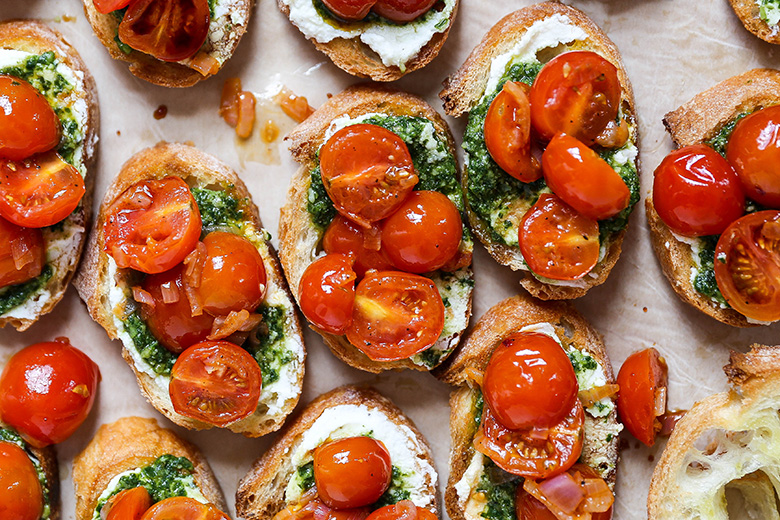 The cherry tomatoes are the star of the show here. Cook them in a skillet with the shallot just until they start to get soft and juicy. But be careful not to overcook them to the point where they collapse. You want them to maintain their shape on top of the bruschetta.
I've tried a few different versions of pesto for these bruschetta, but I always come back to the classic basil pesto made with pine nuts. But if you have a pesto recipe that you swear by, then by all means use that one. The pesto can be made ahead of time and stored in your refrigerator (1-3 days) or your freezer (weeks-months).
As with most recipes of this nature, the ingredient amounts can be variable (depends on the size of your baguette, etc.). So be aware that you might have to adjust on the fly as you're assembling the bruschetta. But you should have enough to cover anywhere from 18-22 slices of bread.
I wish I could say that these Bruschetta with Ricotta and Basil Pesto make a great party appetizer, but I wouldn't really know. Because more often than not, I just eat the whole tray myself and call it dinner!
Cheers,
Liz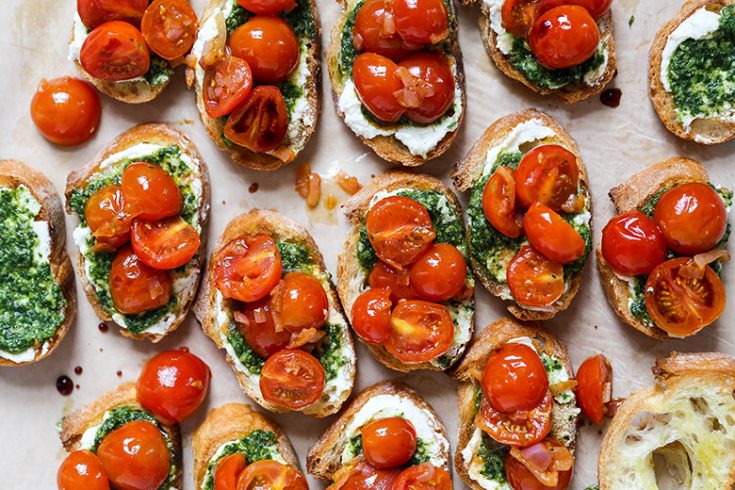 Bruschetta with Ricotta and Basil Pesto
Yield: Makes 18-22 bruschetta
Prep Time: 20 minutes
Cook Time: 5 minutes
Total Time: 25 minutes
Ingredients
For the Basil Pesto:
2 cups fresh basil leaves, firmly packed
2 tablespoons pine nuts, toasted
1 garlic clove, peeled
1 tablespoon fresh squeezed lemon juice
1/2 tsp. salt
About 1/2 cup extra-virgin olive oil
2 tablespoons grated Parmesan cheese
For the Bruschetta:
1 pint cherry tomatoes, halved
1/3 cup diced shallot
2-3 tablespoons extra-virgin olive oil, divided
Salt
Black pepper
18-22 slices French baguette
About 1/2 cup ricotta cheese
About 1/3 cup basil pesto
1-2 tablespoons balsamic vinegar
Instructions
To make the pesto, add the basil leaves, pine nuts and garlic clove, lemon juice and salt to the bowl of your food processor fitted with the blade attachment. Pulse until coarsely chopped. Then with your food processor running, slowly drizzle in the olive oil and continue processing until everything is finely chopped the well combine. Add the Parmesan cheese and pulse 3-4 times, or until just combined. Transfer the pesto to a clean re-sealable container and store it in your refrigerator until you're ready to use it. The pesto can be made 1-3 days in advance. For longer storage, you can place the pesto in your freezer.
To make the tomatoes, heat 1 tablespoon of the olive oil in a skillet over medium-high heat. Add the tomatoes, shallot and a pinch of salt and pepper. Cook, stirring frequently, until the shallot is softened and the tomatoes are juicy but still retain their shape, about 3-5 minutes. Remove from the heat and set aside to cool slightly.
Meanwhile, pre-heat your broiler. Brush the baguette slices on one side with the remaining olive oil and spread them out onto a large baking sheet. Place the baking sheet under your pre-heated broiler and broil until the edges of the bread are just starting to brown, about 1-2 minutes. Remove and set aside.
In a medium bowl, stir together the ricotta with a couple pinches of salt and black pepper. Set aside.
To assemble the bruschetta, spread approximately 1-2 teaspoons of the ricotta onto each toasted baguette slice. Then spread approximately 1 teaspoon of the basil pesto on top of the ricotta. Top each slice with a spoonful of the tomato-shallot mixture. Drizzle with balsamic vinegar before serving.