This post was originally published here on September 29, 2014. It is THE most popular recipe on my blog (and for a good reason!), so I thought it deserved some updated photographs! Enjoy!
I get a lot of questions about my dietary preferences. Probably the most common one being "are you a vegetarian?".
To set the record straight, I am not. I just don't consume a lot of meat. I prefer to follow a plant-based diet about 90% of the time. Because I find that when I do so, not only do I feel better on the inside, but I also look better on the outside.
In short, fruits and vegetables make me a happy person.
But when I do choose to splurge on meat, I choose to go BIG. If I'm out at a restaurant, I'll order a burger with ALL the toppings (and a side of fries, of course!). And if I'm at home cooking for a special occasion (like Christmas Eve or Valentine's Day), then I like to make filet mignon.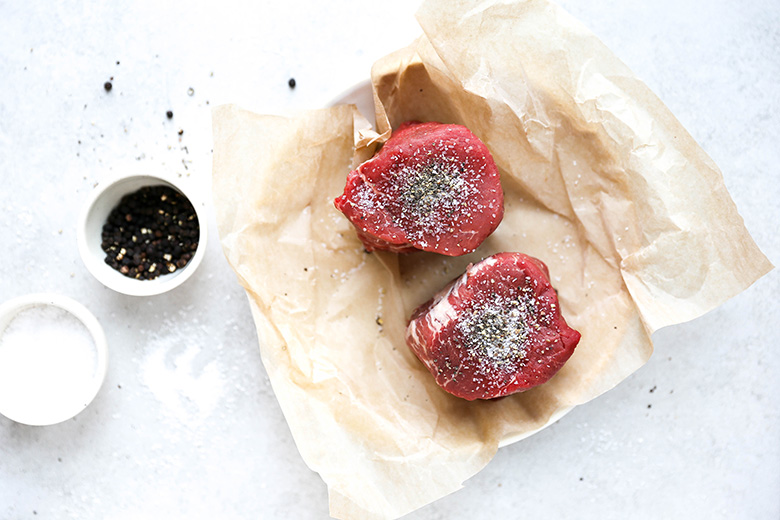 This recipe for How to Cook the Perfect Filet Mignon has been my go-to method for many years now. It's simple, straightforward and essentially foolproof. And that's the most important part. Because let's be honest with ourselves, filet mignon is an expensive cut of beef. And you don't want to f*** it up.
So if you want steakhouse quality filet mignon without having to go through all the trouble on putting on real pants, then give this recipe a try.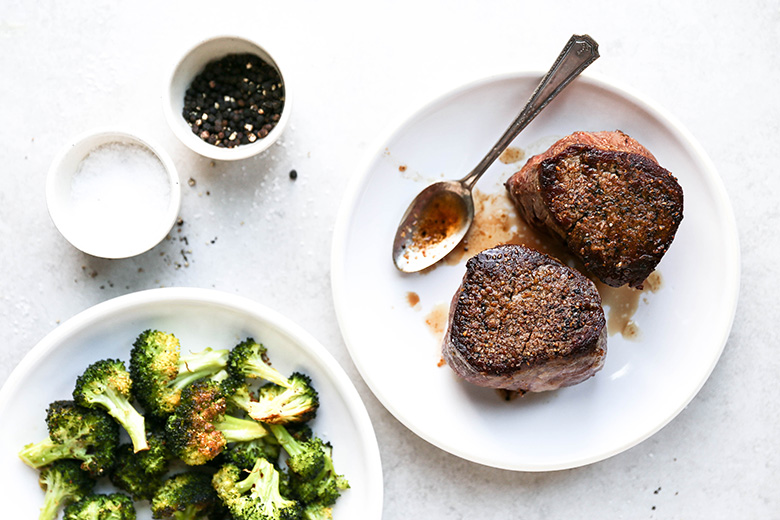 Before starting, please read over the entire recipe instructions (I mean, you should ALWAYS do this before attempting any new recipe!). You might also want to peruse the comment section. Many readers have made tweaks to the original instructions (for example, in the type of pan or oil used) and have still had amazing success with this recipe. So if you have a common question, chances are pretty good that you'll find the answer somewhere below!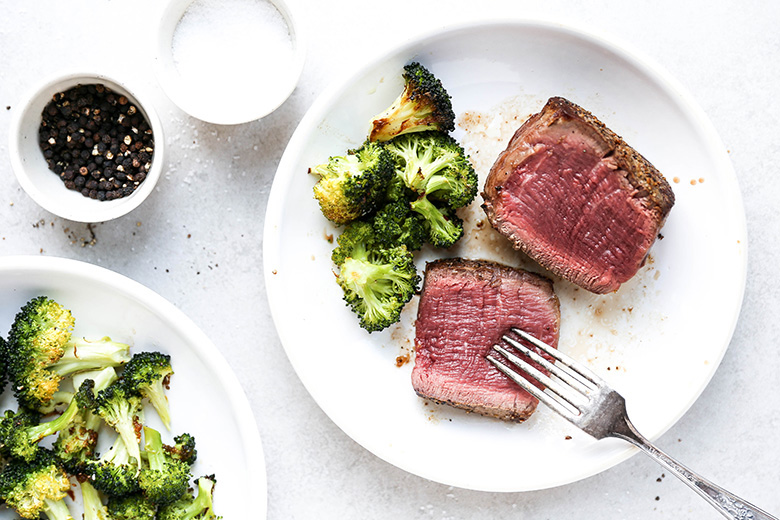 Here are the points that I think are the most important to achieving success:
(1) Give your filets time to come to room temperature before cooking.
(2) Use a timer! Don't just guess the cooking times. Things happen quickly here. And in the span of just 1-2 minutes time, your filets can go from exactly the way you want them to overcooked. For reference, the pictures in this post are of two 8-ounce filets cooked in the oven for 6 minutes (see step 4 in the instructions).
(3) Resist the urge to move the filets around in the sauté pan. You want to get that perfect sear on the outside. Let them be!
(4) After the first 4 minutes of cook time, flip the filets over to the second side and IMMEDIATLEY transfer everything to your oven (see step 4 in the instructions). The filets will simultaneously sear on the second side while cooking in the center.
I know a lot of people like sauce(s) and/or topping(s) on their filet mignon. But frankly, I just don't. I find the flavor and texture of perfectly cooked filet mignon to be wonderful all on its own. It doesn't need to be dressed up or disguised. A pinch of kosher salt, freshly ground black pepper and a spoonful of juices from the pan is enough for me. And while I certainly can't stop you from slathering steak sauce all over your filet mignon, I wouldn't be doing my duty as a food blogger if I didn't at least try to encourage you not to do so.
Cheers,
Liz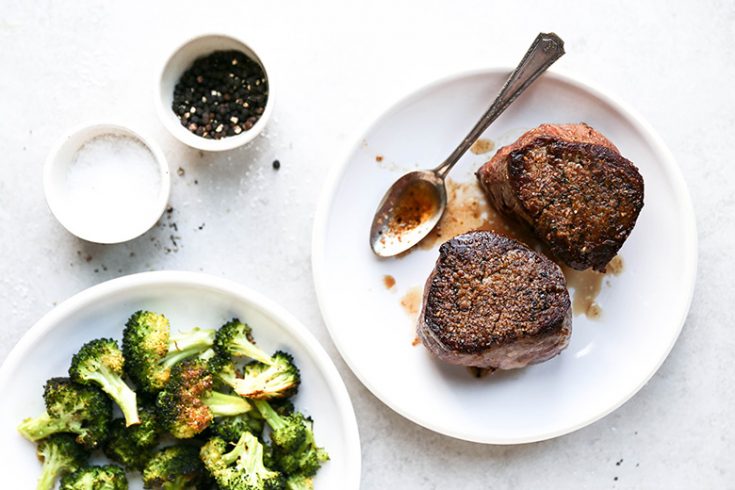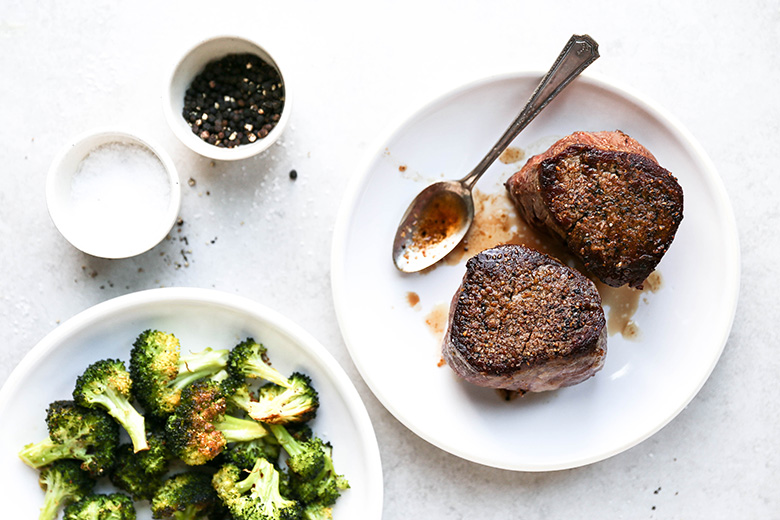 How to Cook the Perfect Filet Mignon
Yield: 2 servings

Prep Time: 30 minutes

Cook Time: 15 minutes

Total Time: 45 minutes
Ingredients
2 filet mignon steaks, each about 6- to 8-ounces and 2-inches thick
1 tablespoon extra-virgin olive oil
Kosher salt
Freshly ground black pepper
Instructions
Remove the filets from your refrigerator and set them on your counter top for approximately 30 minutes. This allows them to come to room temperature. Filet mignon is lean and typically does not require any trimming.
Meanwhile, pre-heat your oven to 425 degrees.
After your filets have come to room temperature, season the top and bottom surfaces with salt and black pepper, using your fingers to gently press down on the seasoning so it adheres to the meat. Do not season the sides. Set aside.
Heat an oven-proof stainless steel sauté pan over medium-high heat. Add the olive oil and let it get hot. Then add the filets and let them cook undisturbed for 4 minutes. DO NOT move the filets around in the pan during this time. Then, using a pair of tongs, flip the filets over to the second side and IMMEDIATELY transfer the entire sauté pan to your pre-heated oven. Cook the filets in your oven for 5-8 minutes, depending on your preferred level of doneness: 5-6 minutes for rare, 6-7 minutes for medium-rare or 7-8 minutes for medium.
Carefully remove the sauté pan from your oven and transfer the filets to a clean plate. Tent them with foil and let them rest for 5-7 minutes. Do not leave the filets to rest in your sauté pan, or they will overcook due to the residual heat in the pan.
Transfer the filets to serving plates, spooning any residual juices over top. Serve immediately.
SaveSave
SaveSave
SaveSave
SaveSave
SaveSave