This post was originally published here on March 25, 2014. I've since updated the photographs and text. And I added some brûléed bananas for topping. Because why not, right?
I did a quick pole on Instagram stories back in December about breakfast preferences (savory vs. sweet), and I was shocked to see the results revealed a dead split down the middle. I myself will take a sweet breakfast any day over a savory breakfast (you know my dislike of eggs!), but I was sure that I was in the minority.
Guess that's why they say never make assumptions!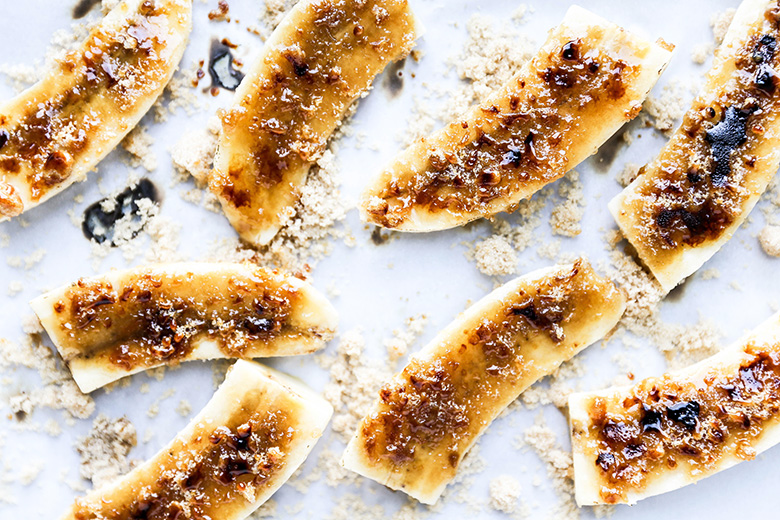 So, since you guys are equally interested in sweet breakfast options as you are in savory breakfast options, I figured this would be an excellent time to re-vamp this old post from 2014. Because this Mocha Hazelnut Oatmeal with Brûléed Bananas is DEFINITELY taking a walk on the sweet side of life. Heck, you could even call it a "dessert oatmeal", if you were being generous. And frankly, it never got much love (probably because the photos were sub-par). So I wanted to give it new life!
This Mocha Hazelnut Oatmeal with Brûléed Bananas is by no means boring. In fact, it combines some of my favorite ingredients EVER: chocolate, hazelnut spread, coffee and caramelized bananas. It's decadent, crave-worthy, stick-to-your-ribs hearty and totally worthy of weekend breakfast status. Oatmeal doesn't have to just be for rushed mid-week mornings.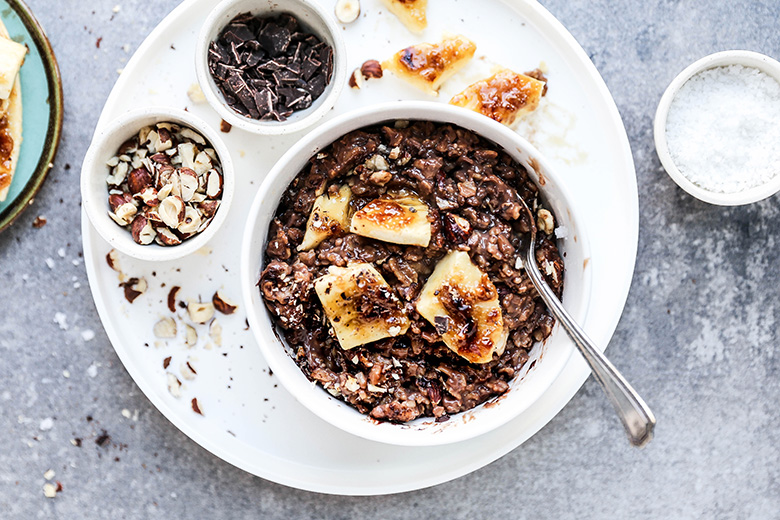 Caramelizing the bananas is an additional step (but worth it, duh). But the rest of the recipe isn't any harder than making plain oatmeal. I simply stir in all the ingredients while the oatmeal is cooking on the stove. Easy peasy. I like to make my oatmeal with a mix of half water and half milk, but you can make the "base" liquid be whatever you want. Non-dairy milk options work well here, too! Oh and don't forget a light sprinkle of flakey sea salt on top. It totally makes all the difference!
Cheers,
Liz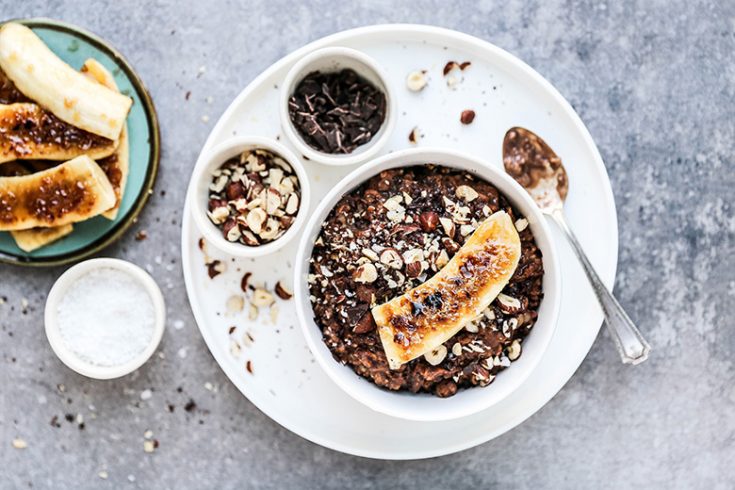 Mocha Hazelnut Oatmeal with Brûléed Bananas
Yield: 2 servings

Prep Time: 10 minutes

Cook Time: 10 minutes

Total Time: 20 minutes
Ingredients
For the Oatmeal:
Scant 2 cups milk or water
1 tablespoon chocolate hazelnut spread (like Nutella)
2 tsp. brown sugar
1 tsp. unsweetened cocoa powder
1/4 tsp. instant espresso powder
1/8 tsp. salt
1 cup old-fashioned oats
For the Bananas:
1-2 bananas, peeled and sliced lengthwise
Brown sugar
For Topping:
Chopped hazelnuts
Chopped dark chocolate
Flaky sea salt
Instructions
To make the oatmeal, bring the milk or water to a simmer over medium heat. Stir in the chocolate hazelnut spread, brown sugar, cocoa powder, espresso powder and salt. Then stir in the oats. Cook the oats, stirring occasionally, for 5-8 minutes. Remove from the heat, cover to keep warm and set aside.
To brûlée the bananas, place the bananas cut-side up on a rimmed baking sheet. Sprinkle the cut surfaces with a thin, even layer of brown sugar. Then use a kitchen torch to melt the sugar. It will bubble and turn deeply brown in places. If you don't have a kitchen torch, you can place the baking sheet under your broiler to achieve a similar result. Just be sure to monitor the bananas closely so they don't burn.
To serve, divide the oatmeal between two bowls. Top with the brûléed bananas, chopped hazelnuts, chopped chocolate and a sprinkle of flaky sea salt. Enjoy immediately.
SaveSave
SaveSave
SaveSave
SaveSave
SaveSave
SaveSaveSaveSave
SaveSave
SaveSave
SaveSave