Today I'm bringing you one final treat before Christmas. And this one doesn't even require you to cream together butter and sugar. Or turn on your oven. Or get out your cookie cutters. Instead, all you need is your stovetop and a few simple ingredients that I bet you already have in your kitchen. So let's go!
This decadent Orange Hot Chocolate is definitely NOT the hot chocolate of my childhood. I don't mean to throw shade at my Mom or anything, but I grew up drinking hot chocolate made from a packet with WATER. You guys. Why didn't we at least use milk to make the hot chocolate??? I don't know what we were thinking. These days, I would barely even consider that to be hot chocolate. At best it was a warm, thin, somewhat chocolate-flavored beverage.
Sounds appealing, right? Nope.
But those days are behind me. I'm an adult now. And I drink adult hot chocolate.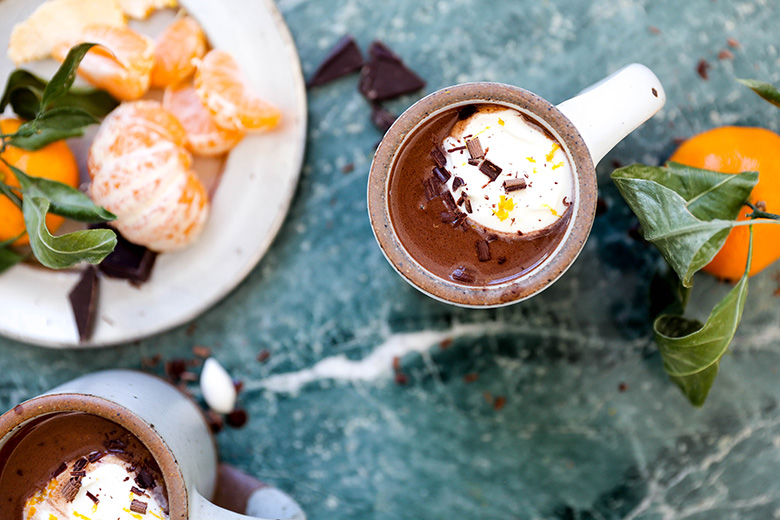 To make this Orange Hot Chocolate, start by steeping the peel of one orange in warm milk for 30 minutes. Or even longer if you have the patience (up to 1 hour). This is how we're getting all that natural orange flavor into our hot chocolate. I know it's hard to wait. But it will be worth it!
You can use any kind of milk to make this recipe. I've been loving oat milk these days. But cow, soy, almond, etc. is all good here. So use whatever works for your dietary preferences.
Once you've steeped the milk, remove and discard the orange peel strips. Then re-warm the milk while whisking in the chopped chocolate and the remaining ingredients. I highly recommend using a good quality bar of chocolate between 60-70% for this recipe (i.e. not chocolate chips which contain stabilizers and other ingredients). It will make your hot chocolate experience truly decadent and luxurious. Which is exactly what we want!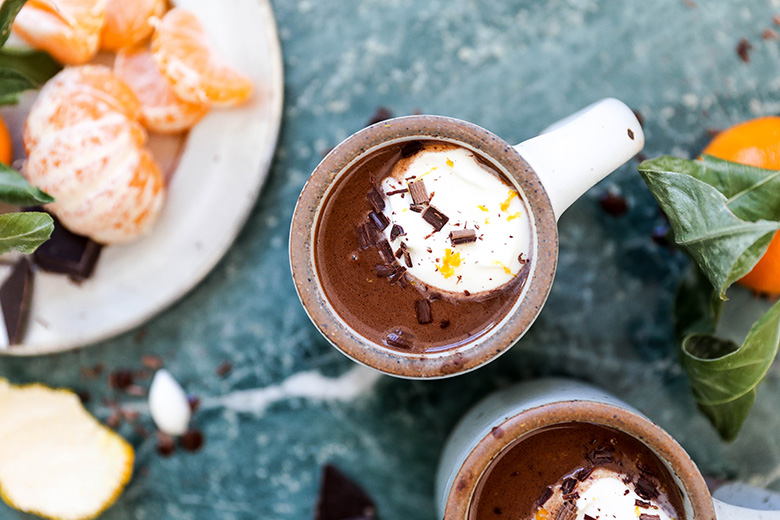 I'll always tell you that toppings are optional. But I really want to encourage you at the minimum to add the finely grated orange zest to your mugs before serving. It gives this Orange Hot Chocolate that extra layer of orange essence and it really makes the flavor pop!
Cheers,
Liz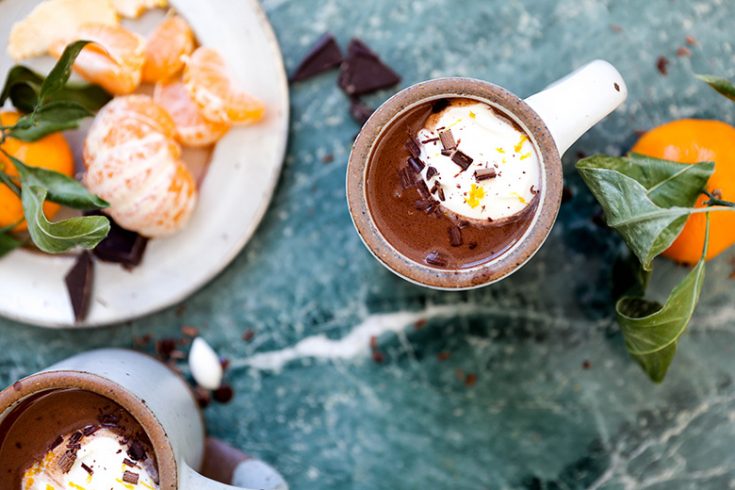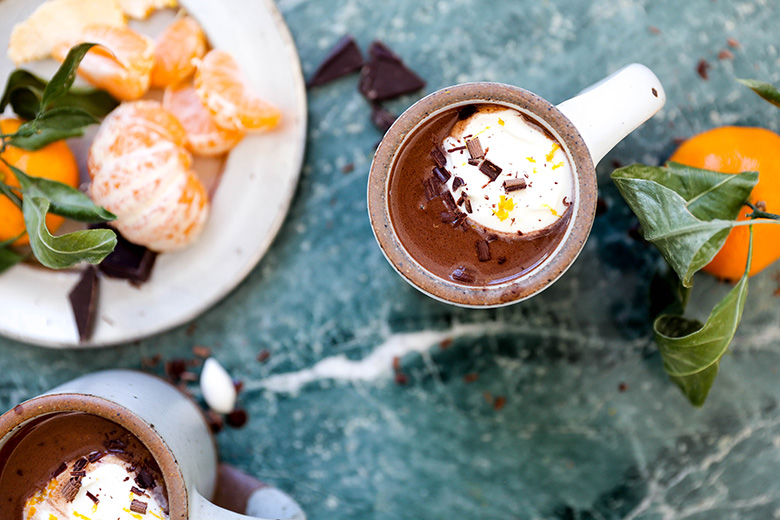 Orange Hot Chocolate
Yield: Serves 2
Prep Time: 5 minutes
Cook Time: 5 minutes
Additional Time: 30 minutes
Total Time: 40 minutes
Ingredients
For the Hot Chocolate:
1 orange
2 cups milk
3.5 ounces dark chocolate, chopped
2 teaspoons maple syrup
Pinch ground ginger
Pinch salt
For Topping:
Whipped cream
Chocolate shavings
Grated orange zest
Instructions
Use a vegetable peeler to remove the peel from the orange in large strips. Add the peels to a medium saucepan along with the milk. Warm over medium heat until the milk is steaming. Do not let it come to a full boil. Turn off the heat, cover the saucepan, and let the orange peels steep in the milk for 30 minutes.
Use a slotted spoon to remove the orange peels from the milk. Return the saucepan to medium heat and add the chopped chocolate, maple syrup, ginger and salt. Whisk constantly until the chocolate is fully melted and the mixture is smooth.
Divide the hot chocolate between two mugs. Top with whipped cream, chocolate shavings and grated orange zest. Enjoy immediately.