This post was originally published here June 5, 2015. I've since updated the text and photographs.
Oh hey. It's me. Still eating ALL the Summer produce.
Won't you join me? I hope you will. Because it's still Summer ( = a bona fide fact). And because I know you're really going to love this Prosciutto-Wrapped Peach and Arugula Salad. It would be a shame if you missed out on it because you were too busy opening a can of pumpkin.
Just saying.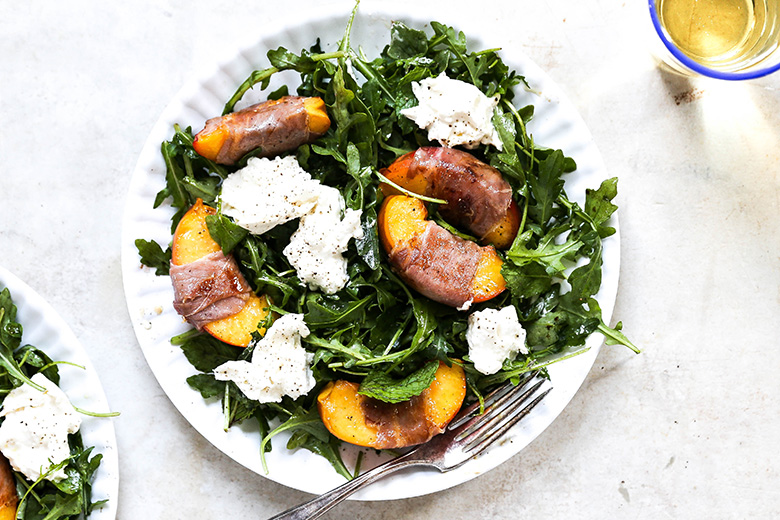 I recently had some GORGEOUS peaches left over from a couple freelance projects (you can check them out here and here, if you want even more peach inspiration!), which prompted me to re-visit this salad recipe from the archives. And I'm so glad that I did. Because I kind of forgot about how brilliantly easy and delicious this recipe is. It's essentially everyone's favorite finger food – prosciutto-wrapped peaches – turned in a main meal type of salad situation. I place the prosciutto-wrapped peaches on top of a bed of arugula with some fresh mint, torn burrata cheese and the most basic of dressings/seasonings and BOOM. Done.
Just add a glass of white wine and you're well on your way to late Summer dinner bliss.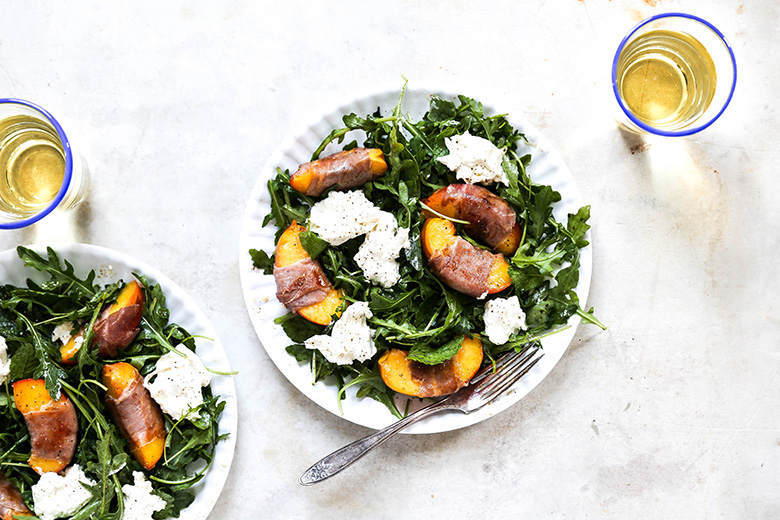 If you haven't made prosciutto-wrapped peaches before, don't sweat it. Because they are super easy to pull together. The prosciutto kind of adheres to itself, so as long as you keep the strips long enough that the two ends meet and overlap slightly around the peach wedge, you'll be good to go. After you practice wrapping one, I know you'll get the hang of it! There are some loose measurement guides in the recipe below, which should help get you started.
If you make this salad, I'd love to hear about it. And see a photograph, too! So snap a picture and give me a shout out on social media!
Cheers,
Liz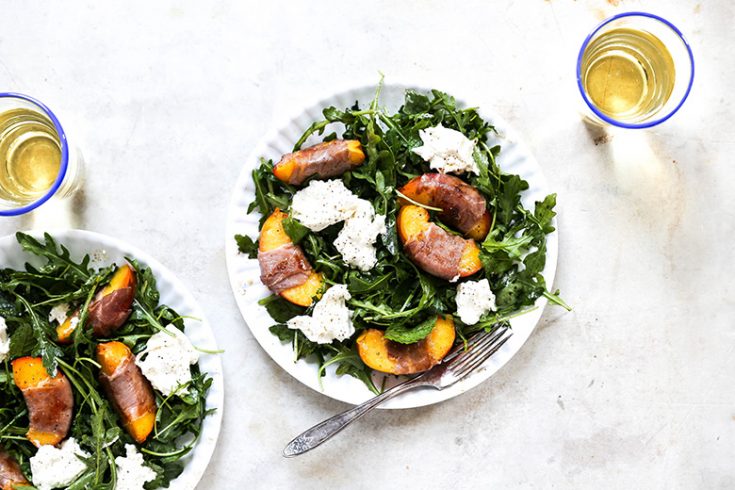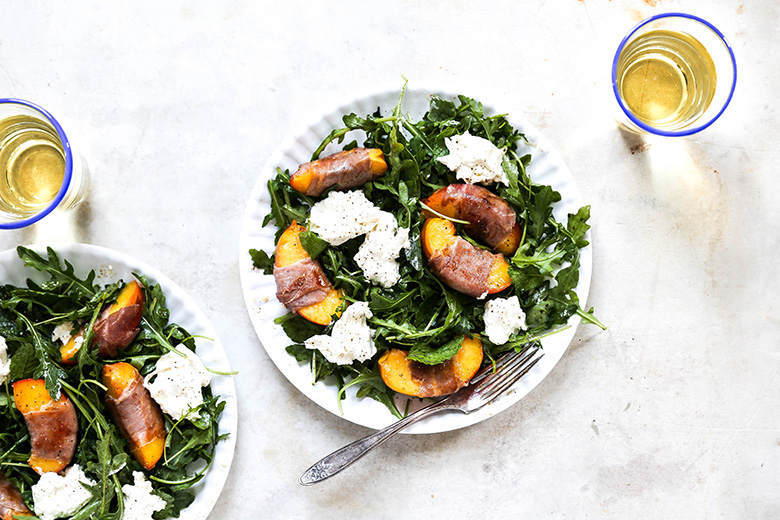 Prosciutto-Wrapped Peach and Arugula Salad
Yield: Serves 2
Prep Time: 15 minutes
Cook Time: 5 minutes
Total Time: 20 minutes
Ingredients
2 peaches, pitted and sliced into wedges
12-16 strips of prosciutto, about 3- to 4-inches long and 1-inch wide
2 tablespoons extra-virgin olive oil, divided
4-5 cups arugula
2 tablespoons fresh mint leaves, torn
2 tsp. balsamic vinegar
1/4 tsp. salt
1/4 tsp. black pepper
1 (4-ounce) ball of burrata cheese, drained
Instructions
Wrap each peach wedge with a strip of prosciutto and set aside.
Heat 1 tablespoon of the olive oil in a medium skillet over medium-high heat. Add the wrapped peach wedges and cook them about 1 minute per side, or just until the prosciutto is slightly browned and crisped. Remove from the heat and set aside.
Add the arugula and mint to a large bowl. Drizzle with the remaining tablespoon of olive oil and the balsamic vinegar and toss to combine, sprinkling with the salt and black pepper as you toss the greens.
Divide the greens between two serving plates. Top with the wrapped peaches. Then tear the burrata into chunks and add it to the salads. Enjoy immediately.