This post was originally published here on July 2, 2013. I've since updated the photographs and text. If you try out this recipe, I'd love to hear about it! Just give me a shout out on social media!
If you've never roasted radishes before, I'm telling you it's a life altering experience. And something that you should start doing on the regular.
You see, radishes were never really a thing that I liked. Sure, I would put a few slices on a taco or in a salad. But eating a whole bowl of radishes? No way, no how. They were always too spicy for me. And frankly, I just thought the flavor of them was kind of odd (for lack of a better word).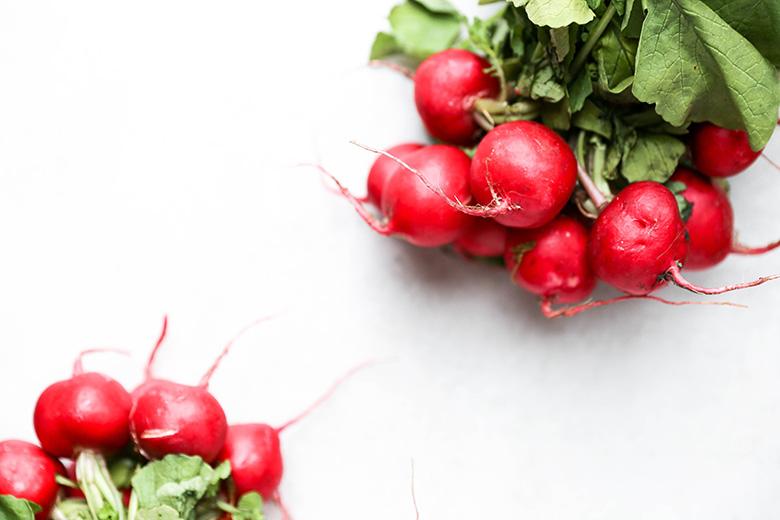 But several years ago, I started roasting radishes in the oven with a little olive oil, salt and black pepper (something born out of necessity, because I kept getting huge bunches of them in my CSA box and I was quickly running out of ways to them). And holy moly. Radishes actually tasted GOOD to me after that. And I even downright started craving them.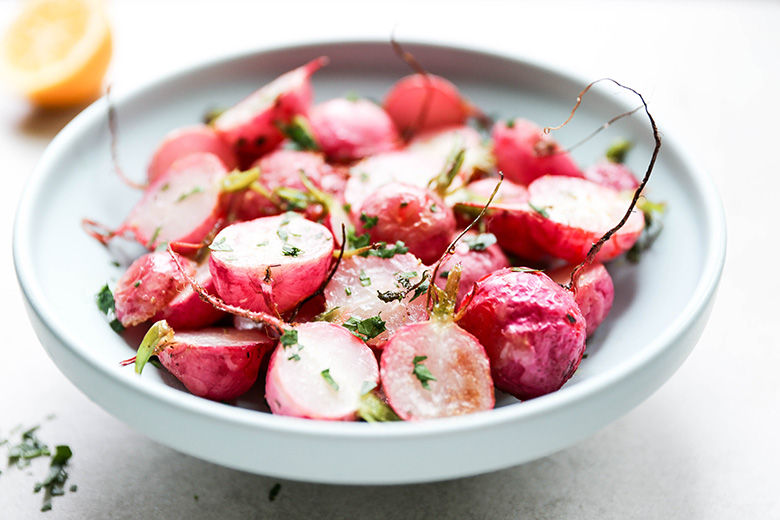 So, if you're generally feeling skeptical about radishes, I urge you to give these Roasted Radishes a whirl and see if you change your mind. They're not as spicy as raw radishes. But they do still retain some of their earthy-ness. And while they lose a lot of their characteristic crunch, they're not super soft either. I'd call them al dente. Tender, but with a firm bite.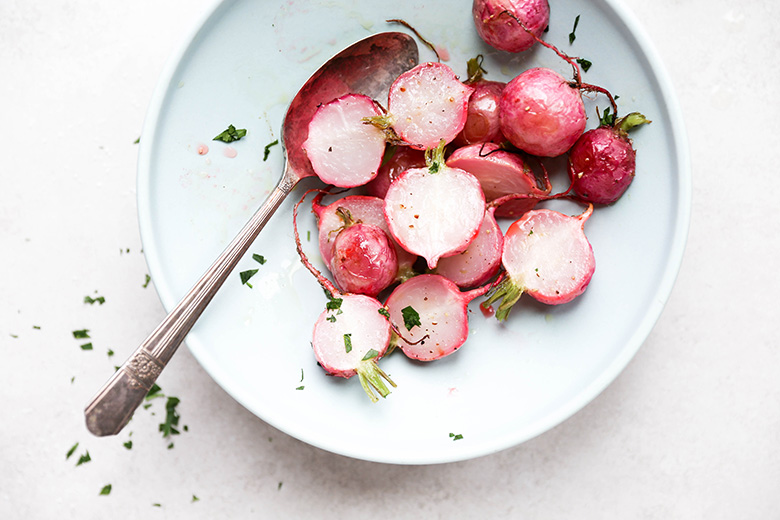 Oh and hello, they are super gorgeous, too. I just love their pink hue. And if you cut them in such a way that preserves a bit of the stem and root, then their presentation points go through the roof.
They are a fantastic side dish for Spring. Or you can also use them to top risotto, salads, you name it!
Cheers,
Liz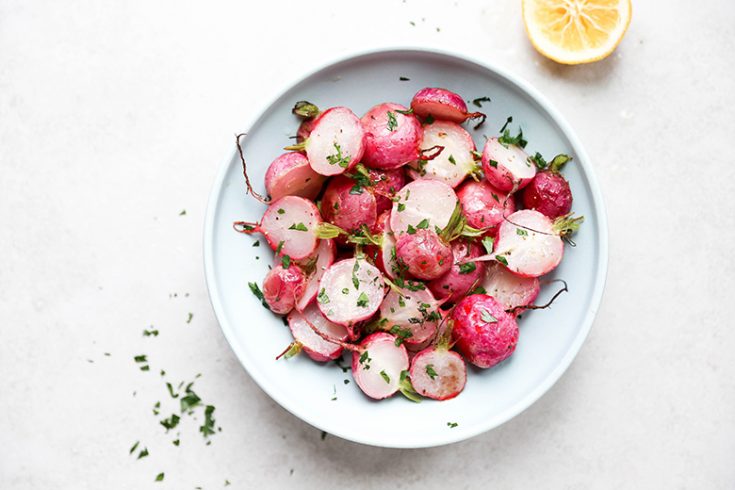 Roasted Radishes
Yield: 4-6 servings
Prep Time: 5 minutes
Cook Time: 25 minutes
Total Time: 30 minutes
Ingredients
1 bunch radishes (about 10-12 radishes)
About 1 tablespoon extra-virgin olive oil
1/4 tsp. salt
1/4 tsp. pepper
Lemon wedge
Fresh parsley, chopped
Instructions
Pre-heat your oven to 425 degrees.
Trim and discard the greens from the radishes. Wash the radishes and cut them in half lengthwise. Then spread them out onto a large rimmed baking sheet and drizzle with olive oil. Sprinkle with the salt and pepper.
Transfer to your pre-heated oven and roast for 15 minutes. Using a pair of tongs, flip the radishes over, then continue roasting them for another 5-10 minutes, or until the radishes are tender and slightly browned.
Remove the baking sheet from your oven and squeeze some fresh lemon juice over the radishes. Transfer to a serving dish and top with parsley. Serve immediately.