If you follow along with me on Instagram, you might have noticed that I had a slightly different view of the water this past weekend. That's because I had traveled down to the Florida Panhandle to meet up with some fabulous food blogging friends for a #BlognBeachRetreat (check out the hashtag for all the highlights!) organized by Ashley of Spoonful of Flavor. We talked, giggled, rode bikes, went stand up paddle boarding and of course, indulged in a lot of really amazing local food.
So while the calendar was busy switching over to October, I didn't really take note of it until now. Where I was, the weather was warm and humid. The ocean was still a temperature that I would consider to be swim-able. And I consumed my fair share of summery foods, like fresh fish tacos, frozen margaritas and key lime pie. It was enough to make me forget that we are now ankle deep into a new season.
But now I'm back in New England and getting settled into a Fall routine. The air is crisp and cool. There are leaves in my yard that are begging to be raked. And squash is popping up just about everywhere.
Butternut and delicata are two of my favorite varieties of squash. They are a staple in my house this time of year, and somehow manage to work their way into almost every meal. But this Fall, I'm trying to branch out a bit more and use varieties that I have been shamefully neglecting. Like spaghetti squash.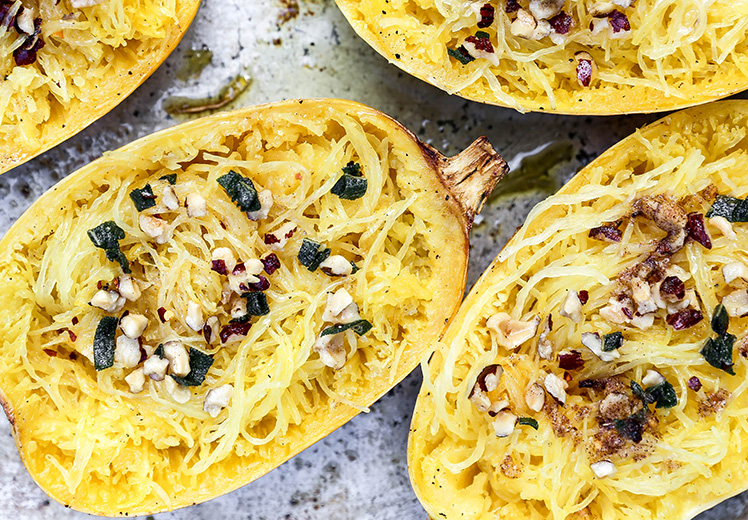 A lot of people like to treat spaghetti squash like pasta and slather it in tomato sauce. But I prefer to keep mine more "squash-like". Which means combining it with Fall flavors like browned butter, sage and a few warming spices. Simple to prepare, comforting to eat, perfectly portioned and fairly adorable, my Roasted Spaghetti Squash with Browned Butter will certainly become a new favorite in your house. The ingredient list is short, but the browned butter lends a complex, deep flavor profile that can't be beat. Honestly, I don't think there are too many problems in life that can't be fixed with a little drizzle of browned butter.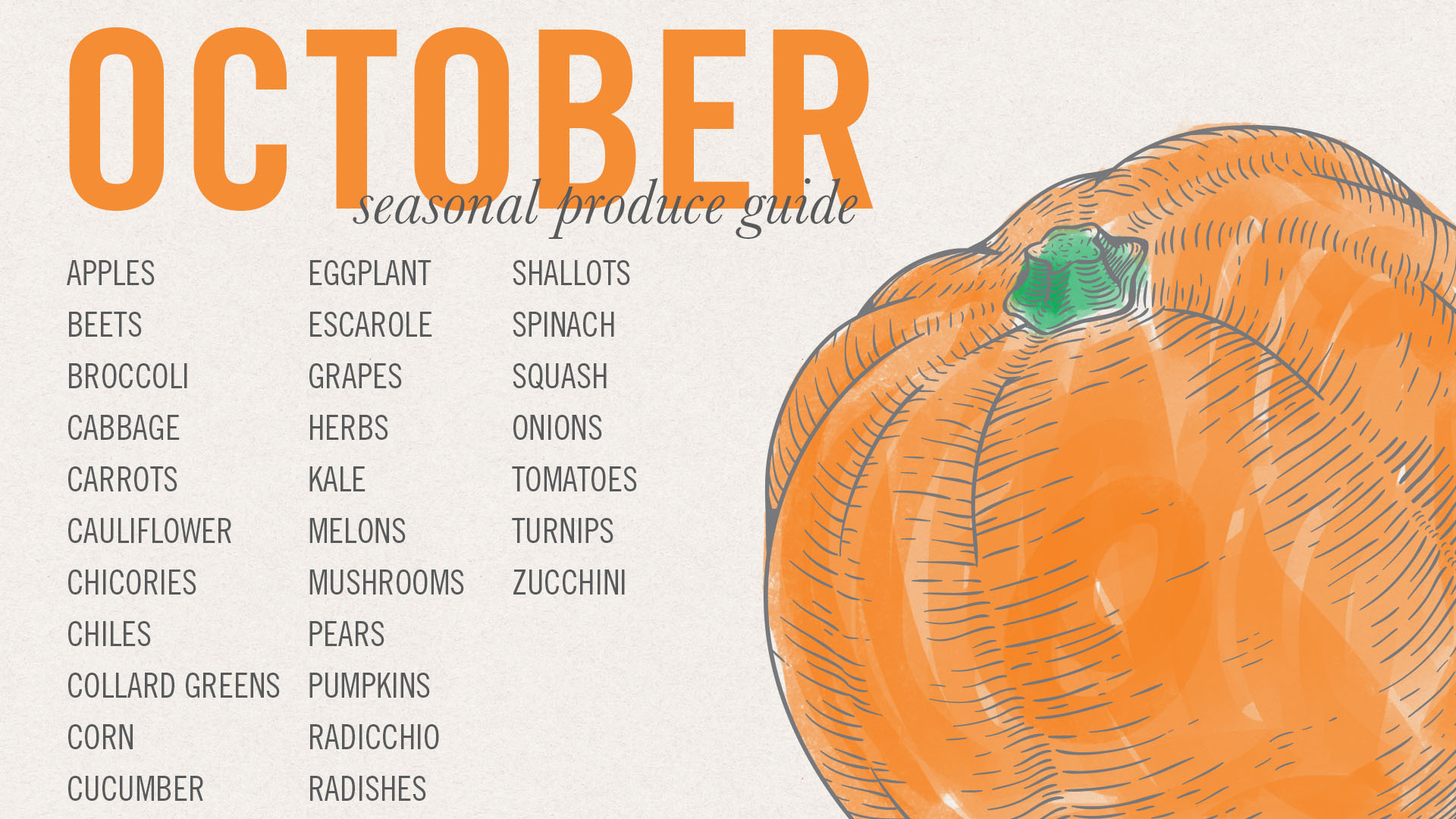 I also wanted to share you with today Becky's illustrated seasonal produce guide for October. Make sure to keep your eyes peeled for these ingredients when you're out doing your food shopping. And don't forget to also check out her round-up post, which has dozens of recipes that incorporate all the fruits and vegetables that October has to offer. It's an inspiring list that will surely make you want to get into the kitchen and cook!
Cheers,
Liz
Ingredients
2 spaghetti squash
1-2 tablespoons extra-virgin olive oil
1 tsp. salt
1 tsp. black pepper
4 tablespoons unsalted butter, cubed
1/4 cup chopped hazelnuts
2 tablespoons fresh sage leaves, sliced
1/4 tsp. red pepper flakes
1/4 tsp. ground cinnamon
Instructions
Pre-heat your oven to 400 degrees.
Slice the spaghetti squash in half lengthwise. Scrape out and discard the seeds. Lightly coat the flesh of the spaghetti squash with olive oil. Sprinkle with the salt and pepper. Place the spaghetti squash cut-side down on a large rimmed baking sheet. Transfer to your pre-heated oven and roast for about 30 minutes, or until the squash is tender. Remove from the oven and set aside to cool slightly. Carefully flip the squash over. Then using a fork, scrape the flesh into strands, keeping the strands inside the squash skin. Cover to keep warm and set aside.
In a medium saucepan, melt the butter over medium heat. Cook the butter, whisking frequently, until it foams and starts to turn brown and smell nutty, about 2-3 minutes. Add the chopped hazelnuts, sage leaves, red pepper flakes and cinnamon and cook for about 30 seconds more. Remove from the heat.
Spoon the browned butter mixture over the squash strands. Serve immediately.
https://www.floatingkitchen.net/roasted-spaghetti-squash-with-browned-butter/