This post was originally published here on September 21, 2015. I've since updated the text and photographs. This is a great soup to make when late Summer/early Fall produce is abundant and plentiful. I hope you try it out!
In the Wintertime, my favorite tomato soup recipe is made with canned whole tomatoes and it's finished with a cup of heavy cream. It's extra rich and velvety. And it's the perfect partner for a grilled cheese sandwich. I particularly enjoy making up a batch on snow days for a little post-shoveling fuel!
BUT. When I've got the last of the Summer tomatoes lingering on my countertop, I make this Roasted Tomato and Red Pepper Soup instead. It's fresh and vibrant. And you can practically taste the months of Summer sunshine that went into ripening the tomatoes!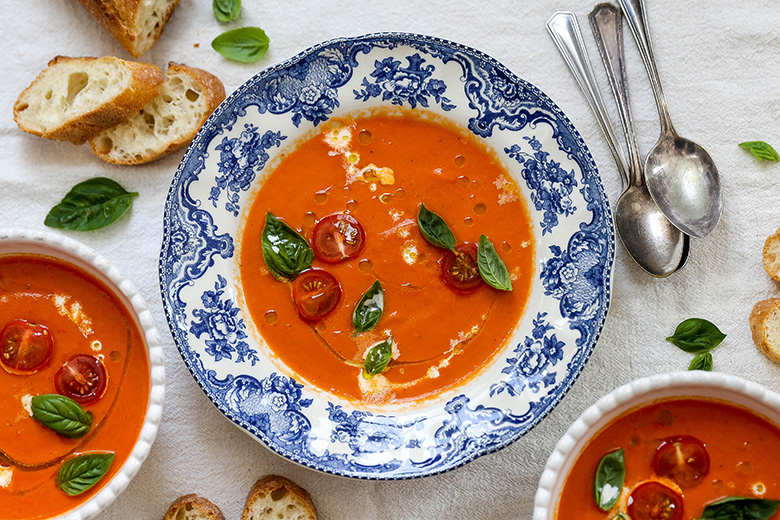 Instead of just dumping everything into a big pot to cook, I first roast the tomatoes and red pepper in my oven to bring out more of their natural sweetness and juices. They'll eventually make their way into the pot with the sautéed onions, garlic and seasonings. But this first step is key to developing a deeper flavor in the final soup. So don't skip it!
The ingredient list calls for 2 pounds of plum tomatoes, but I usually end up using a mix of whatever I have that needs to get used up. The last time I made this recipe I used approximately 1 pound each of plum tomatoes and heirlooms. It's all good!
For the smoothest version of this soup, I highly recommend using a high-powered blender. While you can certainly purée this soup using an immersion blender, a food processor with the blade attachment or a food mill with the course disk attachment, it's hard to achieve the same results that you can get out of a blender.
If you're like me and you're doing whatever it takes to make the Summer season last just a little bit longer, I highly recommend giving my Roasted Tomato and Red Pepper Soup a try. And let me know if you do!
Cheers,
Liz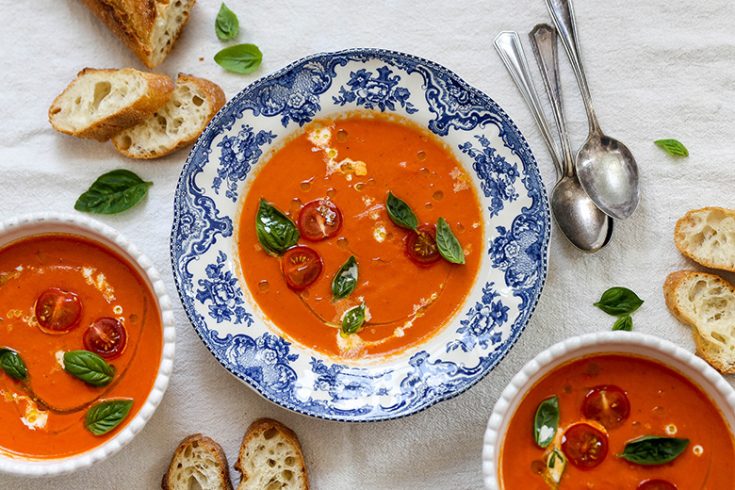 Roasted Tomato and Red Pepper Soup
Yield: About 4 servings

Prep Time: 20 minutes

Cook Time: 1 hour 15 minutes

Total Time: 1 hour 35 minutes
Ingredients
For the Soup:
2 lbs plum tomatoes
1 large red bell pepper
1/4 cup, plus 2 tablespoons, extra-virgin olive oil, divided
1 1/2 tsp. salt, divided
1 1/2 tsp. black pepper, divided
1 large onion, peeled and diced
4 garlic cloves, peeled and minced
2 tablespoons tomato paste
1/4 – 1/2 tsp. red pepper flakes, depending on your preferred level of spice
1/2 cup white wine
2 cups vegetable stock
1 bay leaf
For topping, if desired:
Fresh basil leaves
Halved cherry tomatoes
Olive oil
Instructions
Pre-heat your oven to 400 degrees. Cut the tomatoes in half lengthwise and place them in a 9 X 13-inch baking pan. Cut the red pepper in half, removing and discarding the stem and seeds, and add it to the baking pan. Drizzle the tomatoes and red pepper with 1/4 cup of the olive oil. Sprinkle with 1 tsp. each of the salt and pepper. Transfer the baking pan to your pre-heated oven and roast for 45 minutes. Remove and set aside to cool slightly.
Meanwhile, warm the remaining 2 tablespoons of olive oil in a large heavy bottom pot set over medium heat. Add the diced onion and sauté, stirring occasionally, until the onion is soft, about 6-8 minutes. Add the minced garlic, tomato paste, red pepper flakes and the remaining 1/2 tsp. each of the salt and black pepper. Cook, stirring constantly, for 1-2 minutes. Add the wine and bring the liquid up to a boil, scraping up any browned bits on the bottom of the pot.
Carefully add in the roasted tomatoes and red pepper, along with any accumulated juices in the baking pan, the vegetable stock and the bay leaf. Bring the soup to a boil. Then turn down the heat to maintain a simmer. Simmer, uncovered, for about 20 minutes.
Remove the pot from the heat and set it aside to cool slightly. Remove and discard the bay leaf. Transfer the soup to your blender and blend on high until completely smooth, working in batches as necessary. You can also purée the soup using an immersion blender, a food processor with the blade attachment or a food mill with the course disk attachment.
Add the puréed soup back to the pot to re-warm it before serving.
To serve, ladle the warm soup into bowls. You can finish the soup with fresh herbs, tomatoes and olive oil, if desired. Enjoy immediately.
SaveSave
SaveSave
SaveSave
SaveSave
SaveSave
SaveSave
SaveSave
SaveSave