This post was originally published here August 24, 2015. I've since adjusted the recipe and updated the text and photographs to accurately reflect those changes.
This salad is Summer on a plate! And it might just be my new favorite thing to eat!
Seriously. Don't sleep on this Summer Stone Fruit Salad with Burrata and Salt & Pepper Almonds. It's a must-make recipe for RIGHT NOW, when all the gorgeous stone fruit is juicy and ripe for the taking. I always include fresh cherries. And then I like to mix and match peaches, plums and nectarines, depending on what I have on hand. But any and all combinations are welcome here! Because you really can't go wrong when it's peak season for so many different stone fruit varieties!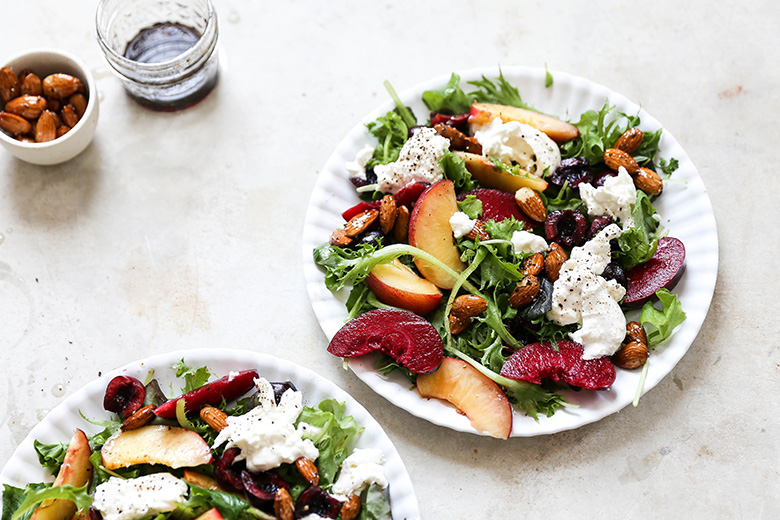 When I'm making this salad for myself, I'm not ashamed to admit that I just throw everything into a big bowl and somewhat haphazardly toss it around. It's not pretty. But it gets the job done. However, if I'm serving this to others, or simply feeling a tad bit more formal, I will make the effort to "arrange" all the ingredients on serving plates. It makes a big difference in terms of presentation. And I highly recommend you do that, too!
Oh! And the almonds! Sticky, salty and peppery. They are beyond addicting (you've been warned!). And they give this salad a crunchy kick that makes it extra satisfying. You only need 4 ingredients and less than 5 minutes of time to make them, so I'm not accepting any excuses to skip out on them (unless of course your allergic to almonds, then skipping is allowed!).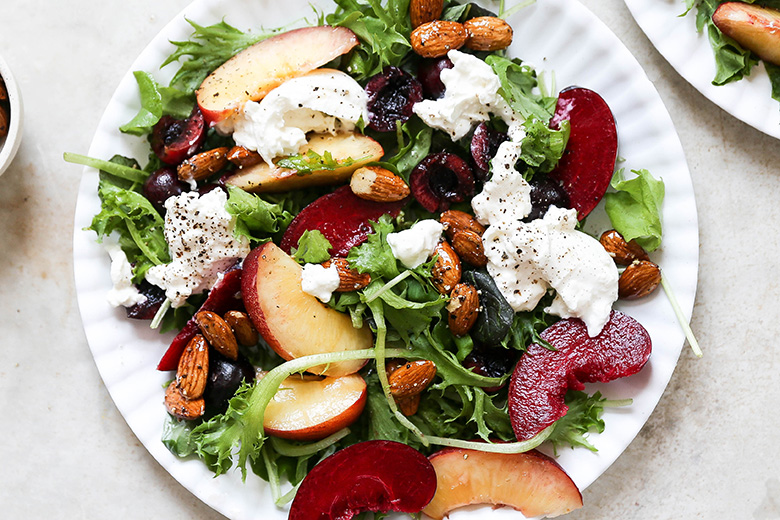 What's your favorite stone fruit? And what's your favorite thing to make and/or bake with it? I'm always looking for new ideas, so I'd love to hear how you typically enjoy them. Drop me a line anytime!
Cheers,
Liz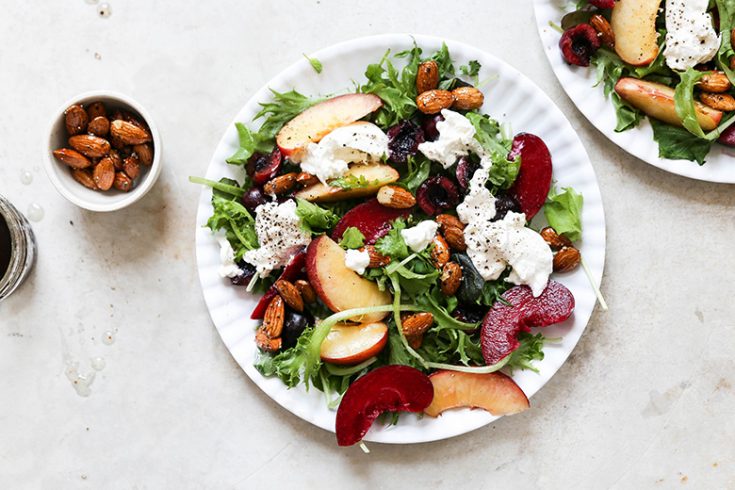 Summer Stone Fruit Salad with Burrata and Salt & Pepper Almonds
Yield: Serves 2
Prep Time: 10 minutes
Cook Time: 5 minutes
Total Time: 15 minutes
Ingredients
For the Almonds:
1/2 cup raw, unsalted almonds
1 tablespoon maple syrup
1/4 tsp. salt
1/4 tsp. black pepper
For the Salad:
3 tablespoons extra-virgin olive oil
2 tablespoons balsamic vinegar
1 tablespoon maple syrup
1/4 tsp. salt
1/4 tsp. black pepper
4 cups mixed greens
1 tablespoon fresh mint leaves, torn
1 tablespoon fresh basil leaves, torn
4 peaches, nectarines and/or plums, pitted and sliced
1 cup cherries, pitted and halved
1 (4-ounce) ball burrata cheese, drained
Instructions
Heat a non-stick skillet over medium heat. Add the almonds and toast them, stirring frequently, for about 2 minutes or until they just start to smell fragrant. Add the maple syrup and stir quickly to coat the almonds. Then sprinkle them with the salt and black pepper. Transfer the almonds to a parchment paper-lined plate, spreading them out into a single layer. Set aside to cool.
To make the dressing, whisk together the olive oil, balsamic vinegar, maple syrup, salt and black pepper. Set aside.
Add the mixed greens and fresh herbs to a large bowl. Drizzle with about half of the dressing and toss gently to coat. Then divide the greens between two plates and top with the stone fruit and almonds. Tear the burrata into chunks and add it to the salads. Finish with an additional pinch of salt and black pepper, and an extra drizzle of dressing, if desired. Enjoy immediately.