Happy first official day of Summer!
This past weekend was absolutely gorgeous. I was basically poolside the entire time. Only stopping to mix beertails, grill kebabs and watch a few episodes of Orange Is the New Black (I'm trying really hard not to binge!). Life can be pretty good sometimes.
Now I'm easing back into Monday with a longer than life to-do list and a big pile of laundry. Thankfully there's ice cream to make the transition a little bit sweeter.
So…tahini-flavored ice cream. Are you down? Or does that sound totally weird to you?
Admittedly, I wasn't sure myself initially. I was worried it might be too savory. And that the texture might be a little bit off as well. But I only needed to take one bite of this cool, creamy concoction to be completely sold on the idea. And I'm hoping that my opinion carries a little bit of weight around here, and you'll be willing to give it a try.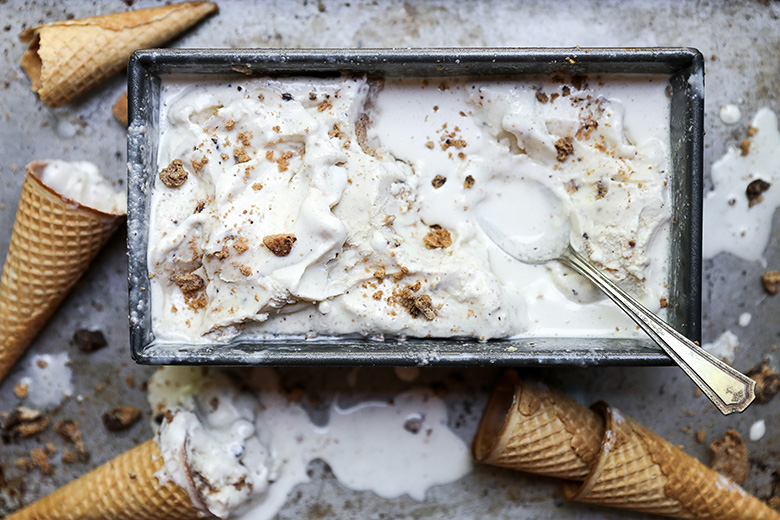 Like a peanut butter-flavored ice cream, this tahini-flavored ice cream does have a bit of a savory, nutty undertone. But it's most definitely still dessert. Especially with a few chunks of chocolate chip cookies weaved into the ice cream base (I used store bought cookies, but you could certainly make your own). It's a fun flavor if you're looking for something unique, but not totally over-the-top weird (I spotted dill pickle ice cream the other day…um NO!)
I'm sharing this Tahini Ice Cream with Chocolate Chip Cookies as part of Ice Cream Week (hooray!), which is being organized by my talented friend Amanda from A Cookie Named Desire. Dozens of bloggers will be sharing ice cream recipes throughout the week, and you can check them all out here on Amanda's site. I hope you made some extra space in your freezer…
Oh and there are prizes, too! One lucky winner will win a bunch of ice cream related goodies, including items from Rodelle, Cuisinart, Zeroll and Tovolo. You can get all the details of the giveaway AND enter to win on Amanda's site. Go do it! And good luck!
Cheers,
Liz
Ingredients
1 1/2 cups whole milk
1 cup heavy cream
4 ounces cream cheese, softened at room temperature
4 ounces tahini
3/4 cups sugar
1 tsp. vanilla extract
1 tablespoon vodka, optional
1 1/2 cups chopped chocolate chip cookies
Instructions
Before starting, make sure the canister of your ice cream maker is frozen. To freeze completely, the canister should be in the freezer for at least 6 hours.
Make the ice cream base. In a heavy bottom saucepan over medium heat, whisk together the milk, heavy cream, cream cheese, tahini (make sure you stir it well before using it) and sugar until well combined and smooth. The mixture will appear lumpy at first, but it will come together after a few minutes of whisking and warming. Do not let the mixture come to a boil. Once smooth, remove from the heat and transfer the ice cream base to a clean bowl. Stir in the vanilla extract. Cover and refrigerate until completely chilled, at least 4 hours or up to 24 hours.
Churn the ice cream. Pour the chilled ice cream base into the canister of your ice cream maker and churn until the mixture is nearly frozen and the consistency of soft serve, about 20 minutes. Add the vodka, if using, and churn for an additional minute. Then add the chopped cookies and churn until they are well distributed.
Transfer the ice cream to a freezer safe container. Cover with plastic wrap, pushing the plastic all the way down to the surface of the ice cream. Freeze until firm, about 3 hours, before scooping and serving. The ice cream can be stored in your freezer for several days.
https://www.floatingkitchen.net/tahini-ice-cream-with-chocolate-chip-cookies/