Disclosure: This post is sponsored by Lindt. All opinions are my own. Thank you for supporting brands and companies that help to keep my kitchen running!
I have too much "stuff".
Yes, some of my stuff makes me happy. And yes, some of my stuff is essential to my day-to-day activities. But in general, it just seems like I have way more stuff than I actually need. It can feel overwhelming at times. Especially during the Holiday season.
To try to balance out all this "stuff", I've shifted my gift giving habits over the years to focus more on consumables, either in the form of shared experiences or edible gifts. And today (like pretty much every other day, since this is mainly a food blog!), I want to share one of my favorite homemade treats that's perfect for gift giving: Very Vanilla Marshmallows with Chocolate Drizzle.
OK, let's start by discussing some facts about homemade marshmallows. One, they are exactly three million times tastier (and the texture is incredible, too!) than store-bought marshmallows. Two, they are totally customizable. Three, they are easy peasy (I swear!). And four, you and your kitchen will inevitably get sticky in the process.
Yes, that's right. You will get sticky. And you will end up with a dusting of powdered sugar on just about everything. But just own the mess. Because homemade marshmallows are more than worth it for the little bit of extra clean up.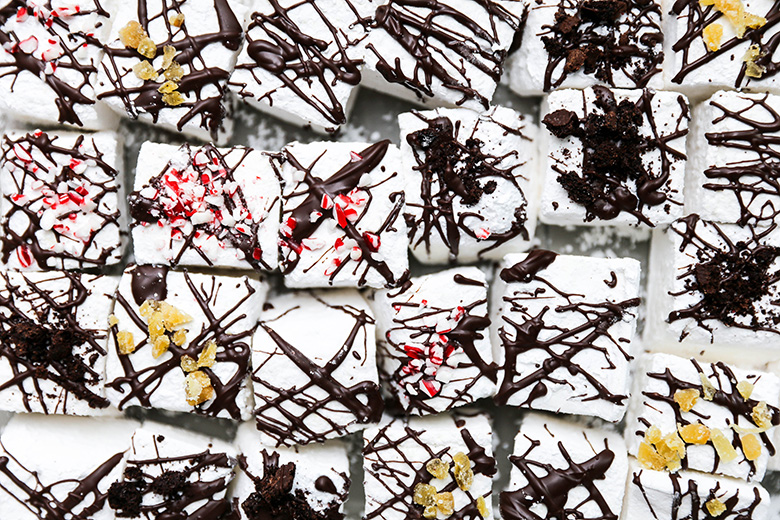 Today, I've partnered with Lindt to bring you the recipe for these Very Vanilla Marshmallows with Chocolate Drizzle. And let me tell you, the folks at Lindt sure do know a thing or two about edible Holiday gift giving!
Lindt has been part of my Holiday celebrations for as long as I can remember. My Mom and I always fill my Dad's stocking with Extra Dark LINDOR Truffles (his personal favorite). While I'm partial to the iconic LINDT GOLD BEAR (there is something very satisfying about biting the head off, right?). And we always stock up on Lindt's exquisite boxed chocolates to use for hostess gifts, party favors and whatever other last minute occasions might come up.
Whether you're looking to customize a gift, or quickly grab a ready-made festive package, Lindt has you covered. There are 65 Lindt Chocolate Shops across the country (with 18 in New England), so be sure to check out their store locator to find the one closest to you. I guarantee that if you pop in for a visit, you won't be disappointed. Their chocolate shops are just filled to the brim with sweet inspiration. You'll easily find tons of ways to share the flavors of the Holiday season with all your family and friends!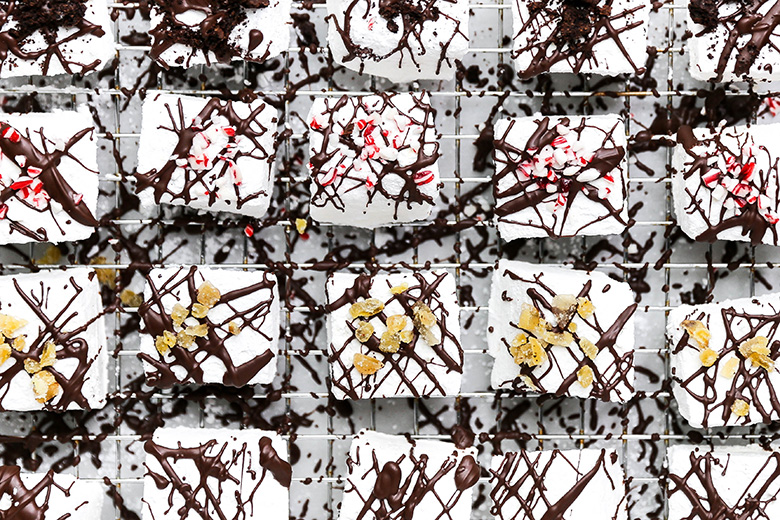 For these Very Vanilla Marshmallows with Chocolate Drizzle, I used my favorite Lindt EXCELLENCE 70% cocoa bars for melting and drizzling. I always have a big stack of Lindt EXCELLENCE bars in my pantry that I use for all my recipes. It melts beautifully and has a wonderful, rich flavor profile. And of course, it's great just for eating as well! I love the audible snap you can hear when you take a bite out of a Lindt EXCELLENCE bar. That's always the telltale sign of a premium chocolate bar!
I'm going to be boxing up these homemade marshmallows along with some LINDOR truffles and hot cocoa mix to give out to my family and friends this year. It's going to be a great edible gift package!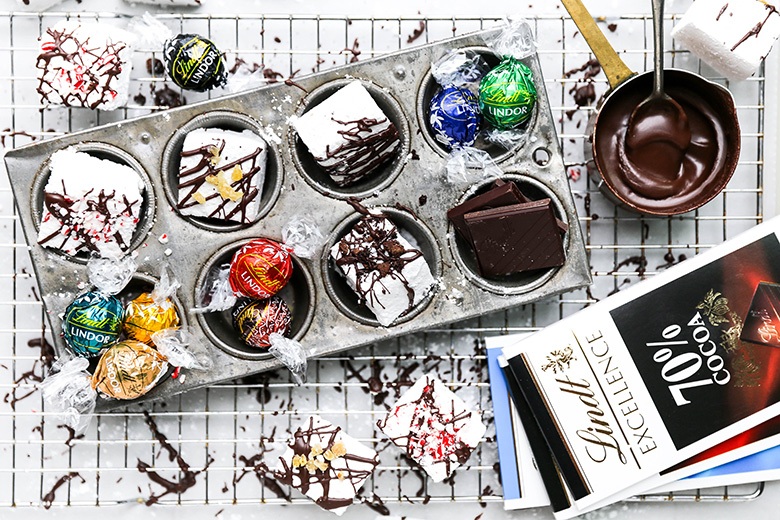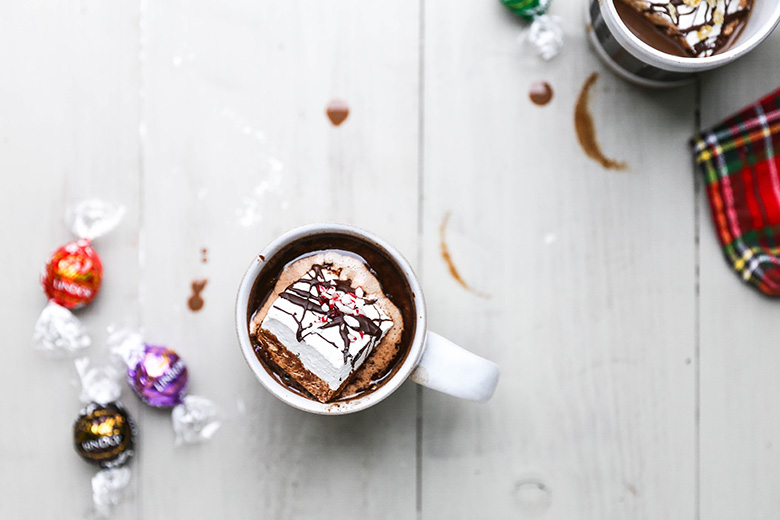 I just want to share a few last tips on the recipe before you go off and embark on your journey to marshmallow nirvana. One, you will need a candy thermometer, so make sure you have one on hand. Two, I find the best way to cut back on the amount of mess is to have all your ingredients and kitchen tools at the ready, so you're not hunting around your kitchen for "stuff" during the process. Three, be generous with the cooking spray and the powdered sugar mixture. And four, if you can wait the full 24 hours for the curing step, I highly recommend that as it will make it much easier to remove and slice the marshmallows.
Oh and most importantly, have FUN! Try playing with different flavors of melted chocolate and toppings. And don't hold back on the chocolate drizzle. I never do.
Cheers,
Liz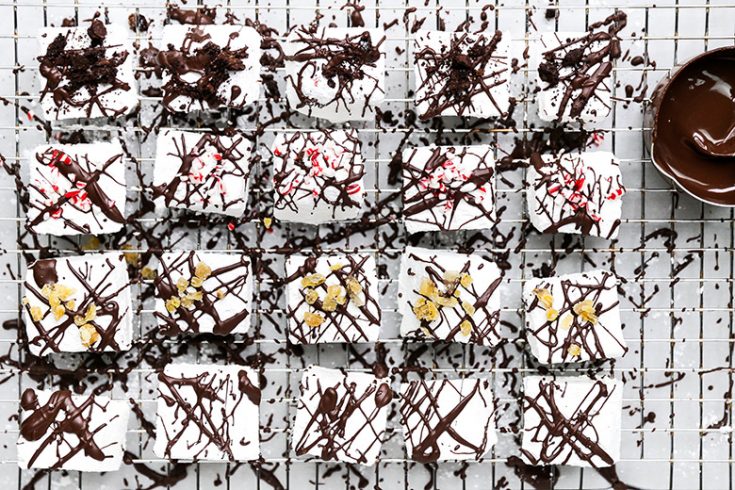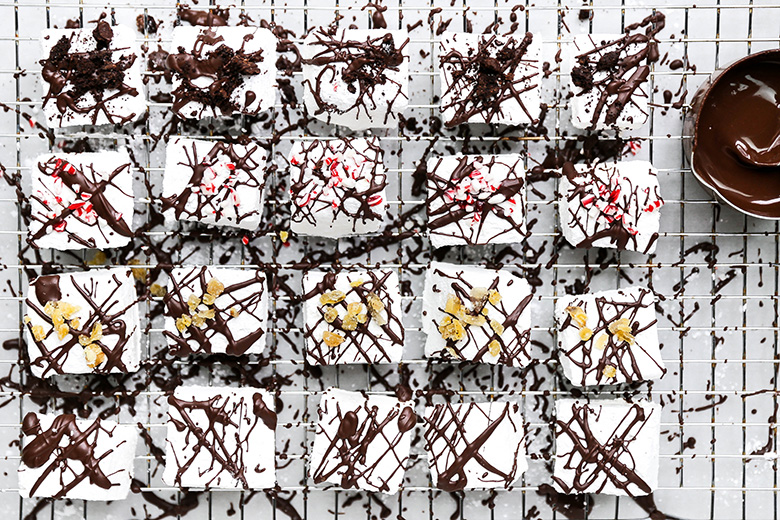 Very Vanilla Marshmallows with Chocolate Drizzle
Yield: Makes about 3 dozen

Prep Time: 1 days

Cook Time: 20 minutes

Total Time: 1 days 20 minutes
Ingredients
For the Marshmallows:
1 cup powdered sugar
1 tablespoon cornstarch
3 (1/4-ounce) packages unflavored gelatin
1 cup cold water, divided
2 cups granulated sugar
2/3 cups light corn syrup
1/4 tsp. salt
2 tsp. vanilla extract
2 fresh vanilla beans, seeds scraped
For Topping:
1 Lindt EXCELLENCE 70% cocoa bar, chopped and melted
Crushed peppermint candies
Crushed cookies
Chopped crystalized ginger
Instructions
Combine the powdered sugar and cornstarch in a bowl.
Generously spray the bottom and sides of a 9 X 9-inch baking pan with non-stick cooking spray. Then coat with the powdered sugar mixture. Set aside.
Add the gelatin to the bowl of your stand mixer fitted with the whisk attachment. Then pour 1/2 cup of the water over the gelatin. Let the gelatin bloom while you make the sugar mixture.
In a heavy-bottom saucepan over medium-high heat, bring the granulated sugar, corn syrup, salt and the remaining 1/2 cup of water to a boil, stirring to help dissolve the sugar. Attach your candy thermometer and continue to boil the sugar mixture until it reaches 240-242 degrees Fahrenheit. Remove the saucepan from the heat.
Turn your stand mixer to low-medium speed. Then very carefully start streaming the hot sugar mixture into the bowl. Avoid pouring the sugar mixture directly onto the whisk, or it will splatter. Try to keep the stream near the sides of the bowl. Once all the hot sugar mixture has been added, cover the bowl with a clean kitchen towel and increase the speed to high. Whisk on high for 10 minutes. The mixture will become thick, white and fluffy.
Add the vanilla extract and the scraped vanilla bean seeds. Whisk for 2 minutes more.
Immediately transfer the marshmallow mixture into your prepared pan using a spatula. The mixture will become more sticky over time, so work quickly. Spray the spatula with non-stick cooking spray and use it to smooth and even out the surface of the marshmallow. Then generously cover the top of the marshmallow with some of the powdered sugar mixture. Set the baking pan aside and let the marshmallow rest or "cure", uncovered, at room temperature for at least 6 hours or up to 24 hours. Save the remaining powdered sugar mixture.
Once set, remove the marshmallow from the baking pan and place it on a cutting board dusted with some of the powdered sugar mixture. The best tool for this job is your hands, which you can use to slowly work/pry the edges away from the sides of the pan (coat your fingers in the powdered sugar mixture to prevent sticking). Once all the sides have been loosened, the marshmallow should easily come out of the baking pan as one large block.
Once the marshmallow has been removed from the pan, use a very sharp knife to slice the marshmallow into squares. Toss the squares in the remaining powdered sugar mixture to coat all sides. Then place the marshmallow squares on a cooling rack set over a piece of parchment paper.
Drizzle the melted chocolate over the marshmallows. While the chocolate is still wet, sprinkle with any desired toppings. Once the chocolate has set, the marshmallows can be stored in an airtight container at room temperature for several weeks, although they are best when eaten within one week of being made.
SaveSave
SaveSave
SaveSave
SaveSaveSaveSave
SaveSave
SaveSave
SaveSave
SaveSave
SaveSave
SaveSave
SaveSaveSaveSave
SaveSave
SaveSave