Hi Friends! I hope you all had a wonderful Thanksgiving.
My Thanksgiving was fairly low key, but that's just the way I like it. I had plenty of home cooked food. Some time with family and friends. A cold, foggy walk on the beach. And a crackling fire to warm my toes. Honestly, I couldn't have asked for anything more.
After the Holiday, I took a much needed break from the blogging world to recharge my batteries. The days leading up to Thanksgiving were filled (overfilled, actually) with work projects and Holiday preparations. And I had some turbulent emotional ongoings as well (i.e. boy trouble) that was causing me some serious anxiety and heartache. By the time Thanksgiving was here, I was exhausted in every way imaginable. I could feel my rope starting to unravel from both ends. To be blunt: I was a hot mess.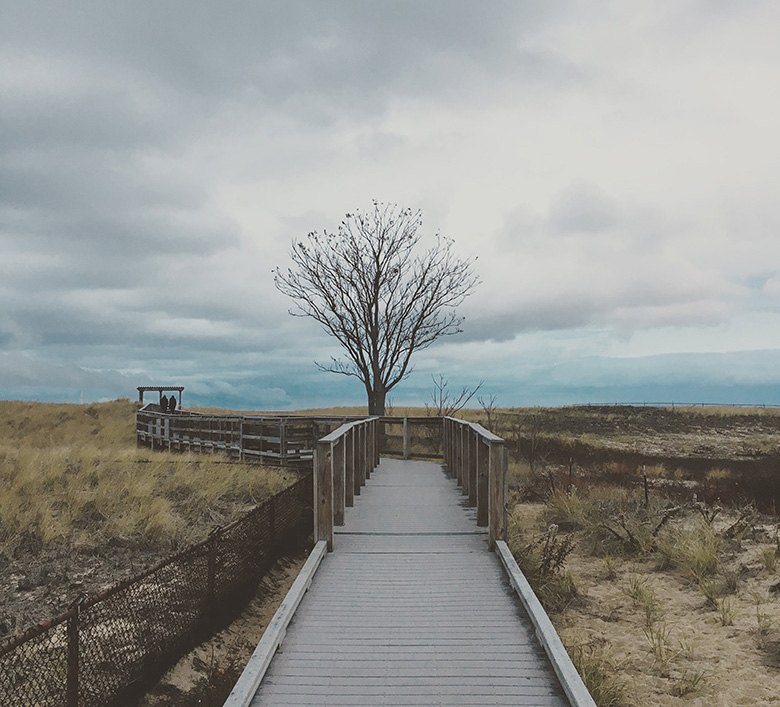 So I needed to stop and slow down for a few days. Which admittedly, is a very hard thing for me to do. But it's something that I'm working on trying to be better at. As my acupuncturist says, "it's good you're doing this stuff now, so that by the time you're 50 you'll have it figured out".
Which is now my new life goal: get my shit together by the time I'm 50. Good thing I've got plenty of time until then to work on things.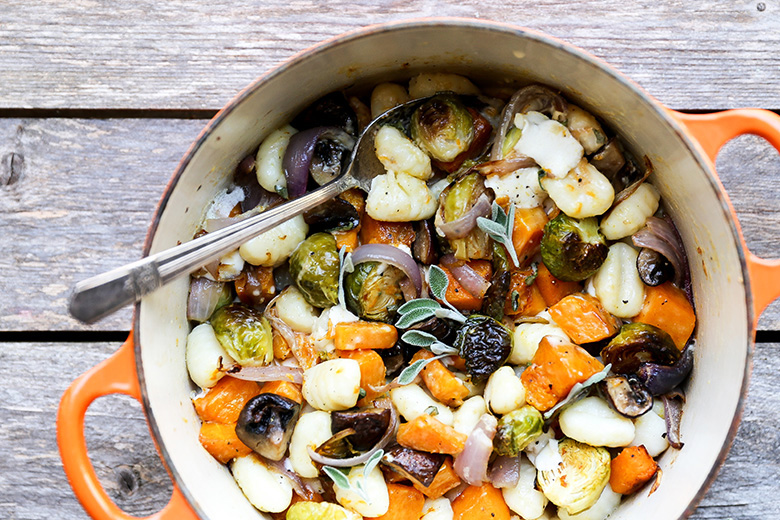 In the meantime, I'm back with some comfort food. I actually don't consider myself usually very good at making comfort food. It's not really my thing. I'm more of a smoothie bowl and salad type of gal. But I think I nailed it this time with this cozy pot of Gnocchi and Winter Vegetables with Sage Cream Sauce.
I absolutely adore gnocchi and I need to remember cook with it more (I constantly seem to be forgetting about entire food groups). Homemade gnocchi is great – like soft, carbohydrate pillows of deliciousness. But store-bought versions are pretty good these days, and that's what I've used in this recipe. The gnocchi cooks up in just a few minutes, which is a lifesaver on busy weeknights when you need dinner ASAP before you start mindlessly inhaling a whole box of Cheez-It crackers (not that I've ever done that). And when combined with some hearty roasted vegetables, like mushrooms, butternut squash and brussels sprouts, you've got a satisfying meal that's perfect for the coldest of nights. I finished off this pot by myself in just two sittings, but you can stretch it to feed four people if you serve it with a salad and some toasty bread. And some wine, obviously.
I'm sharing this recipe as part of our monthly 30 Minute Thursday series, where you can find other great recipes (links below!) that are perfect for fast weeknight dinners. Or for times when you're just so damn hangry that you might demolish a whole box of Cheez-It crackers by yourself. Just saying.
Cheers,
Liz
Gnocchi and Winter Vegetables with Sage Cream Sauce
Ingredients
2 cups peeled and cubed butternut squash
1 1/2 cups brussels sprouts, halved
1 1/2 cups button mushrooms, quartered
1/2 red onion, peeled and sliced into wedges
3 tablespoons extra-virgin olive oil
3/4 tsp. salt, divided
3/4 tsp. black pepper, divided
1 lb package store-bought gnocchi
1/2 cup heavy cream
1 1/2 tablespoons fresh sage leaves, chopped
1 tablespoon grated Parmesan cheese
3 ounces fresh mozzarella cheese, torn into pieces
Instructions
Pre-heat your oven to 425 degrees. In a large rimmed baking pan, toss together the butternut squash, brussels sprouts, mushrooms and sliced red onion with the olive oil and 1/2 tsp. each of the salt and black pepper. Transfer the baking pan to your pre-heated oven and roast the vegetables for 20 minutes, stirring once half way through the cooking time. Remove and set aside. Leave your oven set to 425 degrees.
While the vegetables are roasting, bring some water to a boil in an oven-proof pot. Add the gnocchi and cook it according to the package instructions. Drain and set aside.
Using the same pot you used to cook the gnocchi, combine and warm the cream, sage leaves, Parmesan cheese and the remaining 1/4 tsp. each of the salt and black pepper over medium heat until the sage smells fragrant, about 2 minutes. Don't let the cream come to a boil. Add the cooked gnocchi, roasted vegetables and mozzarella cheese, stirring to combine. Then transfer the pot to your oven and cook for 5 and additional minutes.
Remove the pot from your oven and allow the gnocchi to rest for about 3-5 minutes before serving. Garnish with additional fresh sage leaves, if desired.
Leftovers can be stored in an airtight container in your refrigerator for 1-2 days.
Notes
1. If you don't have an oven-proof pot, you can transfer everything to a baking dish before warming it in your oven.
http://www.floatingkitchen.net/gnocchi-and-winter-vegetables-with-sage-cream-sauce/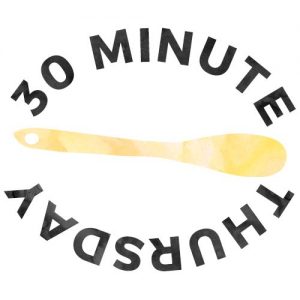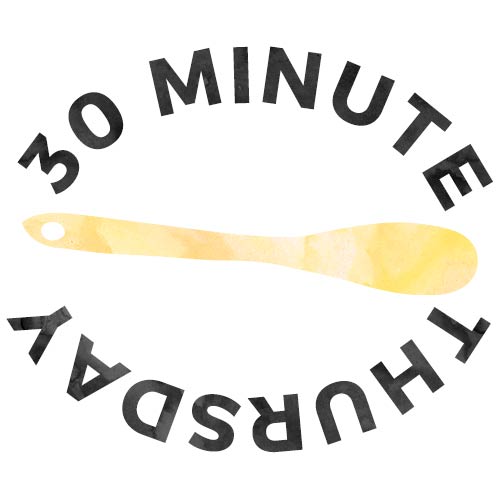 Creamy Tomato Tortellini Soup from Pumpkin 'N Spice
Jamaican Chicken Sheet Pan Dinner from Sweet Peas & Saffron
Easy Falafel Soup with Tamari Croutons & Tahini from She Likes Food
Creamy Pesto Gnocchi with White Beans and Sausage from My Sequined Life
Creamy One Pot Turkey and Rice from Bake.Eat.Repeat.
This post was originally published here on November 9, 2013. I've updated the photos and text to better showcase the deliciousness of this recipe!
If there is only one recipe that you get in the kitchen and make this month, let it be this simple and comforting Maple Spiced Winter Vegetable and Kale Bowl.
OK. I'm aware of how silly and unrealistic that statement actually is. Because it's November. And November = Thanksgiving = copious amounts of cooking and baking. So I know you'll all be making way more than one thing this month. But just be sure to add this dish to your menu. Deal?
This vegetable bowl sums up everything that I love about Fall and Winter. It's got a dose of warming spices, like cinnamon, nutmeg and cayenne pepper, to keep you feeling cozy from the inside out. And it makes such great use of so many hearty, seasonal vegetables. It's a dish that I cook up over and over again, sometimes adding parsnips or carrots if I have them. Or maybe a handful of pumpkin seeds and a few crumbles of goat cheese, if the mood strikes me.
I'm particularly smitten with the bed of kale that makes up the base of this dish. It comes out of the oven somewhere between sautéed kale and kale chips. It's soft and wilted, with a few crispy, crunchy edges. I could easily eat a whole tray of these gorgeous green leaves!
I'm sharing this Maple Spiced Winter Vegetable and Kale Bowl as part of our monthly #eatseasonal recipe round-up organized by Becky from Vintage Mixer. Be sure to check out Becky's November Produce Guide for tons of inspiration for your Thanksgiving menu. And scroll down below to see what some of my other blogging friends were inspired to create with November's bounty of fruits and vegetables!
Cheers,
Liz
Recipe adapted from Sprouted Kitchen
Maple Spiced Winter Vegetable and Kale Bowl
Ingredients
1 medium delicata squash
1 large fennel bulb, trimmed
1 lb new potatoes
3 tablespoons extra virgin olive oil, divided
2 tablespoons maple syrup
1 tsp. whole grain mustard
1/2 tsp. salt
1/2 tsp. black pepper
1/2 tsp. ground cinnamon
1/4 tsp. ground nutmeg
1/4 tsp. cayenne pepper
1/4 tsp. red pepper flakes
1 large bunch kale, thick stems removed
Instructions
Pre-heat your oven to 400 degrees. Arrange one oven rack in the upper third of your oven and a second oven rack in the lower third of your oven.
Trim off and discard any woody ends from the delicata squash. Then cut the squash in half lengthwise and scrape out and discard the seeds. Slice the squash into 1-inch half moon pieces. Slice the fennel bulb into 1/2-inch slices. Chop the potatoes into 1-inch chunks. Toss all of the prepared vegetables into a large baking pan. Your pan will be very full (the vegetables won't be in a single layer), which is OK. Set aside.
In a small bowl, whisk together 2 tablespoons of the olive oil with the next eight ingredients (through the red pepper flakes) until well combined. Pour the dressing over the prepared vegetables and toss until they are well coated. Transfer the vegetables to the upper third of your pre-heated oven and roast for 35 minutes.
While the vegetables are roasting, tear the kale leaves into large pieces. Using your fingers, massage the remaining tablespoon of olive oil into the kale leaves. Then spread the kale out onto a second large baking pan. Sprinkle with a couple pinches of salt.
After 35 minutes, transfer the roasting vegetables to the lower third of your oven. Place the kale leaves in the upper third of your oven. Roast everything for 10 minutes. The edges of the kale should be slightly crisp. The other vegetables should be softened and starting to brown in a few places.
Remove both the kale and the roasted vegetables from your oven. Transfer the kale to a serving plate or individual bowls. Top with the roasted vegetable mixture. Serve warm.
http://www.floatingkitchen.net/maple-spiced-winter-vegetable-and-kale-bowl/
November Eat Seasonal Recipe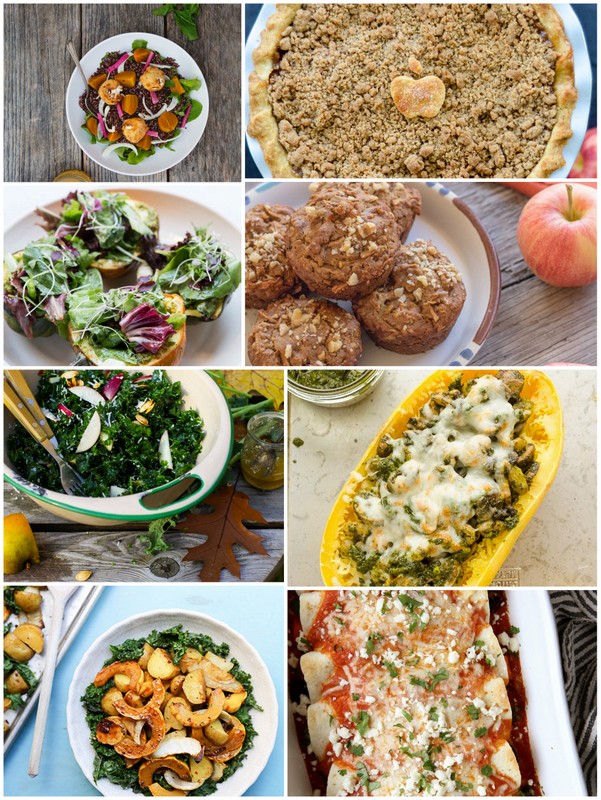 Quinoa Salad with Roasted Beets, Fennel and Fried Goat Cheese by Food For My Family
Apple Crumble Pie by Joy Food Sunshine
Pesto and Burrata Stuffed Acorn Squash by Vintage Mixer
Apple Cinnamon Quinoa Muffins by Letty's Kitchen
Autumn Apple and Kale Salad with Parmesan and Roasted Pumpkin Seeds by Simple Bites
Cheesy Pesto Vegetarian Spaghetti Squash Boats by Flavor the Moments
Butternut Squash, Mushroom and Poblano Enchiladas by Completely Delicious