I know that Halloween is still a couple of days away, but I'm already itching to be done with it. Scary movies and overly sexy costumes just aren't my thing. Sorry/not sorry.
But Thanksgiving, on the other hand, is MOST DEFINITELY my thing. And given that it falls early during the month of November this year (yikes!), I suggest that we play it safe and not waste any more precious time on Halloween shenanigans. We've got lots of Thanksgiving prep work to do, people. It's go time!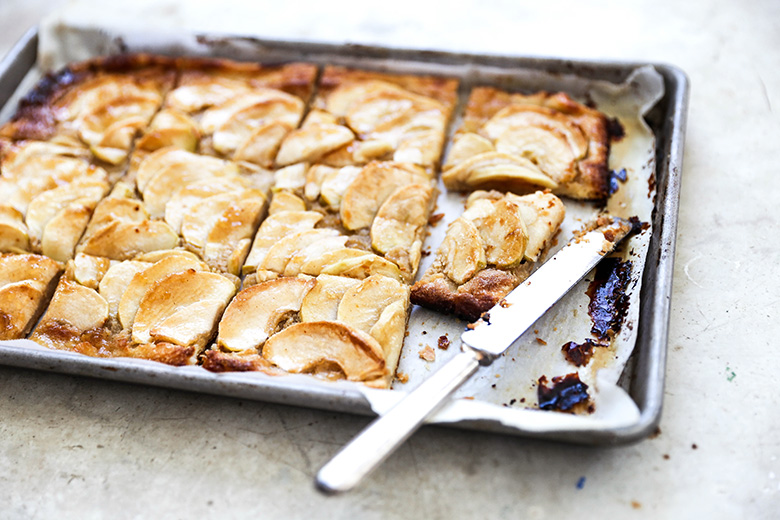 Last week on Instagram I asked about your preferences surrounding Thanksgiving desserts. And the results somewhat surprised me! Over 80% of you said that you prefer fruit-based pies for Thanksgiving (I'm a pecan pie kind of gal, so I wasn't expecting that result at all!). And almost 50% of you said that you'd be willing to take a risk and try out something a little less traditional. Go you! That's awesome!
So armed with this newly acquired knowledge, and the phenomenal cosmic power of the internet, this Apple Tart with Tahini Frangipane sprung to life.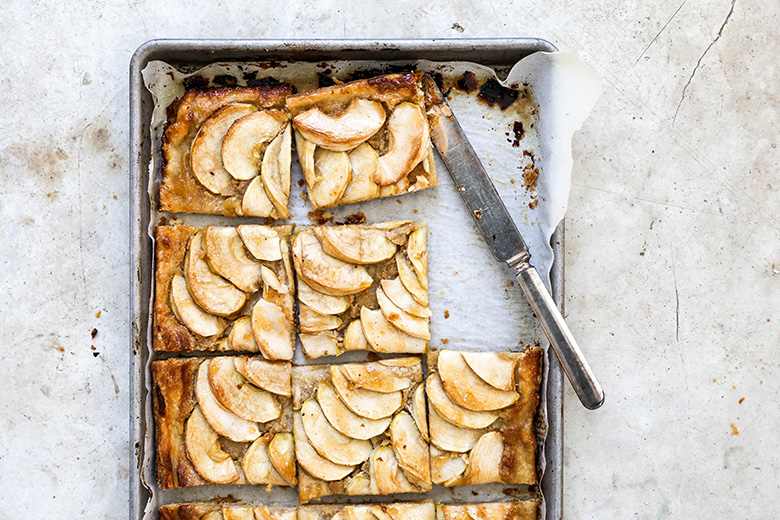 This recipe is one part Ina Garten's famous (rightfully so) French Apple Tart and one part Food52's Apple Galette with Tahini Frangipane and Honey-Hibiscus Glaze. I married the two recipes together, with a few other adaptations thrown in for good measure, and ended up with a dessert that I love even more than classic apple pie, but that's also not overly taxing on the imagination. In short, the traditional apple pie die-hards won't be scared off. While those looking for a little something different this Holiday season will be appeased.
I know that pie making intimidates a lot of people. And from what I've gathered, one of the major stress points seems to be in the actual shaping of the crust. But have no fear, because this tart requires zero fancy finger gymnastics. If you can roll out a somewhat rectangular shape (I know you can!), then you're well on your way to assembling this tart. And don't worry about perfectly slicing and arranging the apple slices, either. A few will undoubtedly fall off the mark. But that's all part of the rustic beauty of this recipe. Once it's all golden and delicious (and sliced into squares!), no one will be judging the straightness of your apple rows. I promise.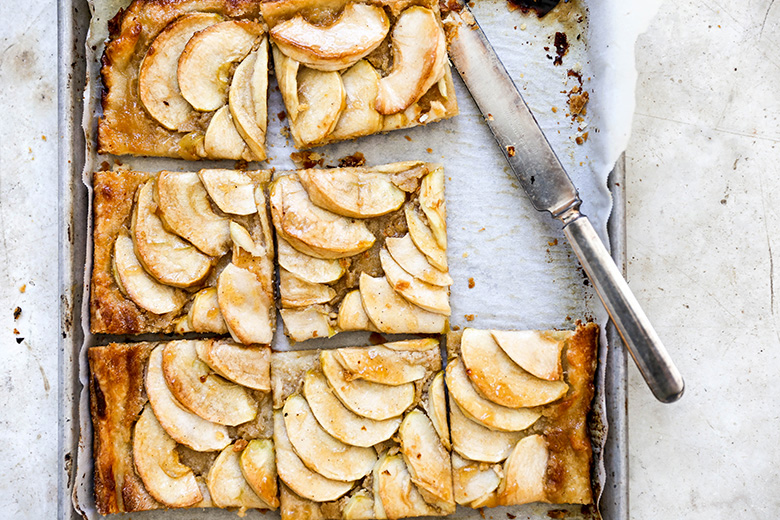 The crust gets nice and crisp during baking (no soggy bottom layer here!). And comes out closer in taste and texture to a phyllo dough-like pastry than a traditional pie crust. It's light and supremely buttery.
The apples aren't overly sweet. And the tahini frangipane layer adds both earthy and salty dimensions. It feels sophisticated. But also familiar.
This Apple Tart with Tahini Frangipane is tastiest when it's enjoyed on the same day it's been baked. But you can make the dough and the tahini frangipane a day in advance.
It's hard to resist the urge to pair any apple-based dessert with a scoop of vanilla ice cream or a dollop of fresh whipped cream. Do so if you must. But I didn't think this recipe needed it. One simple square was perfectly pleasing all on its own!
Cheers,
Liz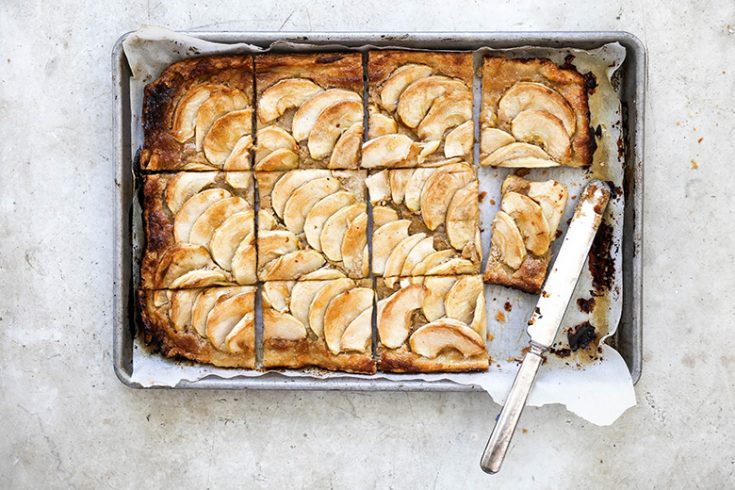 Apple Tart with Tahini Frangipane
Yield: 12 servings
Prep Time: 3 hours
Cook Time: 1 hour
Total Time: 4 hours
Ingredients
For the Pie Dough:
2 cups all-purpose flour
1 tablespoon granulated sugar
1/2 tsp. salt
12 tablespoons (3/4 cups) unsalted butter, cubed and chilled
1/2 cup cold water
For the Tahini Frangipane:
1/2 cup tahini paste
1/4 cup granulated sugar
1 tablespoon powdered sugar
4 tablespoons unsalted butter, cubed and softened
1 egg, room temperature
1/8 tsp. salt
For the Apples:
About 4 medium apples
1/3 cup granulated sugar
For the Glaze:
1/2 cup fresh apple cider
1 tablespoon honey
Instructions
To make the pie dough, add the flour, sugar and salt to the bowl of your food processor with the blade attachment and pulse 2-3 times to combine. Add the cubed butter and pulse 8-10 times, or until you have kidney bean-sized pieces of butter. Then with your food processor running, slowly pour the cold water down the feed tube. Pulse until the dough just starts to come together. Then dump the dough out onto a lightly floured work surface and quickly knead/shape it into a ball. Wrap the dough tightly in plastic wrap and refrigerate it for at least 1 hour or up to overnight.
Meanwhile, make the tahini frangipane. In your stand mixer with the whisk attachment, whisk the tahini paste on high speed for 5 minutes, stopping to scrape down the sides of the bowl as necessary. Gradually add in the sugars and whisk until the mixture is smooth and the sugars have been dissolved, stopping to scrape down the sides of the bowl as necessary. Add in the butter, one cube at a time and scrapping down the sides of the bowl as necessary, and whisk until fully incorporated. Then whisk in the egg and salt until smooth. Transfer the tahini frangipane to a clean container and set aside. The tahini frangipane can be made 1-2 days in advance and stored in your refrigerator. Bring it to room temperature before using.
When you're ready to assemble and bake the tart, pre-heat your oven to 400 degrees. Line a rimmed baking sheet with parchment paper and set it aside.
Unwrap your refrigerated dough and roll it out onto a well-floured surface so it's approximately 10-inches by 14-inches. Use a small knife to trim/straighten the edges. Then transfer the dough to your prepared baking sheet. Spread a thin layer of the tahini frangipane over the surface (you won't use it all), leaving about an inch border around the edges. Then use your fingers to tuck/roll the edges of the dough in slightly, creating a small lip. Place the baking sheet in your refrigerator to chill while you prepare the apples.
Peel the apples, cut them in half and core them. Then slice the apples into 1/4-inch thick slices. Remove the baking sheet from your refrigerator and place the first layer of apples diagonally down the middle of the dough. The apple slices should overlap slightly. Then continue making diagonal rows until the dough is covered with apple slices. Sprinkle the sugar over the apple slices.
Transfer the baking sheet to your pre-heated oven and bake the tart for 50-60 minutes, rotating it once during cooking time. If the dough puffs up in one area during baking, pierce it with a small knife to let the air out. The edges of the tart should be browned and the apples should be soft. There will be some burned juices on the parchment paper, but don't worry that's normal. Once the tart has finished baking, remove it from the oven and set it aside to cool for about 5 minutes. Then use a metal spatula to gently loosen the edges of the tart so it doesn't stick to the parchment paper as it finishes cooling.
While the tart bakes, make the glaze. In a small saucepan, bring the apple cider and honey to a boil and cook until it's reduced by approximately half. Remove from the heat. Then brush some of the glaze over top of the tart while it's still warm.
Once cooled, slice the tart into 12 squares. Serve with ice cream or whipped cream, if desired.