The post was originally published here on April 13, 2015. I've since updated the photographs and text.
I've talked about my general dislike for eggs many times.
I know, I know. It's shocking. Deep breaths, everyone.
I'm trying to adjust my palate so I can enjoy eggs more. But it's slow going. So far, I'm still mostly into eating eggs that are baked into brownies and cakes. Or those that are heavily disguised with lots of cheese, vegetables and bacon.
So, what does a food blogger do for Easter when just the mere thought of deviled eggs makes her want to run in the other direction? She makes stuffed avocados!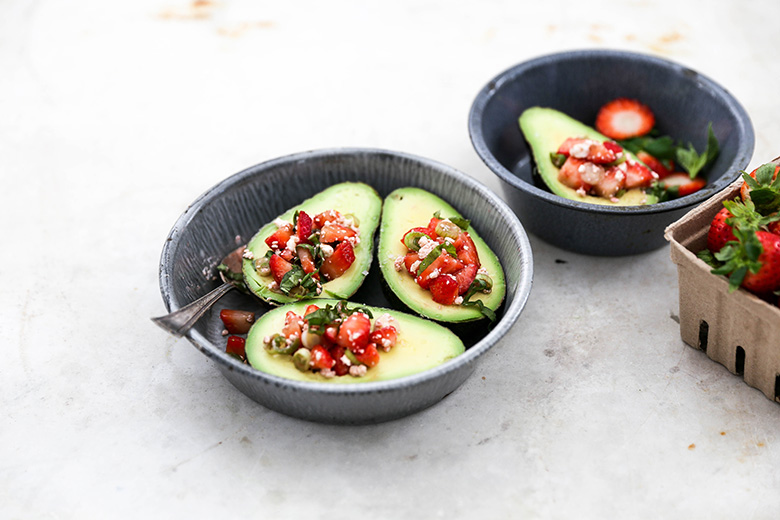 Avocados TOTALLY look like eggs, don't they? I must admit that I never really noticed the resemblance before. But now I can't unsee it.
All the cuteness of eggs, without all the taste. That's a win for me!
These Baked Avocados with Strawberry Salsa would be SO PERFECT for a Spring brunch or party. I love the individual serving size. And you know how excited I get about edible bowls!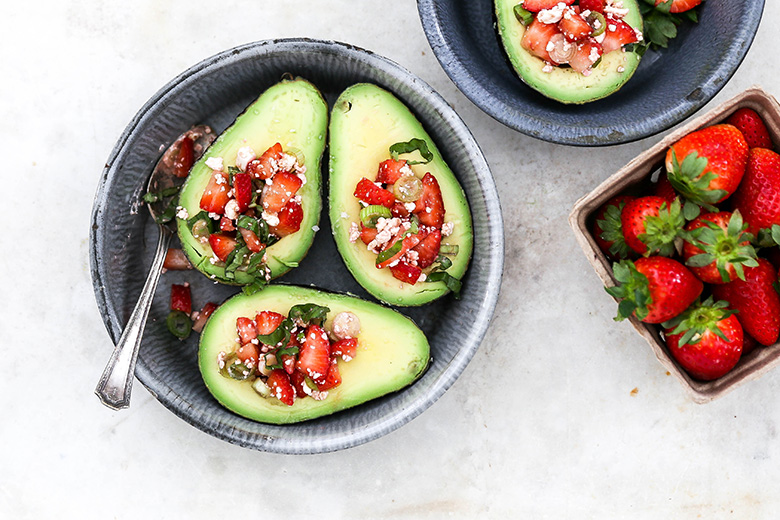 You can eat these Baked Avocados with Strawberry Salsa with a spoon. Or dig in with some chips. I also like putting a whole half on a plate of lightly dressed arugula for a salad that's worthy of entertaining. You'll definitely get a lot of presentation points with these babies!
Cheers,
Liz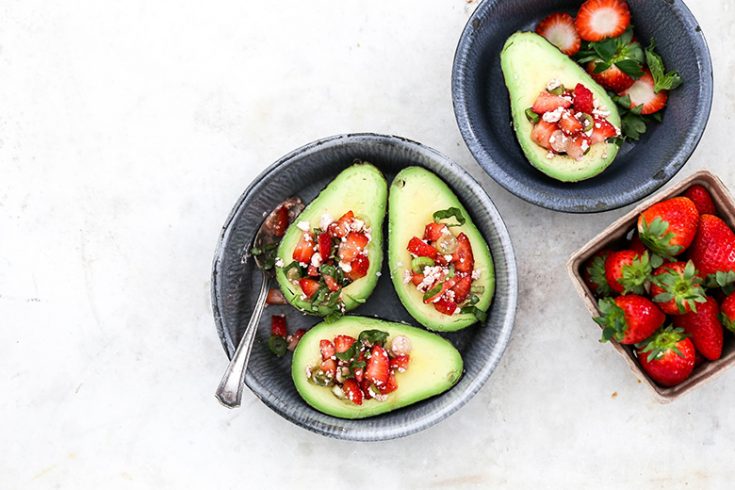 Baked Avocados with Strawberry Salsa
Yield: Makes 6 halves
Prep Time: 10 minutes
Cook Time: 10 minutes
Total Time: 20 minutes
Ingredients
3 avocados
About 1 tablespoon extra-virgin olive oil
1 cup chopped strawberries
2 scallions, white and light green parts thinly sliced
2 tablespoons goat cheese crumbles
2 tablespoons fresh basil leaves, thinly sliced
1 tablespoons balsamic vinegar
Salt
Instructions
Pre-heat your oven to 400 degrees.
Cut each avocado in half and remove and discard the pit. Place the avocado halves flesh side-up in a baking dish. If the avocados won't remain upright, you can create a flat surface for them to rest on by slicing off a small area (about the size of a postage stamp) on the backside of each avocado half.
Rub a thin layer of olive oil over the flesh of the avocados. Then transfer the baking dish to your pre-heated oven and bake the avocados for 8 minutes.
Meanwhile, in a small bowl combine the chopped strawberries, sliced scallions, goat cheese, basil and balsamic vinegar.
Remove the baking dish from your oven and spoon some of the strawberry salsa into the cavity of each avocado half. Return the baking dish to your oven for an additional 2-3 minutes. Remove.
Sprinkle the tops of baked avocados with a pinch of salt. Serve while still warm.