This post was originally published here March 21, 2016. I've since adjusted the recipe instructions slightly. And I've updated the text and photographs to reflect those changes. Happy baking!
Oh hi. It's me. Bringing you something delicious to bake up this weekend!
Several years back, I transitioned to posting content here only on Mondays. It's a schedule that I like. And most importantly, it's one that I can stick to without getting overwhelmed with work. But these days, I've got some extra time on my hands. And since we're all home cooking and baking (and doing the dishes!), I decided it would be an excellent idea to try and share some additional content with you. No more "saving" recipes for later. If I've got something in the queue ready to go, I'm going to post it.
I'm not sure how much more content that will end up being. Or for how long I'll be able to keep it up. But for now, I'm just going to roll with it. Cool?
Now let's talk about these Banana Scones with Chocolate Chips and Almonds. Because you NEEEEED them!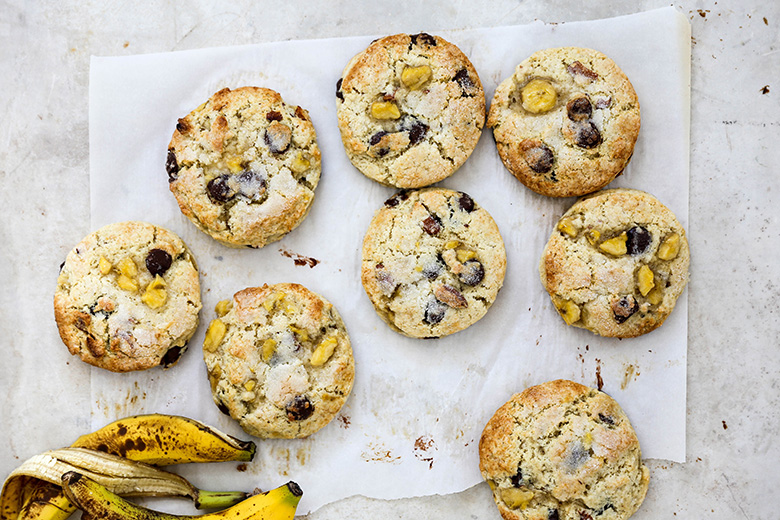 Bananas are basically one of my favorite foods of all time. I eat one every single morning. And I get very stressed if I don't have one. I know. I'm dramatic about it. But what this means is that I rarely have extra bananas laying around that need to get "used up". I love bananas SO MUCH that I would never dare let one or two get overly ripe and sad. So I actually have to make a conscious effort to set some aside ( = hide from myself) if I ever want to bake banana bread, cakes, scones, etc.
Also, is the whole world making banana bread these days? It seems like it!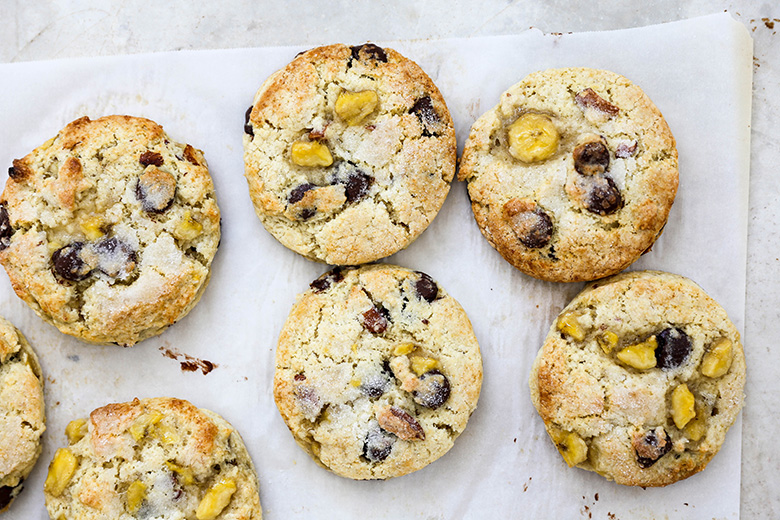 These Banana Scones with Chocolate Chips and Almonds are totally worth earmarking a banana for. Please note though that for this recipe you actually don't want a banana that's too far past its prime. Because it will just completely fall apart and dissolve into the scone batter. I typically use a banana that's fully yellow and ripe, but still has a touch of firmness to it. This ensures you'll have a few visible chunks of banana left once the scones finish baking.
I've been trying to give substitution ideas for my other recent recipes, because I know ingredient availability is a challenge right now. But I have to admit that when it comes to baking, that's not my area of expertise. Could you use different flours or an egg replacement in these scones? Maybe? But I can't say for sure. The only thing I've ever experimented with here is changing up the mix-ins (you can use most nuts, chocolates or even dried fruit). But hopefully that doesn't prevent you from making these babies. Because I know you'll love them as much as I do!
Cheers,
Liz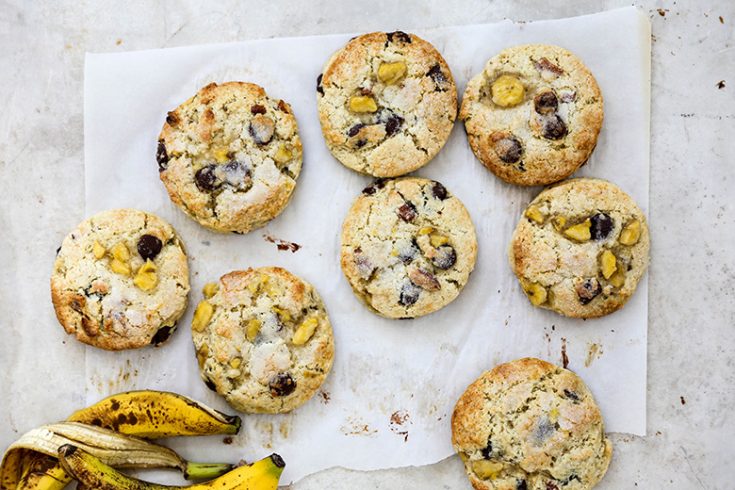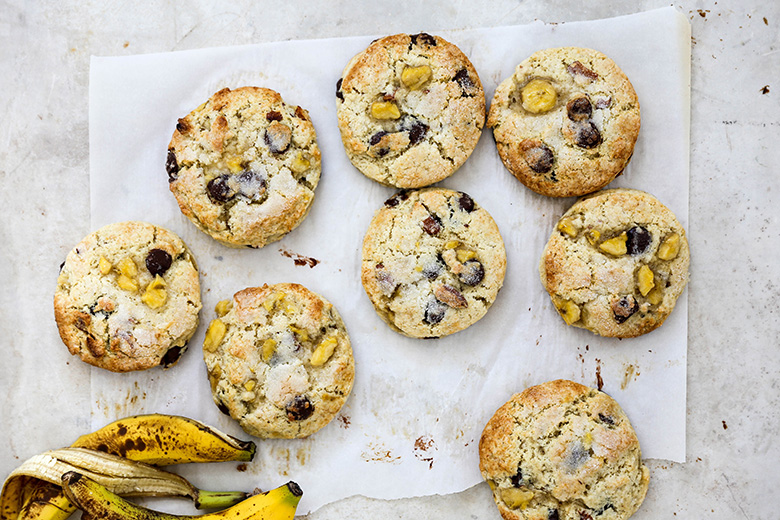 Banana Scones with Chocolate Chips and Almonds
Yield: Makes 9-11 scones, depending on size
Prep Time: 15 minutes
Cook Time: 20 minutes
Additional Time: 10 minutes
Total Time: 45 minutes
Ingredients
2 1/2 cups all-purpose flour
1/2 cup granulated sugar, plus more for sprinkling
1 tsp. baking powder
1/2 tsp. baking soda
1/2 tsp. salt
1/2 cup (8 tablespoons) butter, cubed and chilled
2/3 cups cold heavy cream
1 egg
1 tsp. vanilla extract
1/2 cup chocolate chips
1/3 cup chopped almonds
1 cup sliced bananas
Instructions
Pre-heat your oven to 425 degrees. Line a large baking sheet with parchment paper and set it aside.
In your food processor fitted with the blade attachment, pulse together the flour, sugar, baking powder, baking soda and salt. Add the cold butter and pulse about 8-10 times, or until you have a course crumb.
In a small bowl, whisk together the heavy cream, egg and vanilla extract. Add this mixture to your food processor and pulse about 8-10 times, or until the dough has just barely come together. It should still be shaggy and dry in some places.
Transfer the dough to a large bowl and using a wooden spoon, stir in the chocolate chips and almonds. Then gently stir in the banana slices.
Dump the dough out onto a floured surface and use your hands to bring the dough together into a round disk, flattening it so it's about 1-inch thick. Don't overwork the dough.
Using a round biscuit or cookie cutter, cut out circles and place them on your prepared baking sheet. Re-shape the dough scraps and continue cutting out circles until all the dough has been used up. A 3-inch biscuit cutter will yield about 10 scones. If you don't have a round cutter, you can use a sharp knife to slice the dough disk into wedges.
Sprinkle the tops of the scones with granulated sugar and then transfer the baking sheet to your pre-heated oven. Bake the scones for 16-17 minutes, or until they are golden brown around the edges.
Remove the baking sheet from your oven and let the scones rest on their baking sheet for 10 minutes. Then transfer them to a wire rack to continue cooling.
Scones are best enjoyed the day of baking. But leftovers can be stored in an airtight container at room temperature for 1 day and re-heated slightly before serving.