I can't believe Labor Day Weekend is THIS weekend. GAH!
Per usual, I'm unprepared. These three-day weekends are always sneaking up on me. I guess when you work from home (and work 7 days a week most weeks), the days all kind of just blur together.
But have no fear! Because I have an easy and delicious recipe to help you celebrate the weekend. And hello, it has BEER in it, so that's totally awesome in and of itself.
At any gathering, I can typically be found hovering over the appetizers, side dishes and desserts (oh and the cocktails, too). I can easily skip all the main dishes and be completely satisfied just grazing over the rest of the food items. If you're a grazer too, then you're definitely going to want to give my Beer-Marinated Cherry Tomatoes a try.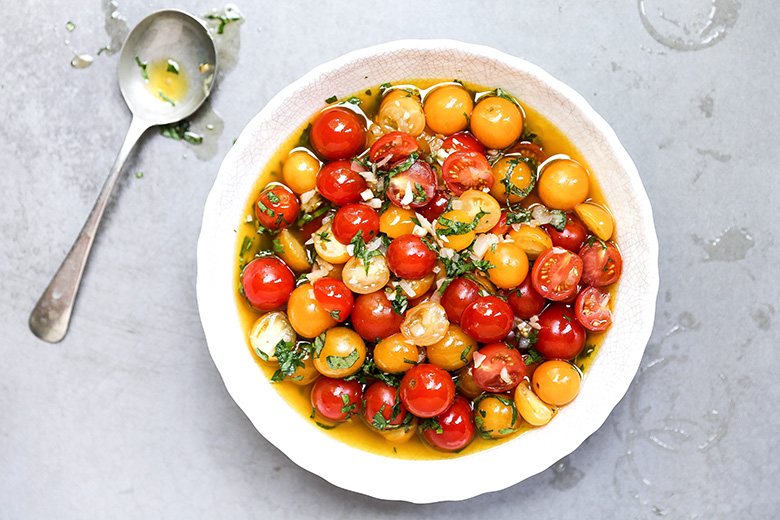 This recipe is a total breeze. Just quickly sautée some shallots and garlic in olive oil. Then stir in a couple pints of cherry tomatoes (I like to leave some whole and halve the rest), beer, vinegar and fresh herbs. And DONE! After letting the all the ingredients marinate together for an hour, you're left with a batch of rich, flavorful tomatoes that you can use to top crunchy grilled bread, toss into green salads or pasta, serve alongside cheese and hummus, etc. The possibilities are endless! Anywhere you might use fresh tomatoes, you can use these Beer-Marinated Cherry Tomatoes!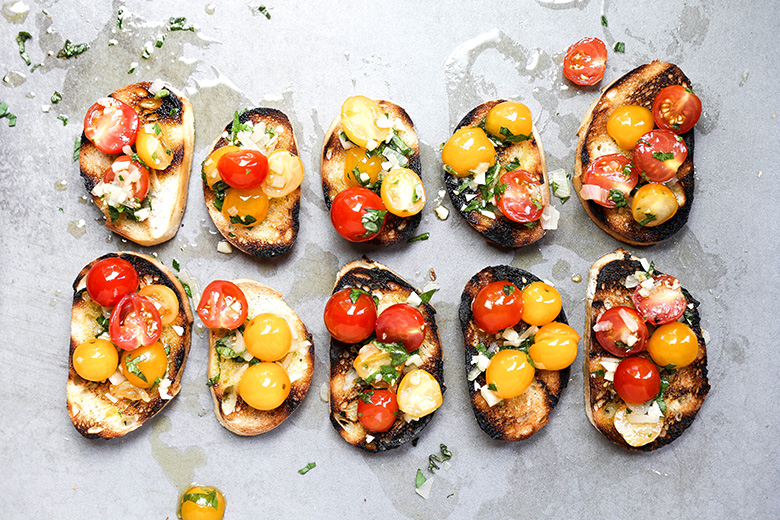 Whenever I incorporate beer or wine into a recipe, I always tell people the best practice is to use something that you ACTUALLY like to drink. It will make your eating experience so much better. I chose Allagash Saison for this recipe. It's relatively light, with both citrus and pepper undertones that I think pair really well with tomatoes. And, honestly, it just kind of reminds me of Summer (which is still is, by the way!). Try it if you can find it. Or use your favorite Summer-style beer. It's all good!
I hope you all have a wonderful and safe Labor Day Weekend. And If you try out this recipe, give me a shout out and let me know. I'd love to hear about it!
Cheers,
Liz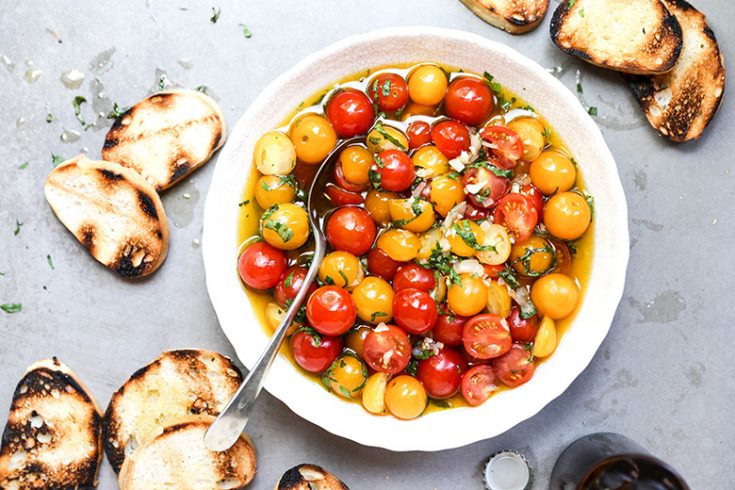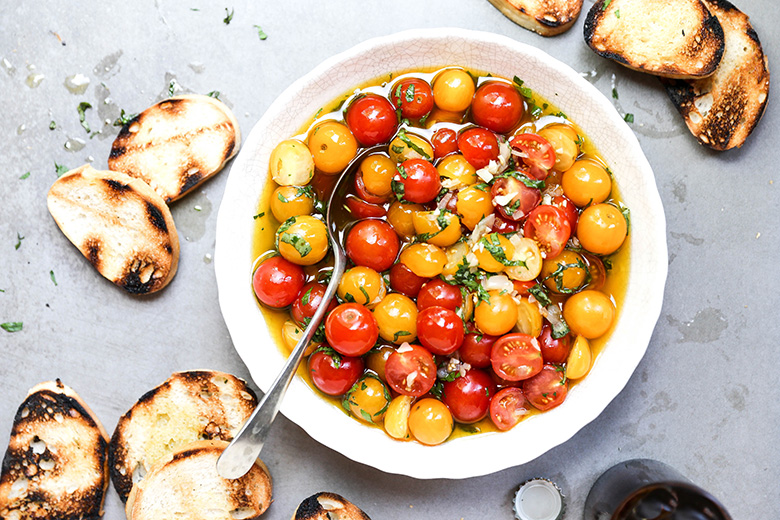 Beer-Marinated Cherry Tomatoes
Yield: 10-12 servings

Prep Time: 1 hour

Cook Time: 5 minutes

Total Time: 1 hour 5 minutes
Ingredients
1/2 cup extra-virgin olive oil
1/4 cup minced shallot
2 garlic cloves, peeled and minced
2 pints cherry tomatoes (some halved, some whole)
1/4 cup beer
2 tablespoons red wine vinegar
1/2 tsp. salt
1/4 cup fresh basil, minced
1/4 cup fresh parsley, minced
Instructions
In a medium saucepan, warm the olive oil, shallot and garlic until fragrant, about 3-5 minutes. Remove from the heat.
Carefully add the cherry tomatoes, beer, red wine vinegar and salt to the warm olive oil mixture. Stir to coat the tomatoes in the liquid. Then add the basil and parsley, stirring gently to combine. Cover and let sit at room temperature for about 1 hour. Stir gently before using.
The marinated tomatoes are best when enjoyed the same they are prepared. But they can be covered and stored in your refrigerator for 1-2 days, if necessary.
SaveSave
SaveSave
SaveSaveSaveSave
SaveSave
SaveSave