Disclosure: I'm so grateful to have received a copy of Lauren Grier's debut cookbook, Modern Comfort Cooking – Feel Good Favorites Made Fresh and New. I hope you all enjoy this little sneak peek!
Hi Friends! I'm back real quick today with the perfect New Year's Eve dessert: Champagne Marshmallow Treats.
Yes, that's right. Champagne. Those ooey, gooey squares that you loved as a kid just got a major adult make-over. So dust off your party shoes and let's get this shindig started.
The idea to add champagne to marshmallow treats is pure genius. But it's one that I simply cannot take credit for. Because the recipe is the brainchild of my friend Lauren Grier. And it's one that appears in the pages of her debut cookbook, Modern Comfort Cooking – Feel Good Favorites Made Fresh and New.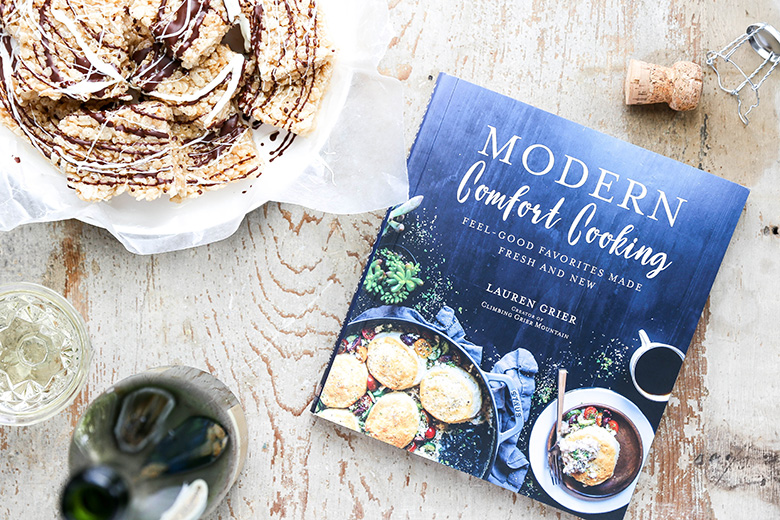 Lauren is the cool, creative cat behind the blog, Climbing Grier Mountain. Her posts always put a smile on my face. And a rumble in my tummy. Lauren is the Queen-B of recipe mash-ups (hello Seven-Layer Greek Dip Grilled Cheese Sandwich on page 84!). And she uses inspiration from all her international travels to put a global spin on western favorites (you must try her Moroccan Meatloaf with Tomato-Harissa Sauce on page 41!).
Basically, you need her cookbook. If you're in a cooking rut, it will yank you right out of it. And if you are already one badass experimental kitchen guru with an occasional flare for the exotic, then Modern Comfort Cooking will naturally fit right into your repertoire. So go grab a copy of Lauren's cookbook today for yourself. And pick up one for that person on your Christmas shopping list who you forgot about this year (oops!).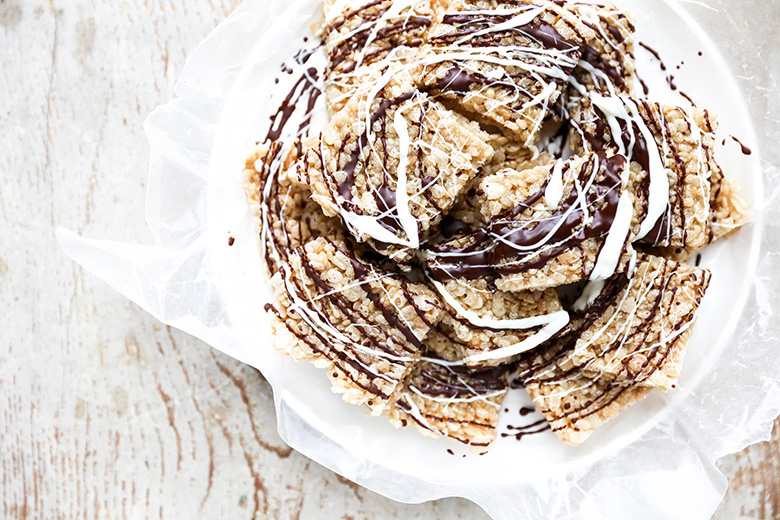 With New Year's Eve fast approaching, I can't help but think about resolutions. This year, I've decided mine should be to stop putting chocolate drizzle on literally everything. Because jeez, I seem to have a problem. Just look at some of my most recent posts (like these blondies and these marshmallows) for proof. I even added both a white and dark chocolate drizzle to Lauren's Champagne Marshmallow Treats. Which I think makes them feel extra festive for the New Year's Eve Holiday. But it's totally up to you whether you want to include the chocolate or not. I guess it depends on if you're feeling the urge to release your inner Jackson Pollock!
Cheers,
Liz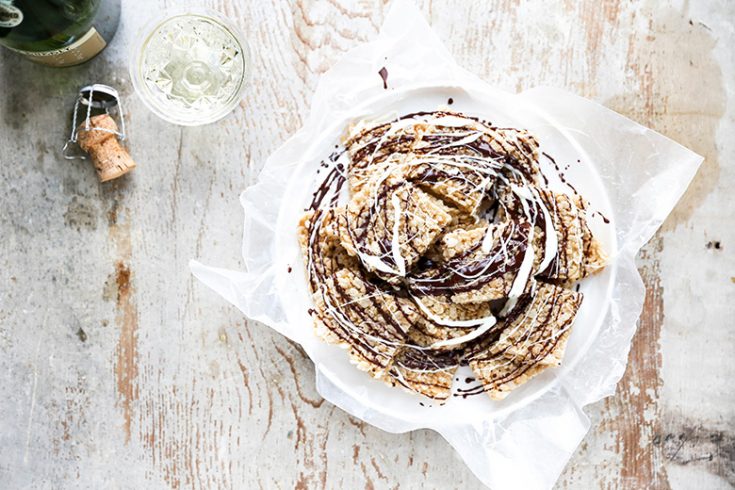 Champagne Marshmallow Treats
Yield: Makes 12-16 treats

Prep Time: 5 minutes

Cook Time: 5 minutes

Total Time: 10 minutes
Ingredients
6 tablespoons unsalted butter
1/4 cup dry champagne
6 cups mini marshmallows
1/2 tsp. vanilla extract
1/4 tsp. salt
6 cups crisped rice cereal
Melted dark and white chocolate for topping, if desired
Instructions
Line a 9 X 9-inch baking pan with aluminum foil, leaving some hanging over the sides of the pan, and spray it with non-stick cooking spray. Set aside.
Melt the butter in a large skillet over medium heat. Add the champagne and let it simmer for about 1 minute. Then add the marshmallows, vanilla extract and salt, stirring until the marshmallows are completely melted, about 3-4 minutes.
Remove the skillet from the heat and fold in the crisped rice cereal, stirring until everything is well combined. Pour the mixture into your prepared baking pan and press it firmly and evenly into the pan. Let cool completely.
Using the overhanging aluminum foil, lift the cooled marshmallow treats from their pan and place on a cutting board. Slice into squares. You can drizzle the tops with dark and white chocolate before serving, if desired.
Notes
This recipe has been reprinted with permission from Lauren Grier.

SaveSave
SaveSave
SaveSave
SaveSave
SaveSave
SaveSaveSaveSave
SaveSave