Disclosure: This post is sponsored by Duda Farm Fresh Foods. All opinions are my own. Thank you for supporting brands and companies that help to keep Floating Kitchen afloat!
Winter isn't over yet. But I can feel that we're getting SO CLOSE to brighter, warmer days. And that's something to be excited about!
Another thing I'm excited about today is that I'm partnering with Duda Farm Fresh Foods to bring you a little extra happiness to this season. Their fresh, sunny Dandy Sweet Corn is the key to making this easy and delicious Cornbread with Fresh Corn and Crumble Topping. It's the perfect baking project to help warm up your kitchen. And it's an ideal recipe to round out any cozy Winter meal.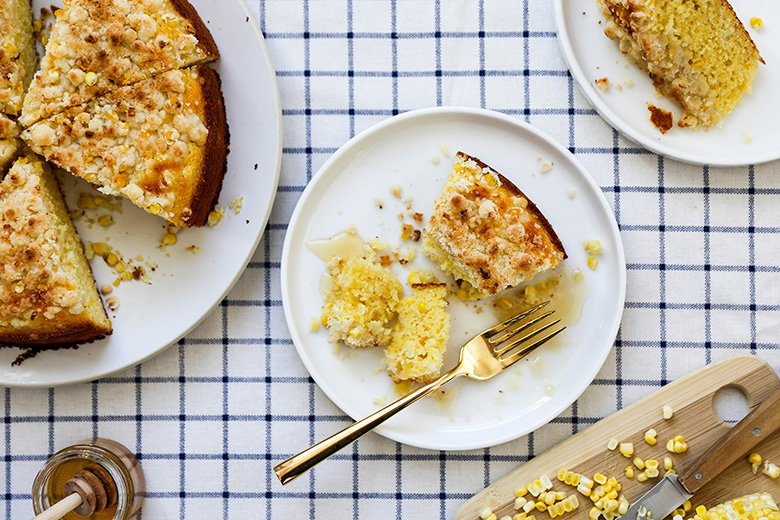 A combination of yellow cornmeal and all-purpose flour is the base for most cornbread recipes, including this one. But in addition to those ingredients, I've also included whole fresh corn kernels in both the cornbread batter and the crumble topping. Because I really wanted to have that extra bit of texture and over-the-top corn flavor in every single bite of my cornbread recipe.
Dandy Sweet Corn is the most convenient way to get fresh, sweet corn all year-round. Their trays of pre-shucked corn are easy to find (check out their store locator here) and even easier to use! You'll need the sliced kernels from about 3 cobs for this recipe. So go pick up a tray of Dandy Sweet Corn today and give it a try!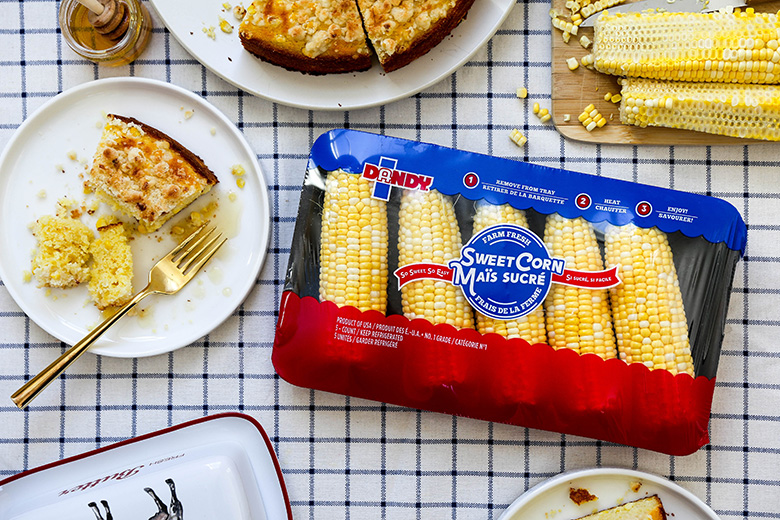 This Cornbread with Fresh Corn and Crumble Topping isn't overly sweet. In fact, I'd say it lands squarely in the middle between a Southern-style (= less sweet/unsweetened) and a Northern-style (= sweeter) of cornbread. It's definitely savory enough to be the perfect accompaniment to a hearty bowl of stew or chili. It's NOT cornbread cake. So if I'm enjoying it on its own, I like to add a drizzle of honey along with my butter to sweeten the deal.
So really what I'm saying is that this Cornbread with Fresh Corn and Crumble Topping is super versatile and you should go make it ASAP! And when you do, please let me know!
Cheers,
Liz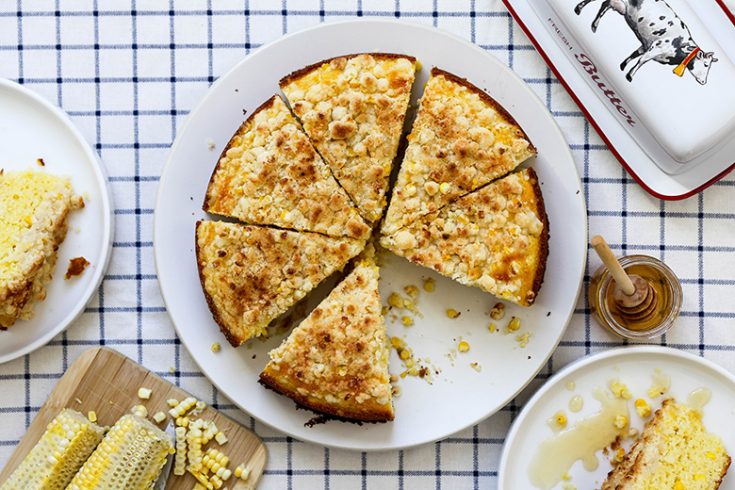 Cornbread with Fresh Corn and Crumble Topping
Yield: Serves 8-12
Prep Time: 10 minutes
Cook Time: 25 minutes
Additional Time: 20 minutes
Total Time: 55 minutes
Ingredients
For the Crumble Topping:
3/4 cups corn kernels sliced from Dandy Sweet Corn (from about 1 cob)
1/2 cup all-purpose flour
3 tablespoons granulated sugar
1/4 tsp. salt
4 tablespoons butter, melted and cooled
For the Cornbread:
1/2 cup Greek yogurt (I used 5% milkfat yogurt)
1/2 cup milk (I used 2% milk)
1/3 cup granulated sugar
2 eggs
4 tablespoons butter, melted and cooled
1 cup all-purpose flour
1 cup yellow cornmeal
3 tsp. baking powder
1/2 tsp. salt
1 cup corn kernels sliced from Dandy Sweet Corn (from about 1 1/2 cobs)
Instructions
Pre-heat your oven to 400 degrees.
Generously coat the bottoms and sides of a 9-inch springform pan with non-stick cooking spray. Set aside.
To make the crumble topping, combine the corn kernels, flour, sugar and salt in a medium bowl. Drizzle in the melted butter, tossing the ingredients together with a fork until all the dry ingredients are moistened and the mixture is clumpy. Place the bowl in your refrigerator.
In a large bowl, whisk together the yogurt, milk, sugar, eggs and melted butter until smooth. Add the flour, cornmeal, baking powder and salt and stir with a wooden spoon until just combined and no more white streaks remain. Fold in the corn kernels.
Pour the batter into your prepared springform pan. Scatter the crumble topping evenly over the surface. Then transfer to your pre-heated oven and bake for 23-25 minutes, or until a toothpick inserted into the center comes out clean and the edges of the cornbread have started to brown.
Remove the springform pan from your oven and set it on a wire rack to cool. After about 15 minutes, gently run a knife around the outer edge of the cornbread and release the sides of the springform pan. Slide the cornbread off from the bottom of the springform pan and onto the wire rack to finish cooling. Once cooled, slice and enjoy.
Notes
1. Recipe inspired by Food52.
2. If you want to brown the crumble topping, you can place the cornbread under your pre-heated broiler for 1-2 minutes.