Lasagna is one of my favorite comfort foods. But I find I rarely have the motivation to make one on a weeknight. The barrier to entry (i.e. the time required to prepare and bake a traditional lasagna) is just too high for me.
So…what do I do when I'm craving lasagna mid-week, but I'm short on time? I make these Easy Weeknight Lasagna Naan Pizzas! Which have all the flavors that I love about lasagna. Delivered to you (or should I say NOT delivered) in just about 30 minutes.
To make these pizzas taste more like lasagna and less like pizza, I use a marinara sauce (not a pizza sauce) as the sauce. I also use a spicy Italian ground sausage (although you could choose mild, if you prefer), Italian herb seasoning blend and some fennel seeds. All of which helps to really bring those traditional lasagna-ish flavors home. And because no lasagna (or pizza, for that matter!) is complete without the cheese, I spread a thin layer of whole-milk ricotta cheese over the naan breads before adding the sausage mixture on top. Then I finish them with a sprinkle of mozzarella and provolone cheese.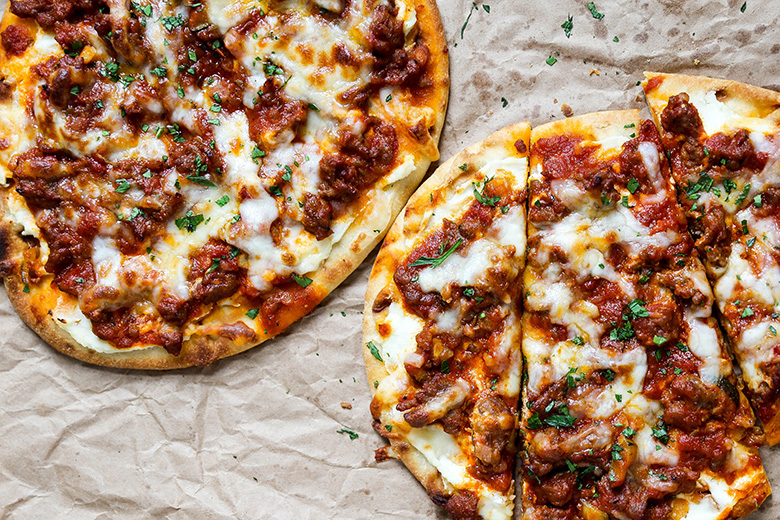 The sausage mixture takes less than 20 minutes to prepare on your stovetop. And the pizzas cook up in about 12 minutes in the oven (with an optional minute under the broiler if you want some crispy cheesy bits!). And that's all the time required to make these Easy Weeknight Lasagna Naan Pizzas! Totally do-able after a long day of school and/or work.
Another thing I love about this recipe is that it's easy to make as few or as many pizzas as you want. If you're using the full-sized pieces of naan bread, you can probably get 6-8 pizzas out of this recipe. But if you want to use the mini-sized naan breads, you can get a lot more. Which sounds like a brilliant appetizer idea, if I do say so myself.
You can also store any leftover sausage mixture in an airtight container in your refrigerator for 4-5 days. And quickly make a single pizza at a moment's notice throughout the week.
I'm super excited about this recipe and I can't wait for you to try it. I know it's going to be a hit with everyone!
Cheers,
Liz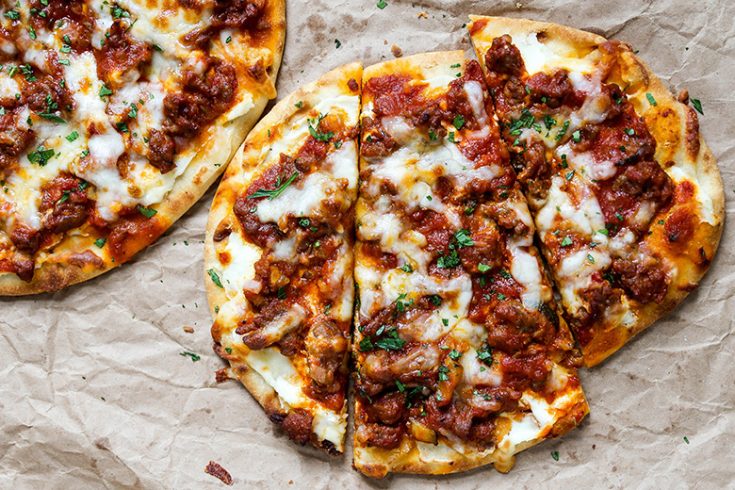 Easy Weeknight Lasagna Naan Pizzas
Yield: Serves 6-8
Prep Time: 5 minutes
Cook Time: 30 minutes
Total Time: 35 minutes
Ingredients
1 tablespoon extra-virgin olive oil
1 cup diced zucchini
2 garlic cloves, peeled and minced
1 lb spicy Italian ground sausage
1/2 tsp. salt
1/2 tsp. black pepper
1/2 tsp. Italian herb seasoning blend
1/2 tsp. fennel seeds
16 ounces marinara sauce (I use Rao's Homemade)
1/4 cup chicken or vegetable stock
6-8 pieces of naan bread
About 1 cup whole-milk ricotta cheese
About 2 cups shredded mozzarella and provolone cheese blend
Fresh parsley, minced
Instructions
Warm the olive oil in a large skillet over medium-high heat. Add the zucchini and garlic and cook, stirring frequently, for about 4-5 minutes. Add the sausage and all the spices. Cook, breaking up the sausage into bite-sized pieces with a wooden spoon as it cooks, until the sausage is no longer pink, about 5-7 minutes. Stir in the marinara sauce and stock. Bring the mixture to a simmer and cook for 5 minutes. Then remove the skillet from the heat and set it aside to cool slightly.
Pre-heat your oven to 400 degrees.
Place the naan bread on baking sheets that have been lightly coated with non-stick cooking spray. Spread about 2 tablespoons of ricotta cheese over each piece of naan, leaving a small border around the edges. Then spoon about 1/3 – 1/2 cup of the sausage mixture on top of the ricotta cheese, spreading it out evenly. Top with about 1/4 cup of the shredded mozzarella and provolone cheese.
Transfer the baking sheets to your pre-heated oven and bake for 11-13 minutes, rotating the pans once during cooking time. The cheese should be melted and the naan should be browned around the edges.
For a crispier finish, slide the baking sheets under your broiler for about 1 minute.
Remove the baking sheets from your oven. Carefully slide the naan pizzas onto a cutting board and slice into wedges. Sprinkle with minced parsley before serving.