This post was originally published here September 5, 2014. I've adjusted the recipe slightly. And I've updated the text and photographs to reflect those changes.
This tart is like therapy for my "produce anxiety".
What's produce anxiety? It's that looming feeling that starts to build in August when EVERYTHING is in season. And you're well aware that you have only a few more weeks left to enjoy it all, so you keep buying/picking more and more and more. And then your house is full of fruits and vegetables and you don't know what to do with them all and you wonder how you got here.
Phew.
This Eggplant and Zucchini Tart with Goat Cheese and Tomato-Shallot Jam helps me to deal with all that drama. It features eggplant, zucchini and cherry tomatoes, all of which are abundant right now. I've also used yellow squash, if I happen to have it. And sometimes I'll top the finished tart with a handful of fresh herbs from my garden. I essentially treat it like a canvas to help me use up what I've got!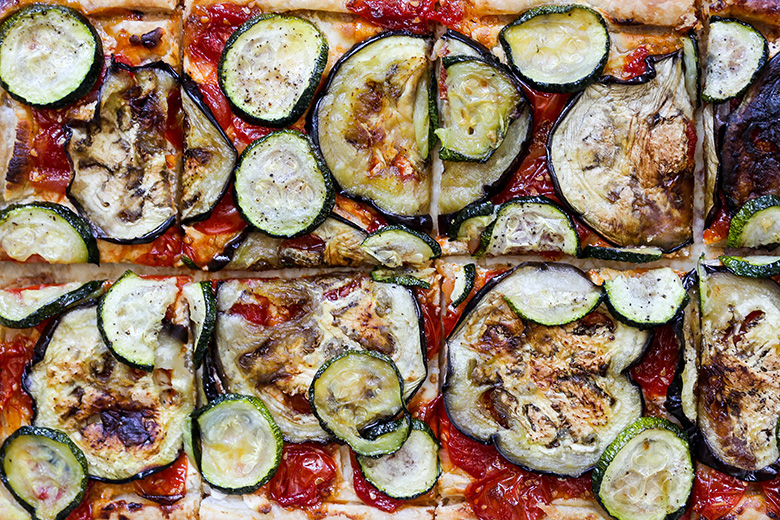 This Eggplant and Summer Squash Tart with Goat Cheese and Tomato-Shallot Jam kind of reminds me of pizza. There is a thin crust (I used store-bought puff pastry here for major flaky, butter goodness AND time saving), a tomato-based layer, cheese and lots of vegetable toppings. Pizza purist will probably disagree with me on this one. But that's what always comes to mind when I eat this tart. It's great for dinner with a side salad. But it can also be turned into a party appetizer, if you cut the squares smaller.
The tomato-shallot jam can be made up to a week ahead of time. It's one of my favorite condiments to keep in my refrigerator this time of year. It's great on cheese and crackers or as a burger topping. You won't regret making it!
Cheers,
Liz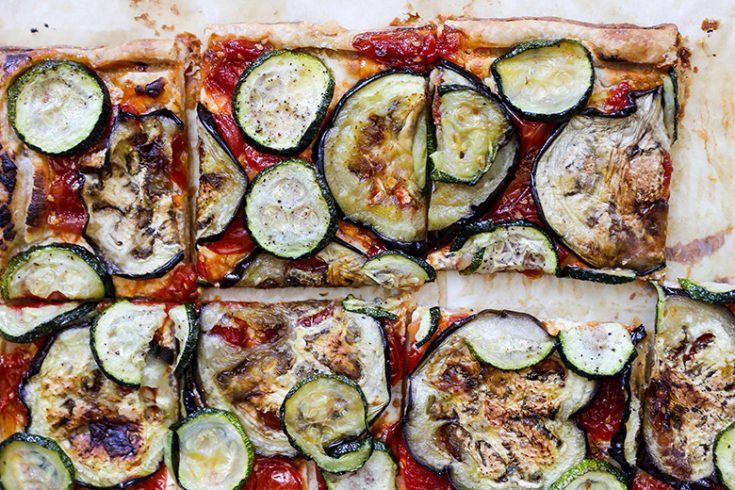 Eggplant and Zucchini Tart with Goat Cheese and Tomato-Shallot Jam
Yield: Serves 2-4
Prep Time: 1 hour 20 minutes
Cook Time: 1 hour
Total Time: 2 hours 20 minutes
Ingredients
For the Tomato-Shallot Jam:
1 pint cherry tomatoes, halved
1/4 cup granulated sugar
1/3 cup diced shallots
Zest and juice from 1 lime
1/2 tsp. salt
1/4 tsp. black pepper
For the Tart:
1 sheet puff pastry, thawed according to the package instructions
8-10 slices eggplant (1/4-inch thick rounds)
18-22 slices zucchini (1/4-inch thick rounds)
About 2 tablespoons extra-virgin olive oil
Salt
Black pepper
4 ounces goat cheese, softened at room temperature
Instructions
To make the tomato-shallot jam, place the tomatoes and sugar in a medium bowl. Stir to coat the tomatoes in the sugar. Then let them sit for 1 hour at room temperature.
After 1 hour, heat a non-stick skillet over medium heat. Add the tomatoes, plus any of their released juices, to the skillet along with the diced shallot. Cook, stirring frequently, for about 12-14 minutes. The mixture should be thick and glossy. And the tomatoes should be almost completely broken down. Stir in the remaining ingredients and cook for an additional 2 minutes. Then remove the skillet from the heat and set it aside to cool. Once cooled, the tomato-shallot jam can be transferred to an airtight container and stored in your refrigerator for 7-10 days.
Line a rimmed baking sheet with parchment paper. Lightly flour your work surface. Then roll the sheet of puff pastry out into a rectangle that's slightly smaller than your baking sheet. Transfer the puff pastry to your parchment paper-lined baking sheet. Then place the baking sheet in your refrigerator to keep the puff pastry chilled while you prepare the eggplant and the squash.
Pre-heat your oven to 425 degrees. Add the eggplant and zucchini rounds to a large bowl. Drizzle with the olive oil and use your hands to help coat the rounds in the oil. Spread the rounds out onto a rimmed baking sheet (some overlap is fine) and season with salt and black pepper. Transfer the baking sheet to your pre-heated oven and bake the eggplant and zucchini rounds for 15 minutes. Remove and set aside.
Remove the baking sheet with the puff pastry from your refrigerator. Prick the surface of the puff pastry all over with the tines of a fork. Then spread the goat cheese out in a thin, even layer over the puff pastry, leaving about a 1/2-inch border at the edges. Spread the tomato-shallot jam out evenly over the goat cheese. Then arrange the baked eggplant and zucchini rounds over the tomato-shallot jam, overlapping them as needed. I lay the eggplant rounds down first, then fill in the spaces with the zucchini rounds.
Transfer the baking sheet to your pre-heated oven and bake the tart for 25 minutes. Remove and set aside to cool for about 5 minutes before slicing and serving.
This tart is best when it's enjoyed on the day it's made.