This post was originally published here August 6, 2015. I've since made some changes to the recipe and I've updated the text and images to reflect those changes. I hope you try out this stunning late-Summer salad!
If you haven't eaten your weight in stone fruits yet, NOW is the time to act. We're nearing the end of the season for these jewel-toned Summer gems. And I certainly wouldn't want you to feel like you missed out on all their sweet, juicy goodness once October rolls around.
Just another reason not to start with the pumpkin parade too early!
Today's salad recipe features plums. I absolutely adore plums. But I often feel like they get overlooked amongst the other stone fruit varieties. Peaches always seem have the spotlight. Which I'm not arguing against. Peaches are freaking delicious. But I just think plums deserve some love, too. Because when plums are good, they are GOOD. Like "eating them while standing over the sink to catch the drips" type of good.
Anyway. That's my plum PSA for the season. You can use any variety that you like for this salad (red, yellow, black, etc.). Just make sure you hurry up and do so!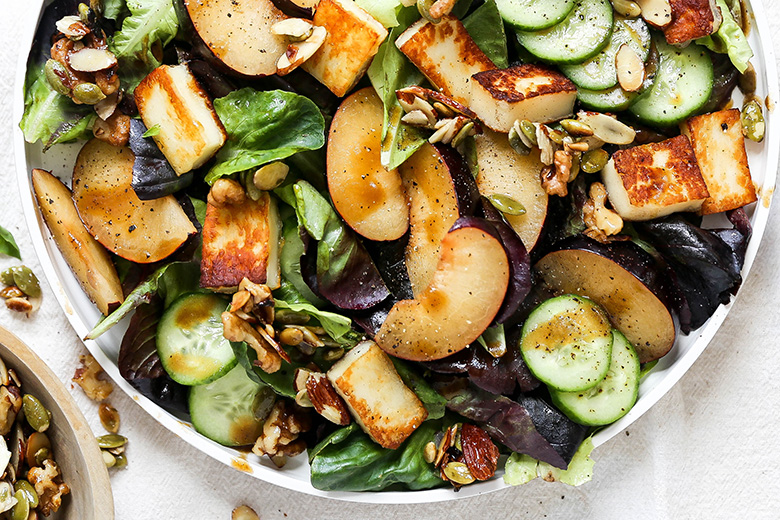 There are two other major players in this Plum and Fried Halloumi Salad with Maple-Nut Clusters. First is the halloumi cheese. If you're not familiar with halloumi, it's a semi-hard, unripened cheese that's made from goat's and/or sheep's milk. It has a very high melting point, which combined with its firm texture, makes it ideal for slicing into thick slabs or cubes and either pan frying or grilling. When cooked, the outside of the halloumi gets wonderfully browned and crisped, while the inside get warmed just enough to start to soften. It's a textural dream!
I decided to pan fry the halloumi for this recipe, mostly because I also needed to use a skillet for the maple-nut clusters. And I'm a firm believer that if I'm going to dirty a dish, I might as well get two uses out of it. But you could certainly grill the halloumi, if you prefer. If you do go that route, I suggest cutting the pieces slightly larger so they don't fall through your grill grates.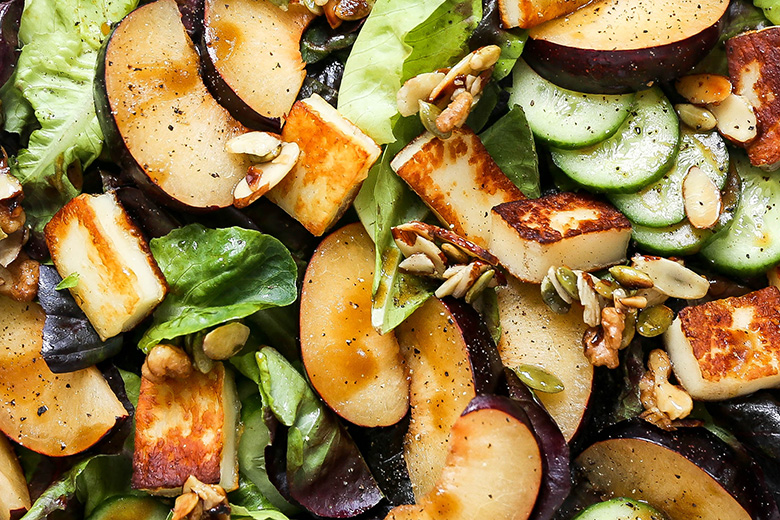 That segues us nicely into talking about these sticky-sweet maple syrup-flavored nuts. You might remember them from some other recipes I've shared here in the past. They are highly addicting, customizable (feel free to change up the combination of nuts/seeds) and they take any salad over the top. The recipe below makes more than you'll need for these salads, but leftovers are very welcomed in this case. You can store any leftovers at room temperature in an airtight container between layers of parchment paper for several days.
If you're making this Plum and Fried Halloumi Salad with Maple-Nut Clusters for a main meal, the recipe makes two generous dinner-worthy salads. Or it can be divided into four smaller side salads.
Cheers,
Liz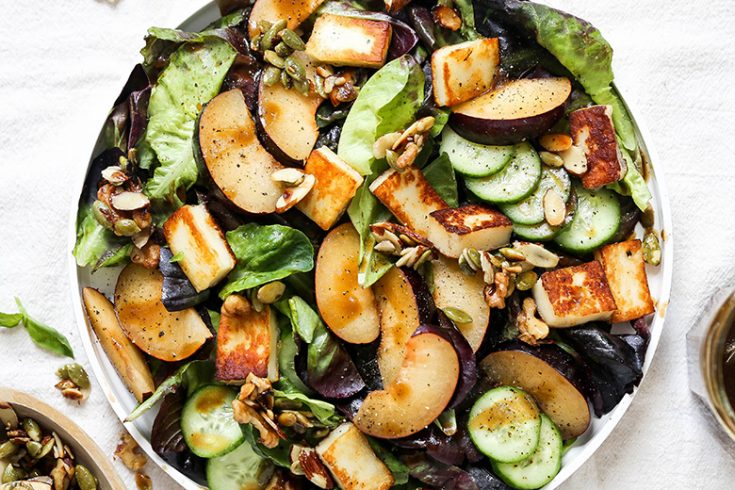 Plum and Fried Halloumi Salad with Maple-Nut Clusters
Yield: Serves 2-4
Prep Time: 15 minutes
Cook Time: 5 minutes
Total Time: 20 minutes
Ingredients
For the Maple-Nut Clusters:
1/2 cup sliced almonds
1/2 cup chopped walnuts
1/2 cup pepitas
3 tablespoons maple syrup
1/4 tsp. salt
For the Salad:
About 1 tablespoon extra-virgin olive oil
4 ounces halloumi cheese, cut into 1-inch cubes
About 6 cups baby red and green lettuce leaves
2 tablespoons fresh basil leaves, torn
2 plums, pitted and sliced
1 small cucumber, sliced
For the Dressing:
1/4 cup extra-virgin olive oil
2 tablespoons balsamic vinegar
1 tablespoon maple syrup
1 tsp. Dijon mustard
1/4 tsp. salt
1/4 tsp. black pepper
Instructions
Heat a cast-iron skillet over medium-high heat. Add the almonds, walnuts and pepitas and cook, stirring frequently, until they start to become fragrant, about 2 minutes. Add the maple syrup and salt and quickly stir to coat the nuts in the maple syrup. Remove the skillet from the heat and dump the nuts out onto a piece of parchment paper, spreading them out slightly. Set aside to cool.
Carefully wipe out the skillet and return it to your stovetop over medium-high heat. Warm about 1 tablespoon of olive oil and swirl to coat the bottom of the skillet. Add the cubed halloumi cheese in a single layer and cook until browned on the first side, about 30-60 seconds. Using a pair of tongs, flip the halloumi cheese over and brown it on the second side. Transfer the halloumi cheese to a clean plate and set aside.
Add all the ingredients for the dressing to a small bowl and whisk to combine.
Add the lettuce and basil to a big bowl and drizzle in some of the dressing, tossing gently to coat. Divide between serving plates. Then top with the sliced plums, cucumbers, fried halloumi cheese and some of the maple-nut clusters. Drizzle with additional dressing before serving, if desired.