There are a lot of obscure food Holidays out there. But National Grilled Cheese Month is one that I can seriously get behind.
That's right. The whole month of April is dedicated to cheese stuffed between two slices of buttery bread. It's pure heaven.
I've been racking my brain these past few days, trying to come up with something really awesome to celebrate this momentous occasion. But I was coming up blank. In the past, I've made these ooey, gooey grilled cheese sandwiches with beer in them. And then there were these savory-sweet beet grilled cheese sandwiches. But this year, I had nothing.
Until I got the idea to put a grilled cheese sandwich into a salad.
Yes. You read that last sentence correctly.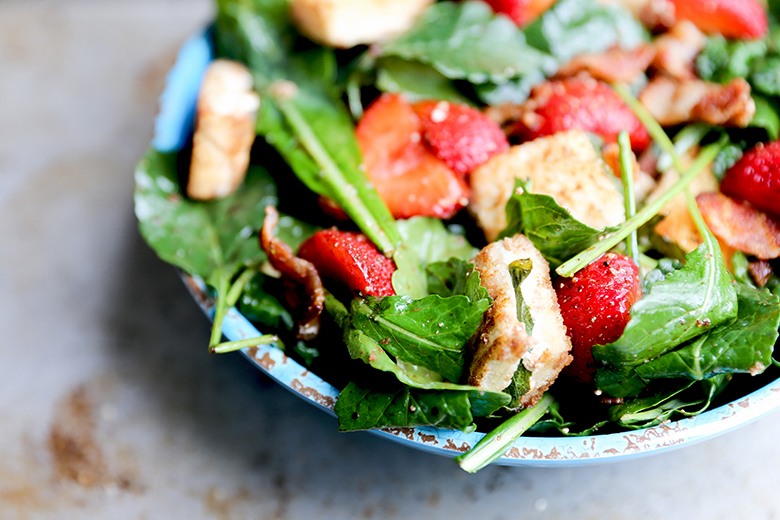 I made a couple of grilled cheese sandwiches with goat cheese. Then I chopped them up into cubes and tossed them into a kale and strawberry salad. Oh and I added bacon too. Because why the heck not.
The grilled cheese sandwich cubes are kind of like croutons. But less crunchy. More cheesy. And so much tastier. Some of them might fall apart a bit when you're chopping them up or tossing the salad together. But don't worry about it! Just let them do their thing.
There aren't too many foods that are quicker to prepare than a grilled cheese sandwich. Or a salad, for that matter. Which is why I'm sharing this Kale and Strawberry Salad with Bacon and Grilled Cheese Sandwich Croutons recipe as part of our monthly #30MinuteThursday series. Dinner never looked so good!
For more quick and easy dinner ideas, check out the links below to see what some of my blogging friends are making this month. And tell me how you're celebrating National Grilled Cheese Month!
Cheers,
Liz
Ingredients
4 slices bacon
4 slices bread
3 ounces goat cheese, softened at room temperature
10-12 fresh basil leaves
4 cups baby kale leaves
2 cups strawberry halves
2 tablespoons balsamic vinegar
1 tablespoon extra-virgin olive oil
Salt and black pepper
Instructions
Cook the bacon. Heat a large non-stick skillet over medium high heat. Add the bacon and cook about 3-4 minutes per side, depending on your desired level of crispness. Remove the bacon from the skillet and transfer it to a paper towel-lined plate to drain. Once cool enough to handle, chop the bacon into bite-sized pieces.
Make the grilled cheese sandwiches. Spread the goat cheese onto two slices of the bread. Top with fresh basil leaves and then top with the remaining two slices of bread. Use the same skillet and some of the rendered bacon fat to cook the grilled cheese sandwiches. You'll need 1-2 tablespoons of bacon fat, so remove and discard any excess before adding the sandwiches. Cook the sandwiches over medium heat until the bread is golden brown on both sides, about 2-3 minutes per side. Remove the sandwiches and transfer them to a cutting board to cool slightly. Then chop them into cubes.
Assemble the salad. Add the strawberries, kale and chopped bacon to a large bowl. Drizzle with the balsamic vinegar and olive oil and add a pinch of salt and black pepper. Toss until well coated. Add the cubed grilled cheese sandwiches and toss to combine. Transfer to serving dishes and enjoy immediately.
https://www.floatingkitchen.net/kale-and-strawberry-salad-with-bacon-and-grilled-cheese-sandwich-croutons/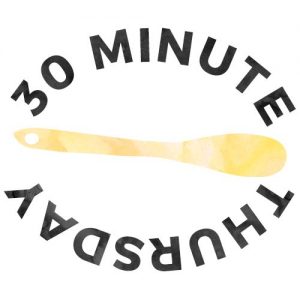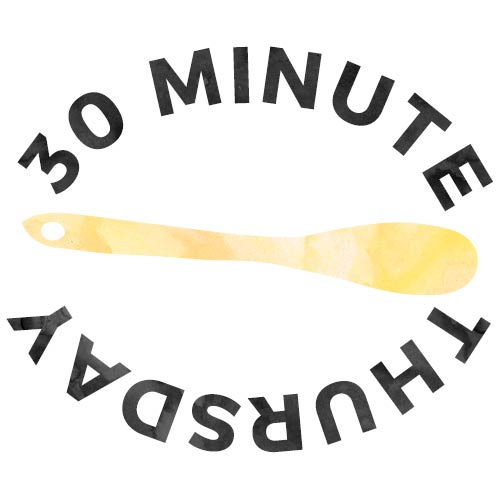 Caprese Grilled Cheese from Pumpkin N' Spice
Sweet Chili Salmon & Broccoli Quinoa Bowls from Sweet Peas & Saffron
Chicken Parmesan Burger from Flavor the Moments
One-Skillet Balsamic Sausage, Asparagus, + Mushrooms from Whole and Heavenly Oven
Cheesy Burrito Casserole from My Kitchen Craze
Hummus Wraps with Spring Vegetables and Herbed Mayo from She Likes Food
Honey Lemon Chicken and Potato Skillet from The Recipe Rebel
Thai Chicken and Vegetable Soup from Bake.Eat.Repeat
Sweet Potato Noodles with Peanut Sauce from Kristine's Kitchen