This post was originally published here February 22, 2014. I've since updated the text and photographs. This is a must-make dessert during Meyer lemon season!
When the days are cold and dark, I can always count of fresh Winter citrus to help lift my spirits. It's hard not to feel bright and happy when you peel an exceptionally juicy grapefruit. Or when you slice into a blood orange to reveal its vibrantly colored interior.
So expect several citrus-focused recipes to materialize over the next few weeks. Starting today with one of my favorite seasonal citrus varieties: Meyer lemons.
This Meyer Lemon Pudding Cake is a total GEM of a recipe. Partly because it's so dead simple to make. The word that comes to mind here is "unfussy". And who doesn't want more of that in their life? But mostly because it's like having two deserts in one. The bottom half comes out thick and luscious, somewhat reminiscent of lemon curd in both consistency and flavor. While the top half bakes up light, fluffy and much more cake-like. The perfect spoonful has a little bit of each layer in it. Which makes for absolute magic in your mouth when you eat it and they blend together.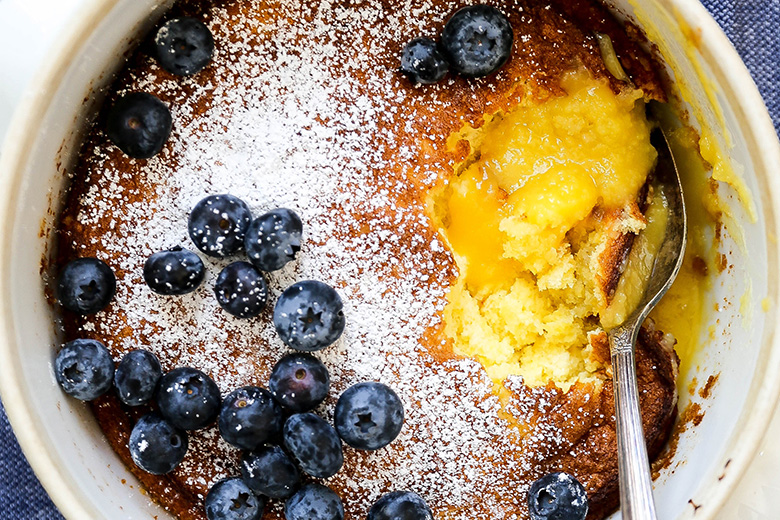 Speaking of spoonfuls, that's exactly how you'll want to serve this Meyer Lemon Pudding Cake. Just spoon it out into shallow bowls, give it a dusting of powdered sugar and top with your favorite berries. Like I said: unfussy.
Meyer lemons are less bracingly tart than regular lemons, which is why they are so perfect for this dessert. They aren't usually that hard to find this time of year. And most large grocery stores will carry them all throughout the Winter months. But if you're out of luck, don't panic. Regular lemons will work for this recipe. Your dessert will just have a bit more pucker power!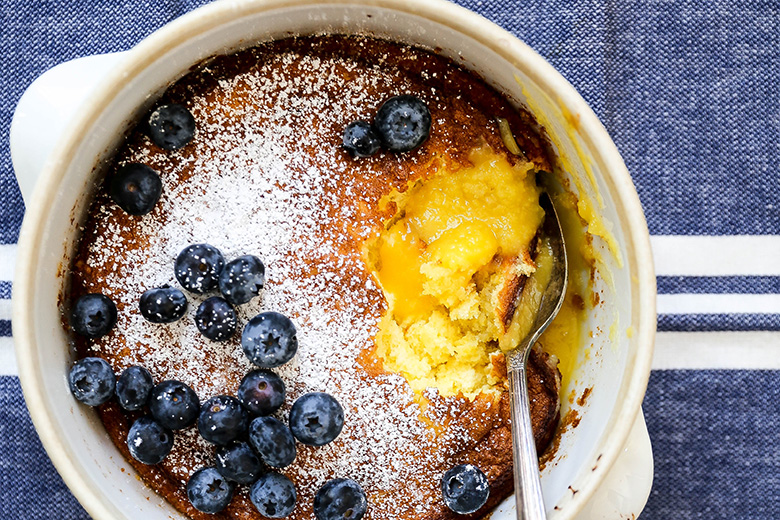 The baking dish you choose for this Meyer Lemon Pudding Cake does have a small but mentionable impact on this recipe. In a perfect world, a deep 8-inch round casserole dish (like the one pictured here) is your best bet. This will result in both layers being generous and substantial. A shallower baking dish (like an 8- or 9-inch square dish or even a pie plate) will work, but the layers will be thinner. All said and done, the most important thing is that the dish you choose has at least a 6-cup capacity.
Cheers,
Liz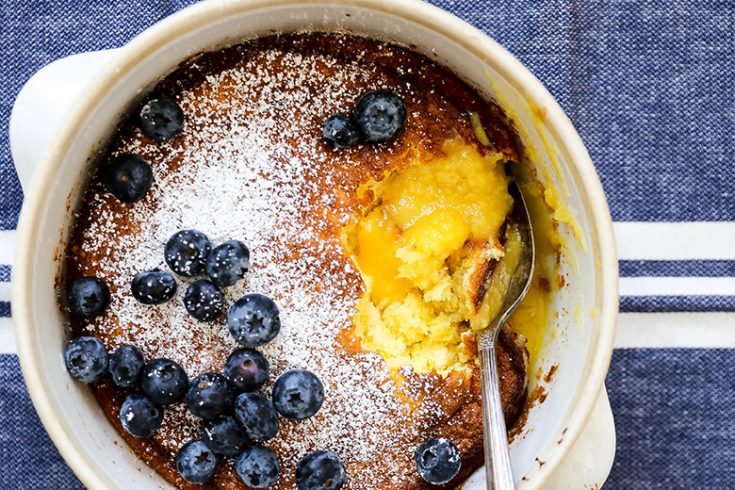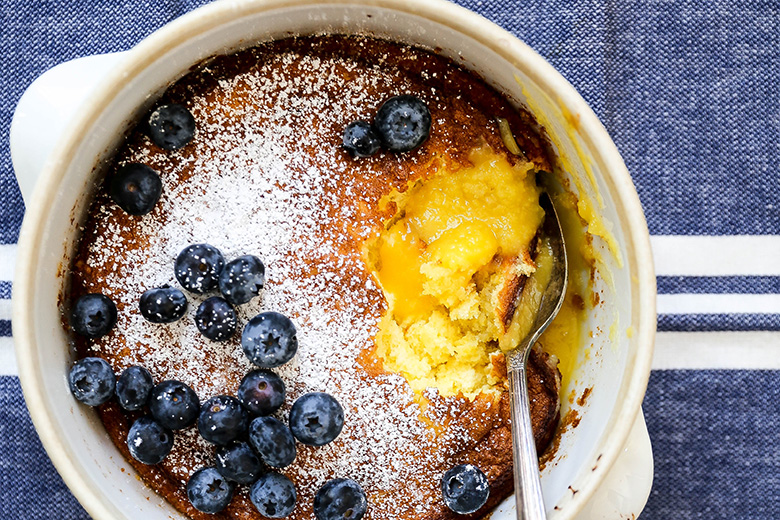 Meyer Lemon Pudding Cake
Yield: Serves about 6
Prep Time: 10 minutes
Cook Time: 40 minutes
Total Time: 50 minutes
Ingredients
For the Pudding Cake:
4 eggs, separated and at room temperature
5 tablespoons butter, melted and cooled
1 cup granulated sugar
1/4 cup all-purpose flour
1/2 cup freshly squeezed and strained Meyer lemon juice (from about 3-4 lemons)
Finely grated zest from 2 Meyer lemons
1/4 cup whole milk, at room temperature
For Serving:
Powdered sugar
Fresh blueberries
Instructions
Pre-heat your oven to 350 degrees. Lightly coat a 6-cup capacity baking dish with non-stick cooking spray and set it aside.
In the bowl of your stand mixer fitted with the whisk attachment, start whisking the egg whites on low-medium speed. Once they begin to turn foamy, increase the speed to high and whisk until medium peaks form, about 2 minutes. Use a spatula to transfer the whisked egg whites to a clean bowl and set aside.
Return the bowl to your stand mixer (it's not necessary to clean it out) and using the paddle attachment, beat together the melted butter, sugar and flour. Add the egg yolks, lemon juice, lemon zest and milk and beat to combine. Stop to scrape down the sides and bottom of the bowl as necessary.
Using a spatula, slowly and gently fold the whisked egg whites into the batter. The batter won't be completely smooth.
Pour the batter into your prepared baking dish and transfer it to your pre-heated oven. Bake until the top of the pudding cake is well browned and there is just a slight jiggle, about 35-40 minutes. Remove the baking dish from your oven and set it on a wire rack to cool.
This pudding cake is best enjoyed slightly warm or at room temperature. Serve with a dusting of powdered sugar and fresh blueberries.
Leftovers can be covered and stored in your refrigerator for 2-3 days.