This post was originally published here August 27, 2015. I've since updated the text and photographs. This fabulous buckle can be served for brunch or dessert. It's a wonderful treat when all the Summer berries are here!
I've been bitten by the Summer baking bug!
I know. I know. It's HOT. But I'm sacrificing a little bit of comfort in order to bake up some treats. Because it feels like every fruit and vegetable imaginable is in season right now and just begging to be used up. So when I'm not tossing them into Summer salads, I'm turning them into cakes, cobblers, crisps and MORE!
In summary: (1) it's too hot for bras and underwear, (2) but baking is allowed.
You with me?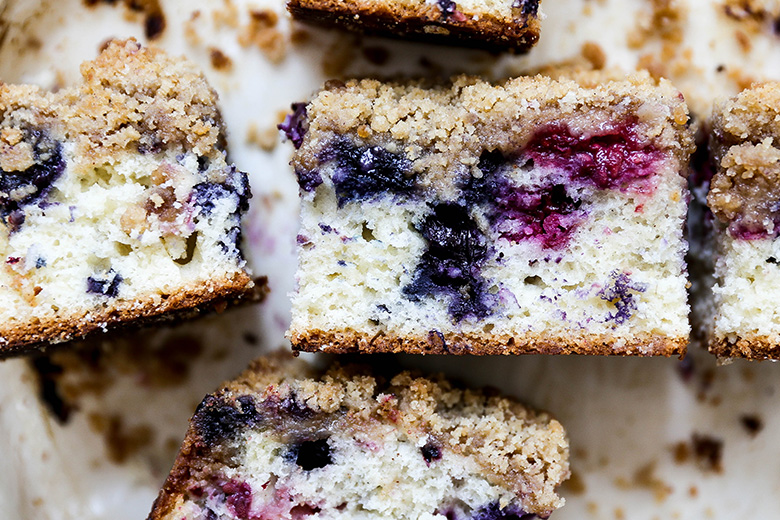 If you haven't made a buckle before (or just wondering what the heck a buckle even is!) it's very similar to a coffee cake, but with fruit incorporated into the batter and baked along with the cake. And of course, it's finished off with a sweet, buttery streusel topping.
For this Mixed Berry Buckle, I used a combination of blueberries, blackberries and raspberries in about equal proportions, because I happened to have all three (yay!) in my refrigerator at the time. I love how pretty the resulting buckle turned out with the mix of colors running all throughout the cake. But you can totally make this recipe with just two types of berries. Or even just a single type, if that's all you have. Just be sure to keep the fruit to a total of two cups.
I've made this recipe in the past in an 8 X 8-inch or 9 X 9-inch square baking pan. But now I prefer to bake it in my springform pan for greater ease of removal and slicing. But if you don't have a springform pan, don't let that stop you from trying this Mixed Berry Buckle. A square baking pan will work fine. Just be sure to grease the bottom and sides very well with non-stick cooking spray.
So when is the best time of day to enjoy this Mixed Berry Buckle? Well…dare I say anytime! It's one of those baked goods that you could do for brunch or dessert. I say anything goes here!
Cheers,
Liz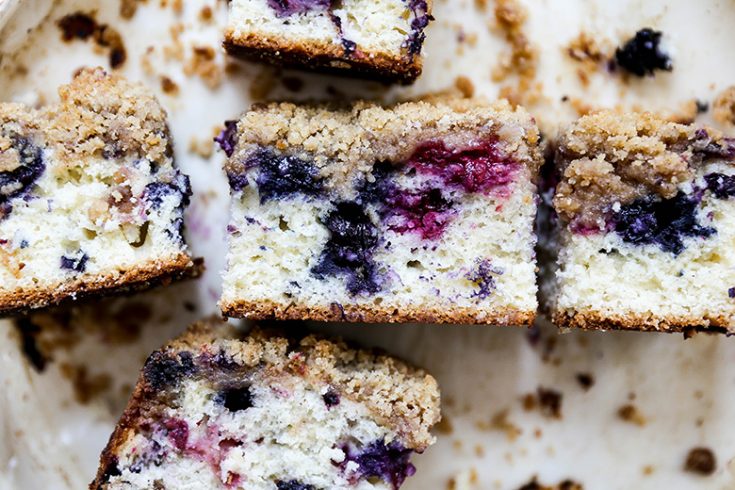 Mixed Berry Buckle
Yield: Serves 10-12
Prep Time: 15 minutes
Cook Time: 50 minutes
Total Time: 1 hour 5 minutes
Ingredients
For the Cake Batter:
3/4 cups granulated sugar
1/4 cup (4 tablespoons) unsalted butter, softened at room temperature
1 egg
1 tsp. vanilla extract
2 cups all-purpose flour
2 tsp. baking powder
1/2 tsp. salt
1/2 cup whole milk
2 cups fresh berries (I used blueberries, blackberries and raspberries)
1 tablespoon lemon zest
For the Streusel Topping:
1 cup all-purpose flour
1 cup packed brown sugar
1 tsp. ground cinnamon
1/8 tsp. salt
1/2 cup (8 tablespoons) unsalted butter, cut into small pieces
Instructions
Pre-heat your oven to 375 degrees. Line the bottom of a 10-inch springform pan with a round of parchment paper. Then generously coat the parchment paper and the sides of the pan with non-stick cooking spray. Set aside.
In your stand mixer fitted with the paddle attachment, beat together the sugar, butter, egg and vanilla extract. Stop to scrap down the sides of the bowl.
Add 1 cup of the flour, the baking powder and the salt. Start mixing on low speed. Then slowly stream in 1/4 cup of the milk. Once everything is mostly incorporated, add the remaining flour and milk, mixing until everything is just combined and no more white streaks remain.
In a small bowl, toss the berries with the lemon zest. Add about half of the berry mixture to the batter and gently fold them into the batter by hand. The batter will be thick. Spread the batter out into your prepared springform pan. Then scatter the remaining berry mixture over top of the batter. Set aside.
To make the streusel topping, add the flour, brown sugar, cinnamon and salt to a medium bowl. Add the butter and use your fingers to squeeze/rub it into the dry ingredients until the mixture resembles coarse sand. Spread the streusel topping evenly over the top of the batter/berry mixture.
Transfer the pan to your pre-heated oven and bake the buckle for 40-50 minutes, or until the streusel topping is golden and a toothpick inserted into the center comes out clean Remove from the oven and set the pan on a wire rack to cool for about 15 minutes. Then run a knife around the outer edge of the buckle, release the sides of the springform pan and lift it off to remove it. Slide the buckle off the bottom of the pan and onto the wire rack to finish cooling. Once cooled, slice and serve.
The buckle can be stored at room temperature in an airtight container for 1-2 days.