Hi! Are you surprised to see me here on a Thursday with a brand spanking new recipe? I realize it's not my usual posting day. But YOU GUYS! It's Margarita Week! And you know that I had to get in on the tequila-loving action!
Margarita Week is a yearly event organized by Kate from Hola Jalapeño in which, as you've probably guessed by now, bloggers from around the interwebs create and post new tipsy (and some not-so-tipsy, too!) margarita recipes. And anything (not just cocktails) margarita-inspired goes. Two years ago, I crafted these perfectly pink Rhubarb-Raspberry Margaritas for the occasion (which are still a Summer-time favorite of mine!). And last year, I went a little non-traditional and took my margaritas into frozen popsicle form with these Creamy Coconut Mango Margarita Popsicles.
This year, I decided to go back to cocktail shaking. And so I dreamt up these Nasturtium Margaritas to share with you today.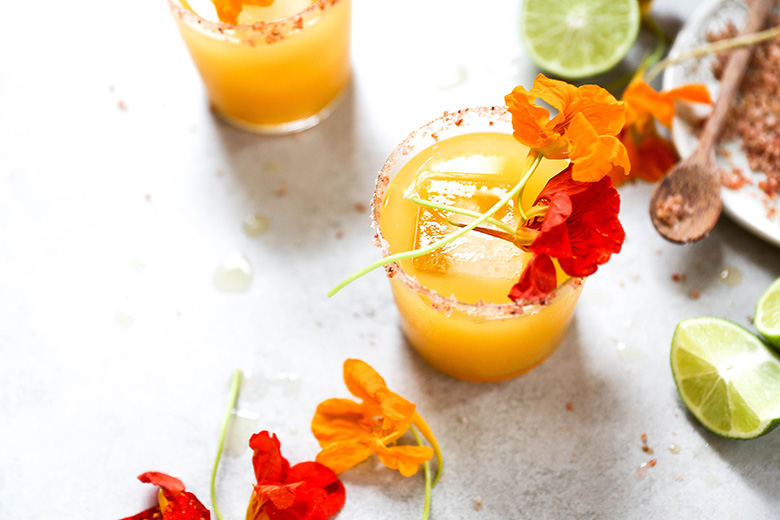 And aren't they just the MOST BEAUTFIUL!?!? I mean, edible flowers in everything is always a win, as far as I'm concerned. But in these margaritas, well, I can barely handle how lovely they are.
Hint: in addition to Cinco de Mayo, you could also make these for your Mom for Mother's Day. I think we all know Mom deserves a flowery cocktail (or two). Just saying.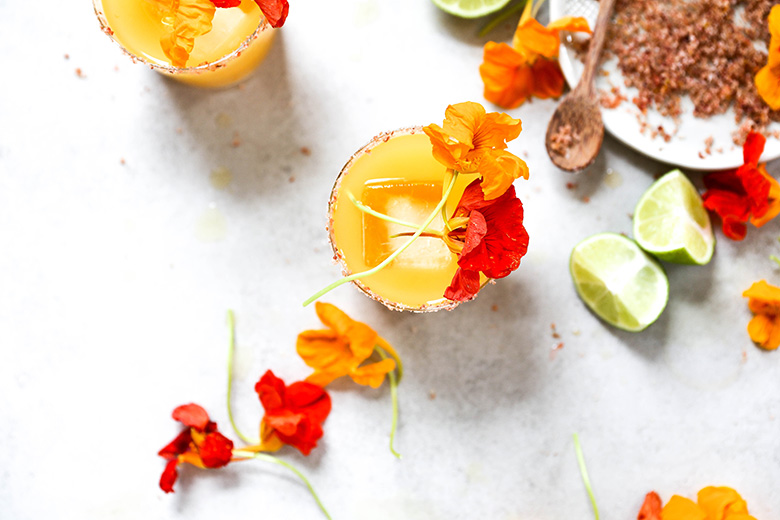 So let's talk about the key ingredient in these cocktails: nasturtium.
Nasturtiums are a fairly ubiquitous flowering plant, most easily recognized by their brightly hued petals, ranging in colors from yellow to orange to red. They are easy and quick to grow. And they are delicious! Nasturtium flowers have a peppery taste, which makes them a common addition to Summer salads. And, as I've now recently discovered, that little bit of spice is perfectly welcome in a margarita, too!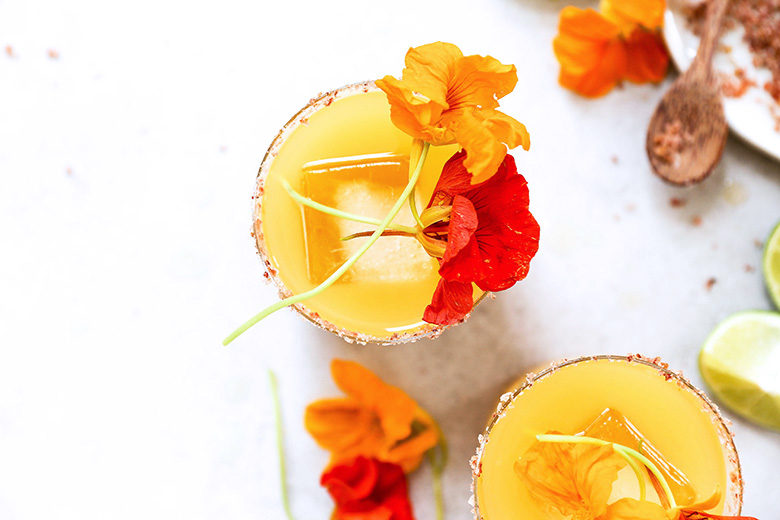 I used nasturtium petals (just tear off the petals and discard the central pistils and stamens) to flavor the salt-sugar rim (do not skip this part!). And I also muddled a few petals into the cocktail itself. Oh and definitely reserve a few whole flowers for garnish. It really makes these margaritas pop!
You can find nasturtium flowers at your local farmers market, some high-end grocery stores and of course, in your own garden if you have a green thumb. Just be sure to check that the plants haven't been sprayed with chemicals.
For more #margaritaweek madness, check out Kate's dedicated Margarita Week webpage. I know you'll find something (or three things!) to wet your whistle!
Cheers,
Liz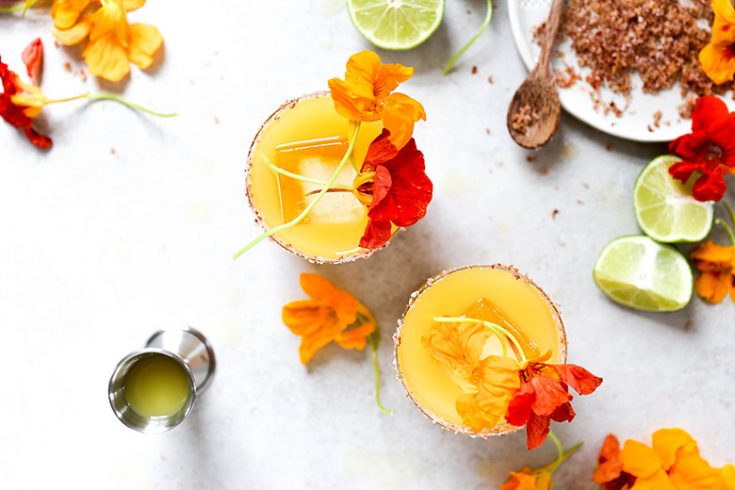 Nasturtium Margaritas
Yield: Serves 1

Prep Time: 10 minutes

Total Time: 10 minutes
Ingredients
For the Nasturtium Salt-Sugar:
1/4 cup flaky sea salt
1 tablespoon granulated sugar
Petals from 6-8 nasturtium flowers
For the Cocktail:
2 ounces tequila
1/2 ounce orange liqueur
Petals from 3-4 nasturtium flowers
Ice
2 ounces orange juice
1/2 ounce lime juice
1/2 ounce agave nectar
Instructions
To make the nasturtium salt-sugar, pulse together the salt, sugar and nasturtium petals in a small food processor with the blade attachment until the petals are finely chopped. Transfer to a small plate and set aside. You'll have enough of the nasturtium salt-sugar mixture to garnish approximately 6-8 glasses.
To prepare your glasses, moisten the rims with a small amount of either lime juice or orange juice. Then gently press the rims of glasses into the nasturtium salt-sugar mixture so it adheres to the glasses. Add ice and set aside.
To make one cocktail, muddle together the tequila, orange liqueur and nasturtium petals in the bottom of a cocktail shaker. Add ice, the orange juice, lime juice and agave nectar. Shake vigorously. Then strain into one of your prepared glasses. Garnish with extra nasturtium flowers, if desired. Serve immediately.
SaveSaveSaveSave
SaveSave
SaveSave