This was the first post ever on Floating Kitchen! Originally published here on May 3, 2013. I've updated the text and photographs. I hope you'll try out this traditional Armenian Paklava recipe that's been passed down in my family for generations!
Updating this blog post has been a long time coming. Because this was the first recipe EVER published here on Floating Kitchen! All the way back to May 3, 2013. This was my inaugural leap into the blogging stratosphere.
Paklava isn't a hard recipe to master. But there is a bit of finesse that goes into it. It's also not one of the easiest foods to photograph. So I'm not sure what compelled me to make paklava for my first blog post (I certainly could have picked something easier!). But I guess I wanted to honor my family. Because it was our traditions, shared meals and time spent together in the kitchen that initially drew me into this space. So making and sharing our families Armenian Paklava recipe, despite the aforementioned challenges, seemed like the right choice.
And yes, Armenians spell this beloved pastry with a "p"!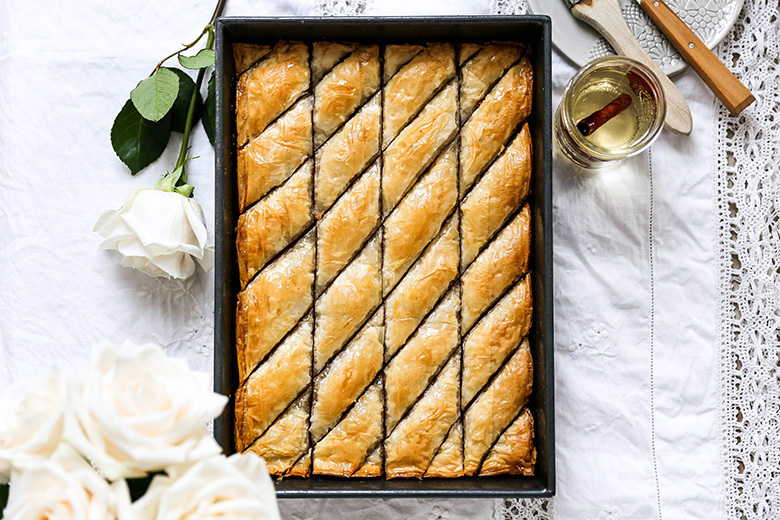 I've been making this Armenian Paklava recipe for many years. My family typically enjoys it at Christmas, New Years, Easter and other random gatherings. It's a quintessential element to any Armenian celebration. And because one tray feeds many, travels easily, and holds up well for almost an entire week, it's an impressive dessert that's just begging to be served or taken to a Holiday party. I hope you'll try it!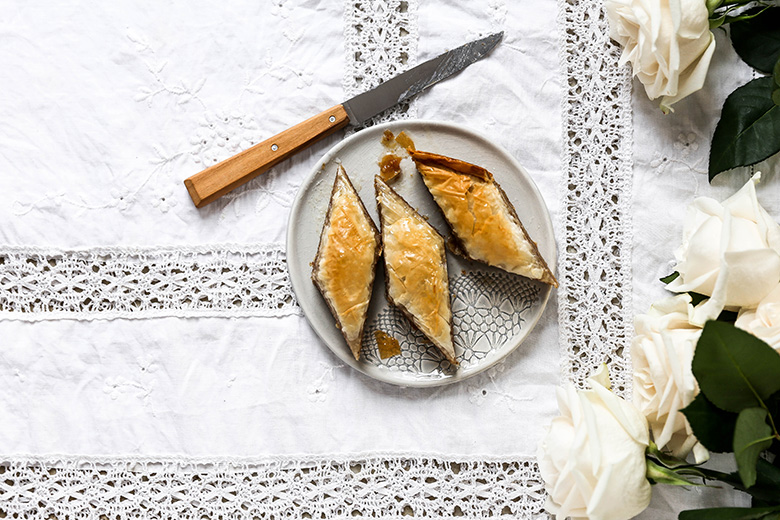 Here are my best tips and tricks for Armenian Paklava:
(1) Read the directions all the way through ( = true for every recipe!) and have all your ingredients and tools ready and within reach before starting.
(2) Phyllo dough is delicate and prone to drying out. Once you open the package, work as quickly as possible to assemble the paklava.
(3) Upon opening the package of phyllo dough, it's common to find some of the sheets already torn. Use those for the bottom layers. No one will ever be able to tell!
(4) I always purchase two boxes of phyllo dough. I like to have a backup. If you don't open it, you can freeze it for a later date.
(5) Use a pastry brush with natural bristles. Silicon pastry brushes are too firm and will tear the phyllo dough.
(6) You're going to be spreading a thin layer of melted butter on EVERY single sheet of phyllo dough. Don't skip this step.
(7) You must cut the paklava before baking it. This step can be challenging because the knife will catch/tug at the phyllo dough. To lesson this, I hold the pastry brush in my other hand and guide it alongside with the knife to help hold down the top layers of phyllo dough as I make the cuts. Don't worry if you don't cut through every layer at this point. You can go over the slices a second time after baking to ensure the pieces are freed all the way to the bottom.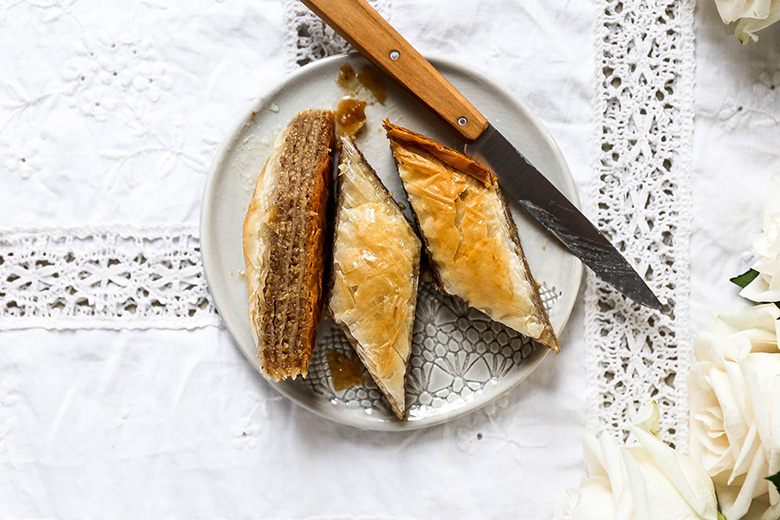 Questions? As always, feel free to reach out and ask. And if you make my Armenian Paklava recipe, I'd love to hear about it!
Cheers,
Liz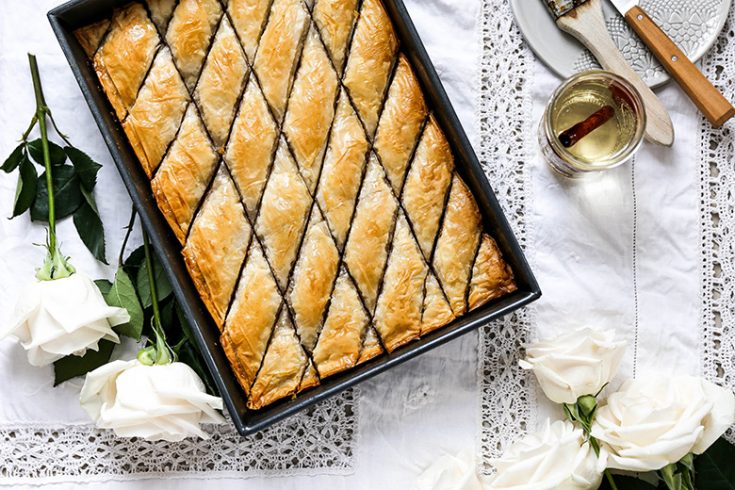 Armenian Paklava
Yield: Makes one 9 X 13-inch pan
Prep Time: 30 minutes
Cook Time: 35 minutes
Additional Time: 1 hour
Total Time: 2 hours 5 minutes
Ingredients
For the Paklava:
4 cups chopped walnuts
1/3 cup granulated sugar
1 tsp. ground cinnamon
1/8 tsp. ground cloves
1 1/4 cups (20 tablespoons or 2 1/2 sticks) salted butter, melted
1 lb phyllo dough, thawed if frozen
For the Syrup:
2 cups granulated sugar
1 1/3 cups water
2 tsp. fresh squeezed lemon juice
1 cinnamon stick
Instructions
Pre-heat your oven to 350 degrees.
In your food processor fitted with the blade attachment, pulse together the walnuts, sugar, cinnamon and cloves until everything is well combined and the mixture resembles coarse sand. Transfer the mixture to a large bowl and set aside.
Open and unroll your package of phyllo dough.
Using a pastry brush with natural bristles, brush a thin layer of melted butter on the bottom and sides of a 9 X 13-inch baking pan.
Take one sheet of the phyllo dough and lay it on the bottom of the pan, folding in the overhanging side to fit. Since you'll be making a two-thirds fold with each sheet, you want to remember to alternate the direction of the fold each time you make a new layer to prevent one side of the finished paklava from being thicker than the other side. Using the pastry brush, immediately brush a thin layer of butter over the entire sheet of phyllo dough. You can also use the pastry brush to push down the phyllo dough around the sides of the pan, helping to creating a cleaner and more even edge.
Repeat this layering process with three more sheets of phyllo dough. Then evenly spread a rounded cup of the walnut mixture over top of the phyllo dough.
Repeat this process a total of three more times, but now using only three sheets of phyllo dough for each layer.
After the last layer of the walnut mixture, layer four sheets of phyllo dough to make the top. Then using a sharp knife, make four vertical slices through the assembled paklava. Next, start in one of the corners of the baking pan and make slices on the diagonal to create the diamond shapes. You can use the pastry brush to help hold down the layers of phyllo dough while you slice through it with the knife. And after you're done, any pieces of phyllo dough that moved or got misshapen can be re-adjusted with the pastry brush.
Pour any of the remaining melted butter through the slices on the paklava. Then transfer the baking pan to your pre-heated over and bake the paklava for 30-35 minutes, or until the top is lightly golden. Remove from the oven and set aside to cool.
While the paklava bakes, make the syrup. Combine all the ingredients in a medium saucepan over medium-high heat. Simmer, uncovered, for 10 minutes, stirring occasionally. Remove the saucepan from the heat and let the syrup cool to room temperature.
Once the paklava is cool, go over all the slices a second time with your knife to make sure the pieces are cut all the way through to the bottom. Then slowly pour the cooled syrup between the slices. I typically use about two-thirds of the syrup, but you can use more or less depending on your desired level of sweetness.
Let the paklava rest in its baking pan for about an hour before serving to allow time for the syrup to absorb into the layers.
Leftover paklava can be stored in your refrigerator for 5-6 days.