This post was originally published here August 27, 2014. I've since updated the text and photographs. I hope you try out these fruity "adult" popsicles!
It's that time of year again when we get to start thinking about ice cream and popsicles!
I'm ALWYAS thinking about ice cream and popsicles. But I realize that not everyone has the same proclivities as me.
If you're ready to dust off your popsicle molds, these Vegan Piña Colada Popsicles are a super fun one to get the season started. They are fruity, creamy, boozy and easy. And they have all the elements of a great piña colada: coconut, pineapple and of course rum!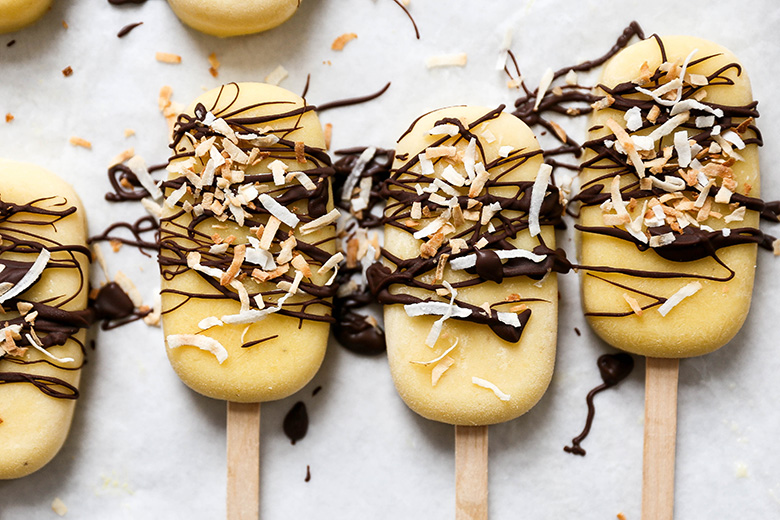 So just how easy are these popsicles, you ask? Like, the easiest popsicles EVER! Simply add all the ingredients for the popsicles to your blender, push the button to blend on high, pour the mixture into your molds and let them freeze. That's it! Once the popsicles are completely frozen, you can remove them from their molds and garnish them with a drizzle of dark chocolate and some toasted coconut. I love adding these little extra touches at the end to really take them over the top!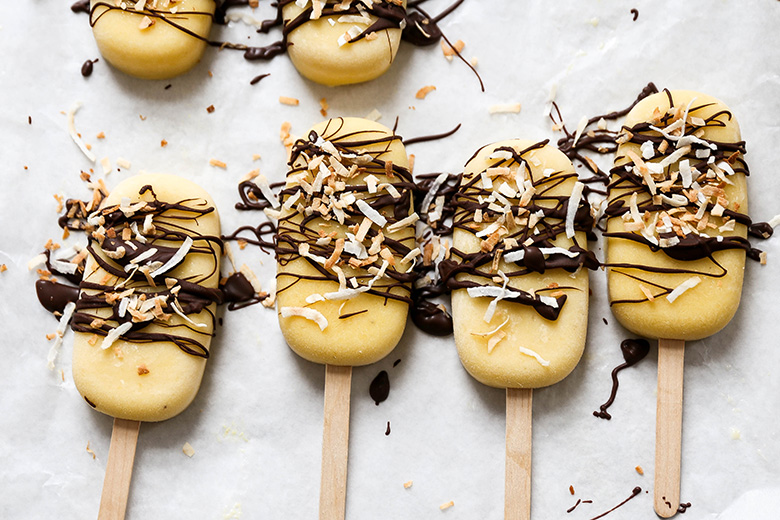 The popsicles in these photos where made using these silicon molds. I also have these plastic molds, which you might recognize from all my past popsicles posts (say that three times fast!). If you're looking to purchase some new popsicles molds, either of these molds would be a great choice. But each has their owns pros and cons. I have found that the popsicles come out much easier from the silicon molds. Simply peel the silicone back and they release right away. In contrast, I usually have to run warm water over the plastic molds and tuck with a bit of force to get the popsicles out. The plastic molds, however, are better for making layered popsicles. And I find that the mold itself fits better in my freezer.
What frozen treat(s) are you most excited for this Summer? If you give my Vegan Piña Colada Popsicles a try this Summer (or any time!), I'd love to hear about it!
Cheers,
Liz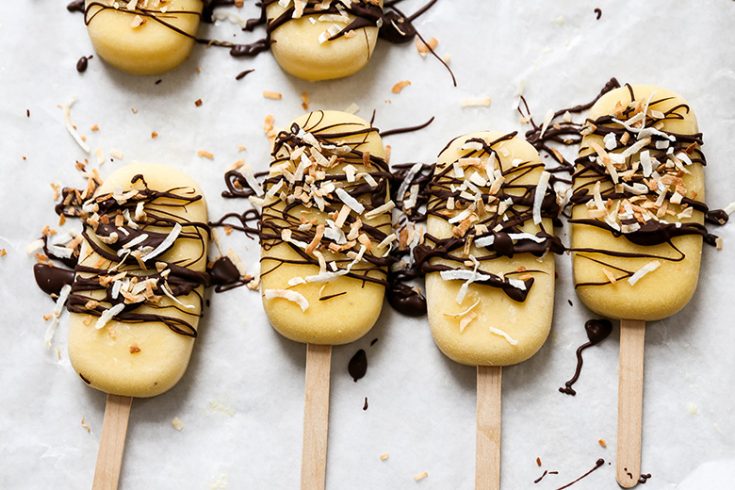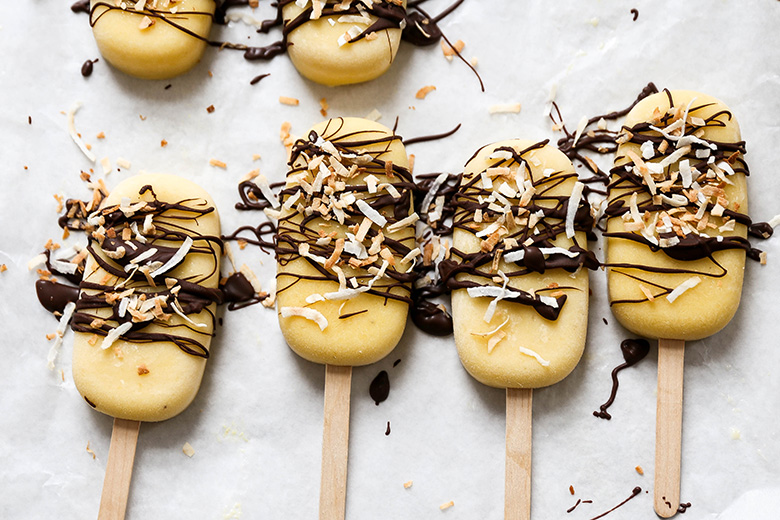 Vegan Piña Colada Popsicles
Yield: Makes 14-16 popsicles, depending on your mold
Prep Time: 5 minutes
Additional Time: 8 hours
Total Time: 8 hours 5 minutes
Ingredients
For the Popsicles:
1 medium banana, peeled
1 (20-ounce) can pineapple chunks in juice
1 (14-ounce) can full fat coconut milk
1/4 cup rum (I used a dark rum)
3 tablespoons granulated sugar
For Garnish:
4 ounces dark chocolate, melted
1/2 cup shredded coconut, toasted
Instructions
In your blender, combine all the ingredients for the popsicles (including the pineapple juice from the can) on high speed until smooth. Then divide the mixture evenly between your popsicle molds. Insert popsicle sticks and transfer the molds to your freezer. Freeze until the popsicles are completely firm, about 6-8 hours.
Once the popsicles are completely frozen, remove them from their molds. Place the popsicles in a single layer on a baking sheet lined with wax paper and transfer them back in your freezer for a few minutes while you gather the ingredients for the garnish.
Drizzle melted chocolate over the popsicles and immediately sprinkle them with toasted coconut. These can be enjoyed immediately. Or they can be transferred to an airtight container and stored in your freezer for several days.