We're coming off a super sunny weekend here in New England. And damn, does it feel freaking good.
This past winter wasn't nearly as soul crushing as last winter was (thank goodness for that!), but my anticipation for Summer is still equally strong. This is the time of year when I start daydreaming wildly about swimming pools, long bike rides and enjoying a daily ice cream cone indulgence. It's all so close. I can just about taste it.
These Pistachio Pavlovas with Papaya Curd and Fresh Raspberries are kind of like an edible burst of sunshine. The flavors are so fresh and tropical. And the presentation is pretty fine too, if I do say so myself. My first thought after making these was that they would be perfect for Mother's Day. I know it's a bit early to be thinking of Mother's Day already. But our Mom's deserve a little advanced planning, don't you think?
This was my first time making a curd that wasn't a lemon curd. I was bit skeptical about whether or not it would work with papaya, but turns out it works just fine! The riper your papaya, the more flavor you're going to get. So make sure you grab a good one! And I'm excited to try out even more fruits now that I know how easily adaptable the recipe is.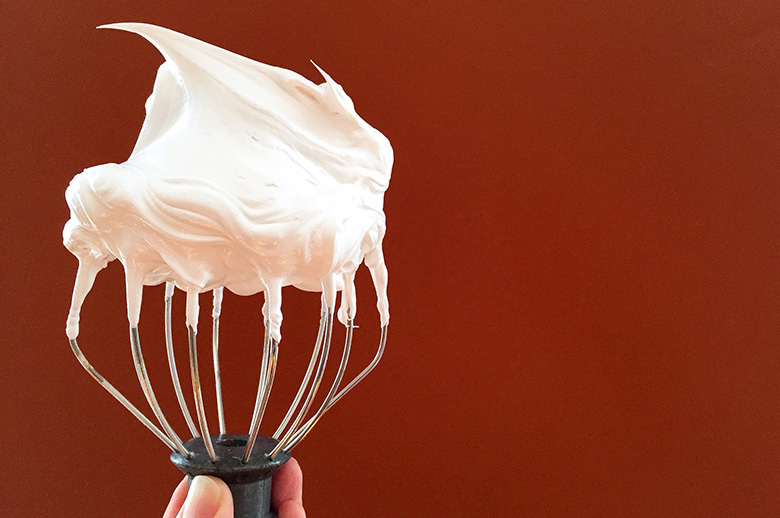 Making the meringue base is pretty easy. And you'll know if you've done it right when you can flip your whisk upside down and the meringue peaks still hold their shape!
Cheers,
Liz
Recipe adapted from my Chocolate Pavlovas with Bourbon Strawberries and Whipped Cream
Ingredients
For the Papaya Curd
About 1/2 cup cubed papaya flesh
Juice and zest from 1 lemon
3/4 cups sugar
2 eggs, separated
1/2 cup (8 tablespoons) unsalted butter, cubed

For the Pavlovas
3 egg whites, at room temperature
1/4 tsp. cream of tartar
Pinch salt
3/4 cups sugar
1 tablespoon cornstarch
1/2 tsp. vanilla extract
1/4 cup shelled pistachios, finely chopped

For Topping
Whipped cream
Fresh raspberries
Pistachios, shelled and roughly chopped
Fresh mint leaves
Instructions
Make the papaya curd. Add the papaya flesh, lemon juice and lemon zest to your blender. Blend on high until smooth. Measure out 1/2 cup of the purée and place it in a medium bowl. You may need to blend more fresh papaya to get 1/2 cup of purée, depending on how ripe/juicy your fruit is. Add the sugar and egg whites to the purée and stir to combine. Set aside.
In a medium heavy-bottom saucepan, gently melt the butter. Once the butter is melted, turn off the heat. Whisk the egg yolks into the warm melted butter. Then whisk in the papaya/sugar/egg white mixture. Turn the heat back on to low and cook the papaya curd, whisking constantly, until it's slightly thickened and coats the back of a spoon, about 4-5 minutes. Remove from the heat. Strain the papaya curd through a fine mesh strainer into a clean bowl. Cover and refrigerate until well chilled, about 3-4 hours. The papaya curd will thicken slightly as it chills.
Meanwhile, make the pavlovas. Pre-heat your oven to 275 degrees. Line two baking sheets with parchment paper and set aside.
In the bowl of your stand mixer with the whisk attachment, beat the egg whites, cream of tartar and salt for about 2-3 minutes, starting with your mixer on low speed and working your way up to medium speed. The bubbles should be very small and uniform.
In a small bowl, mix together the sugar and cornstarch. With your mixer on medium-high speed, gradually add the sugar/cornstarch mixture to the egg whites. Then add the vanilla extract. Continue whisking on high speed until the batter is glossy and stiff peaks form, about 4-5 minutes. The batter should be able to hold it's shape on a spoon or whisk, even when turned upside down. Add the finely chopped pistachios and mix until just incorporated.
Spoon the batter out onto your prepared baking sheets, making 6 rounds and placing them 2-3 inches apart from each other. Using your spoon, create a small indentation in the middle of each mound, being careful not to make the mounds too thin because they will spread out a little bit during baking.
Transfer your baking sheets to your pre-heated oven and reduce the temperature to 250 degrees. Bake for 50 minutes. The pavlovas should be crisp and dry to the touch. Turn your oven off and open the door so it's slightly ajar. Let the pavlovas sit in the warm oven for an additional 10 minutes. Then remove them from the oven and allow them to cool completely on their baking sheets. Once cooled, the pavlovas can be stored in an airtight container at room temperature for 3-4 days. It's normal for them to crack slightly during baking or as a result of being moved around.
Assemble the pavlovas. Top each pavlova with a generous spoonful of the papaya curd. Then top with whipped cream, fresh raspberries, chopped pistachios and a few fresh mint leaves, if desired. Serve immediately.
https://www.floatingkitchen.net/pistachio-pavlovas-with-papaya-curd-and-fresh-raspberries/