This post was originally published here April 14, 2016. I've adjusted the recipe slighted and updated the text and photographs to reflect those changes.
I've been on a huge pizza bender the last several weeks. It all started when I decided to FINALLY make a heart-shaped pizza for Valentine's Day. Then once I had checked that item off my bucket list, I started revisiting some of my favorite pizza recipes from the archives. And it's been a pizza palooza ever since.
This vegetarian Potato Pizza with Kale Pesto feels a bit like Spring. I love how green it is. And I also associate tender, buttery baby potatoes with this time of year. So it feels like a very fitting recipe to kick off the month of March. Especially considering you could make this recipe to celebrate any of the fun days we've got coming up this month: Pi Day (pizza pie definitely counts!), St. Patrick's Day or the first day of Spring. Or just make it on a regular Friday night. Because we all know that Friday night is pizza night!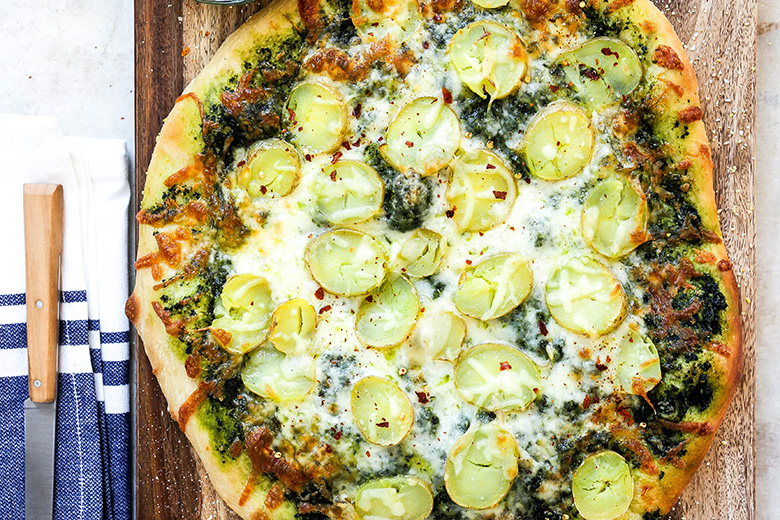 I used to always make my own pizza dough. But in recent years, I've completely stopped doing that because I found it was a barrier to entry for me. I love the convenience of being able to purchase fresh pizza dough from my grocery store (or from my favorite pizza shop). It makes my life easier. And it's a shortcut that I'm happy to take. Just be sure to take your dough out of the refrigerator about an hour before you embark on your pizza journey. Ideally, it should be at room temperate for the best results. Room temperature dough is much easier to shape (if you've ever tried to stretch cold dough, you know how frustrating it can be!) and it bakes up with more loft (I love a good crust bubble!).
Of course, if you want to make your own dough, I'm not going to stop you. Kudos to you!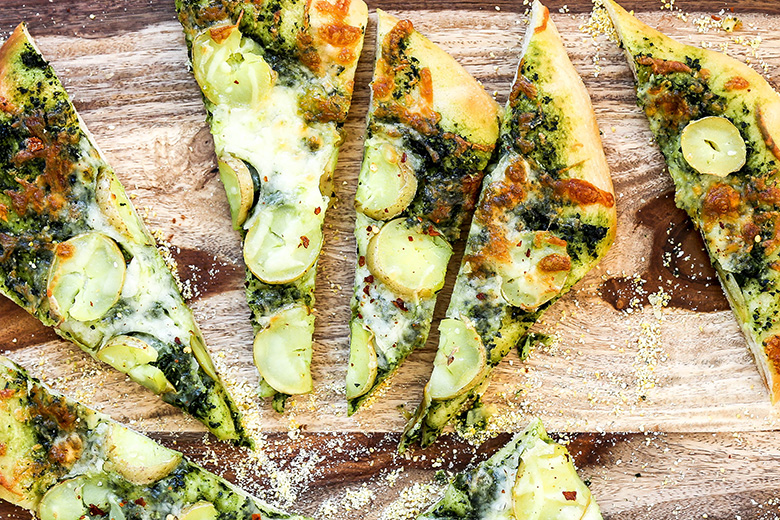 Since undercooked potatoes are no fun to eat (and they can potentially cause health issues), I par-cook them in the microwave for a couple minutes before slicing and adding them to the pizza. This gives them just enough of a head start so they can cook fully in the oven.
Cheers,
Liz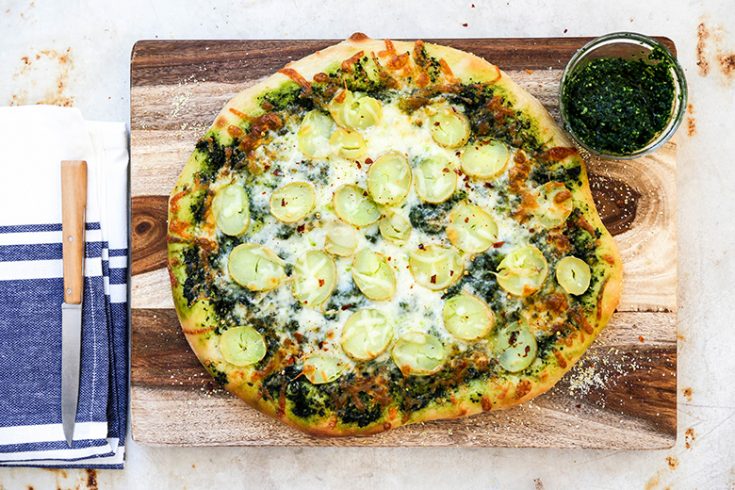 Potato Pizza with Kale Pesto
Yield: Serves about 4
Prep Time: 15 minutes
Cook Time: 20 minutes
Additional Time: 1 hour
Total Time: 1 hour 35 minutes
Ingredients
For the Pesto:
3 cups loosely packed kale leaves
2 garlic cloves, peeled
2 tablespoons toasted pine nuts
1/4 tsp. salt
1/4 tsp. black pepper
About 1/2 cup extra-virgin olive oil
For the Pizza:
4-5 baby yellow potatoes
1 lb pizza dough (homemade or store bought), brought to room temperature
About 1 tablespoon extra-virgin olive oil
2 cups shredded mozzarella cheese
1/4 tsp. red pepper flakes
Instructions
Pre-heat your oven to 450 degrees. Lightly dust a large baking sheet with cornmeal and set it aside.
In your food processor fitted with the blade attachment, pulse together the kale, garlic, pine nuts, salt and black pepper until coarsely combined. Then with your food processor running, slowly stream the olive oil in through the feed tube, stopping to scrape down the sides of the bowl as necessary. Continue processing until the pesto is mostly smooth. Set aside.
Prick the potatoes several times with the tines of a fork. Then wash them and place them in a shallow bowl. Cover them loosely with a damp paper towel and microwave them on high for about 3 minutes. Set aside to cool slightly. Once the potatoes are cool enough to handle, thinly slice them into rounds.
Meanwhile, working on a floured surface, roll and shape the pizza dough until it's roughly a 12-inch circle. If the dough is elastic and hard to work with, let it rest for about 10 minutes then try shaping it again. Transfer the dough to your prepared baking sheet, gently reshaping it with your hands as needed.
Brush the outermost edges of the pizza dough with a little olive oil. Then spread the kale pesto evenly over the surface of the dough, leaving a slight boarder around the edges. Depending on your taste preferences, you may not use up all the pesto (I had approximately 2-3 tablespoons remaining). You can store any leftover pesto in an airtight container in your refrigerator for several days.
Sprinkle 1 1/2 cups of the mozzarella cheese evenly over the surface of the pesto. Then arrange the potato slices in a single layer over the cheese. Top with the remaining 1/2 cup of cheese.
Transfer the baking sheet to your pre-heated oven and bake the pizza for 15-17 minutes. The crust should be starting to brown and the cheese should be fully melted and bubbling. Remove the baking sheet from your oven and let the pizza rest on its baking sheet for about 5 minutes. Then carefully transfer the pizza to a cutting board. Sprinkle with red pepper flakes. Slice and enjoy immediately.