This post was originally published here February 6, 2015. I've since updated the text and photographs. These are a fun treat for Valentine's Day. I hope you try them out!
Some people go absolutely crazy over red velvet desserts. I'm not one of those people. But once or twice a year either around Christmas or Valentine's Day, I do like to indulge in the festiveness of a little red food dye.
These Red Velvet Ice Cream Sandwiches are so fun for Valentine's Day. They do take a bit of time to prepare (I recommend starting at least a full 2 days in advance of when you plan to serve them), but they are worth it for a special treat!
For the homemade red velvet ice cream, I adapted one of my favorite cream cheese-based ice cream bases. This ice cream base doesn't require eggs and it is generally pretty foolproof. And since red velvet cakes and cupcakes are typically topped with a cream cheese frosting, I thought it was fitting to include a little cream cheese in this recipe. You will need an ice cream maker to churn this red velvet ice cream. So remember to make sure your ice cream canister is completely chilled before starting by placing it in your freezer for the time recommended by the manufacturer.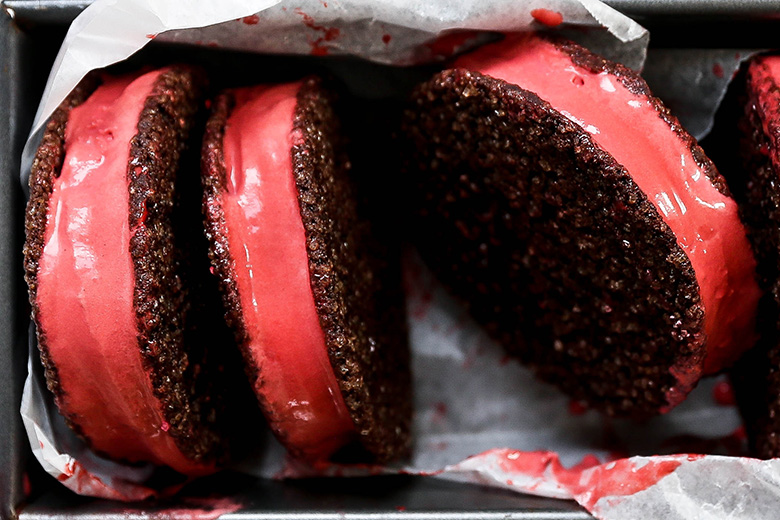 The cookies for these Red Velvet Ice Cream Sandwiches are based off one of my favorite soft chocolate sugar cookie recipes. I've used these cookies for ice cream sandwiches in the past and they are a total dream. They bake up nice and uniform and BIG (= bigger ice cream sandwiches is always win in my book!). And they don't turn rock hard in the freezer.
The recipe below makes about 18 cookies and you'll need approximately 12-16 cookies for the ice cream sandwiches, depending on how thick you make them.
I thought about rolling these Red Velvet Ice Cream Sandwiches in sprinkles, chocolate chips or flaked coconut. But then I just left them alone because the color of the ice cream was so fun and vibrant. But definitely go ahead of customize them if you want!
Cheers,
Liz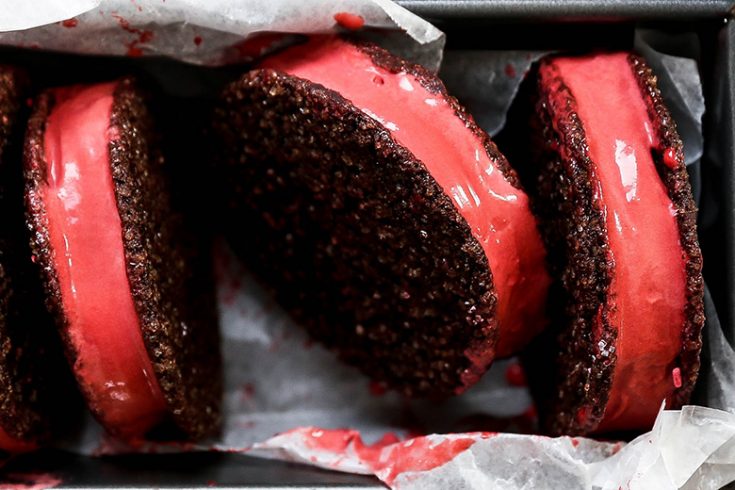 Red Velvet Ice Cream Sandwiches
Yield: Makes 6-8 ice cream sandwiches
Prep Time: 1 hour
Cook Time: 30 minutes
Additional Time: 1 days 12 hours
Total Time: 1 days 13 hours 30 minutes
Ingredients
For the Red Velvet Ice Cream:
6 ounces full-fat cream cheese, softened at room temperature
1 1/2 cups whole milk
1/2 cup heavy cream
3/4 cups granulated sugar
1 1/2 tablespoons unsweetened cocoa powder
1 tsp. vanilla extract
1 tablespoon red food coloring (or less if using a gel-based food coloring)
For the Cookies:
10 tablespoons unsalted butter, softened at room temperature
1 cup granulated sugar
1 egg
1 tsp. vanilla extract
1 cup plus 1 tablespoon all-purpose flour
1/3 cup plus 2 teaspoons unsweetened cocoa powder
1/2 tsp. baking soda
1/4 tsp. salt
About 1/3 cup large-grain or decorating sugar (I used turbinado)
Instructions
Start by preparing the ice cream. In your food processor with the blade attachment, process the cream cheese until smooth. Scrape down the sides of the bowl.
In a medium saucepan over medium heat, whisk together the milk, heavy cream, sugar and cocoa powder. Cook until the sugar and cocoa powder are dissolved and the mixture is warm. Remove the saucepan from the heat.
Carefully add about 1/2 cup of the warm milk mixture to your food processor and process to combine it with the cream cheese. Then add another 1/2 cup of the warm milk mixture and process to combine. Now scrape all of the contents of your food processor back into the saucepan with the remaining warm milk mixture. Whisk until everything is fully combined and smooth. Add the vanilla extract and red food coloring and whisk to combine.
Pour the ice cream base into a clean bowl. Cover with plastic wrap and place it in your refrigerator until it's completely chilled, at least 6 hours or up to 24 hours.
Pour the chilled ice cream base into your ice cream maker and churn according to the manufacturer's instructions. Once the ice cream base is nearly frozen and the consistency of soft serve, about 15-20 minutes, scoop it into a freezer safe container. Cover the ice cream with plastic wrap and freeze until it's completely firm, about 4 hours.
While the ice cream freezes, prepare the cookies. In your stand mixer fitted with the paddle attachment, beat the butter and granulated sugar on medium-high speed until light and fluffy, about 3-4 minutes. Stop to scrape down the sides of the bowl as necessary. Add the egg and vanilla extract and beat to combine.
In a medium bowl, whisk together the flour, cocoa powder, baking soda and salt. Gradually add the dry ingredients to your mixer, beating on low speed until everything is well incorporated. Cover and refrigerate the cookie dough for at least 2 hours or up to 24 hours.
Pre-heat your oven to 350 degrees. Line your baking sheets with parchment paper. Place the large-grain/decorating sugar in a shallow bowl.
Roll the dough into balls, using about 1 1/2 tablespoon of cookie dough per ball. Then roll each ball in the large-grain/decorating sugar, coating all sides. Place the dough balls at least 2-inches apart on your parchment paper-lined baking sheets. They will spread a lot during baking, so don't overcrowd your baking sheets.
Transfer the baking sheets to your pre-heated oven and bake the cookies for 6 minutes. Then rotate the baking sheets and bake for an additional 5-6 minutes. The cookies should look set around the edges but still slightly underdone in the centers. Remove the baking sheets from your oven and allow the cookies to cool completely on their baking sheets. Then transfer them to a wire rack.
Once the ice cream is frozen and all the cookies have been baked, assemble the ice cream sandwiches. Take the ice cream out of your freezer and let it sit at room temperature for about 5-10 minutes, or until it's easy to scoop. Flip half the cookies over and lay them out on a baking sheet or a large plate (you just want something that will fit in your freezer). Place about 1/2 cup of ice cream in the center of each cookie. Then top with a second cookie, pressing down slightly. Immediately transfer the entire sheet/plate with the ice cream sandwiches to your freezer. Once the ice cream re-hardens and the ice cream sandwiches are firm, wrap them individually in aluminum foil for storage.