I like to consider myself to be a bit of a squash connoisseur. Or maybe even a squash whisperer, if you will.
But recently, I realized there was one squash missing from my repertoire: red kuri squash.
I've passed these bright, red-skinned beauties at the market many times. They were certainly enticing enough based on their color, shape and size alone. And I knew from my readings that their flesh was rich and creamy with a mellow sweet and nutty flavor. Yet I would always reach for my more familiar standbys: butternut and delicata squash. But then a few weeks ago, I decided on a whim to toss one into my shopping cart. And now I don't think I'll ever look back. Red kuri squash is taking up a permanent residency in my kitchen!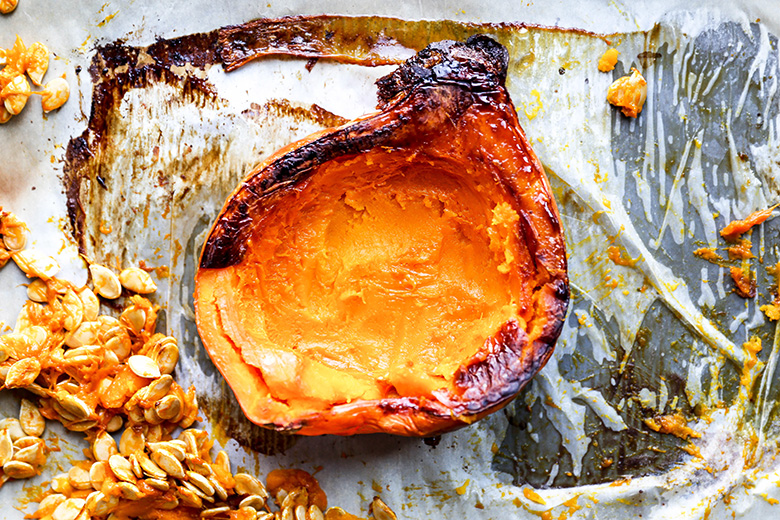 I decided to make a puréed soup, so I took some direction from one of my favorite butternut squash soup recipes and finally landed on this version of Red Kuri Squash and Fennel Soup with Savory Granola.
I started by roasting the red kuri squash, using my friend Traci's instructions for roasting whole pumpkins (which I also did earlier this Fall to make these pumpkin chocolate puddings), then I scrapped out the softened flesh and combined it in a large stockpot with fennel, apple, shallots, garlic and vegetable broth. After puréeing the soup, I added a touch of heavy cream to make it extra smooth and luxurious. But you could certainly skip this ingredient all together. Or try using coconut cream instead, if you prefer.
I dressed this soup up with a few microgreens for extra color. And a nutty, savory granola for major crunch. Because I firmly believe that puréed soups should never be served naked.
Savory granola is something that I've been wanting to play with for a while now, and I'm so glad I finally took the plunge and tried out a couple recipes (today's recipe is adapted from this one I found on Bon Appetit). I'm finding lots of ways to use it, including salads and breakfast bowls. I think once you try it, you'll be hooked, too!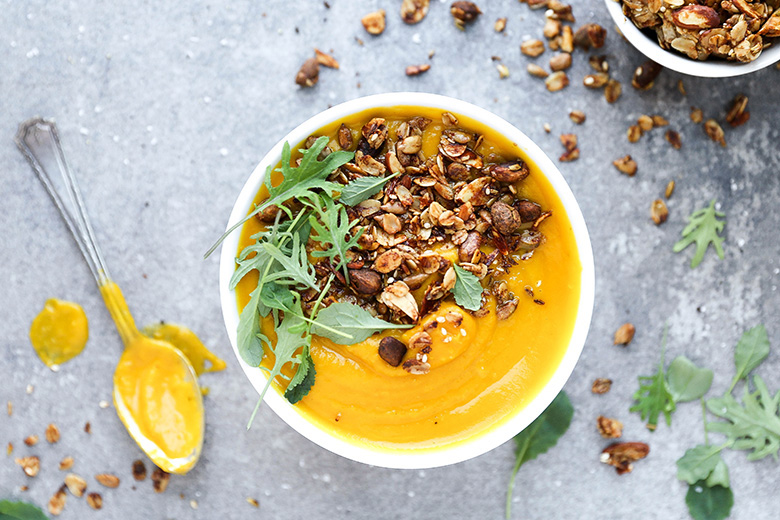 I'm sharing the recipe for this Red Kuri Squash and Fennel Soup with Savory Granola as part of our monthly seasonal eating initiative organized by Becky from Vintage Mixer. Becky has lots of recipe suggestions for December, which you can find here in her December produce guide. And you can also have a peak at the recipes linked up below to see what some of my other blogging friends have created for this month. I hope you find some inspiration for your Holiday gatherings!
Cheers,
Liz
Ingredients
For the Soup
1 medium red kuri squash
3 tablespoons extra-virgin olive oil
1 large fennel bulb, trimmed and chopped
1 red apple, cored and chopped
2 shallots, peeled and chopped
2 garlic cloves, peeled and minced
1 tsp. salt
1 tsp. black pepper
4 cups vegetable broth
1/3 cup heavy cream
Microgreens or fresh herbs for topping, if desired

For the Savory Granola
1 cup old-fashioned oats
1/2 cup shelled pistachios
1/2 cup shelled sunflower seeds
1/2 cup sliced almonds
1 tablespoon sesame seeds
1 tablespoon fennel seeds
1 tsp. salt
1/4 tsp. cayenne pepper
1/4 cup extra-virgin olive oil
1 tablespoon agave nectar
1 egg white
Instructions
Pre-heat your oven to 375 degrees. Line a large rimmed baking sheet with parchment paper. Cut the red kuri squash in half lengthwise. Then place the squash halves cut side-down on your prepared baking sheet. Transfer to your pre-heated oven and roast for 50-60 minutes, or until the squash halves are soft. Remove from the oven and set aside to cool. Once the squash halves are cool enough to handle, flip them over and scrape out and discard the seeds. Then scrape out and save the flesh. The skin of red kuri squash is edible, so don't worry if you get some skin mixed in with the flesh. I had 3 cups of squash flesh. If you have slightly more or less than 3 cups, you may want to adjust the amount of liquid in the recipe so the soup isn't too thick or thin.
Place a large, heavy bottom pot over medium-high heat and warm the olive oil. Then add the chopped fennel, apple and shallots and cook, stirring occasionally, for 10 minutes. Add the minced garlic, salt and black pepper and cook for about 2 minutes more. Then stir in the vegetable broth and cooked squash flesh. Cover the pot and bring the soup to a simmer. Cook, covered, for about 20-25 minutes. The vegetables should be soft.
Remove the pot from the heat and allow the soup to cool slightly. Then purée the soup until completely smooth, using either an immersion blender or a regular blender, and taking care when transferring and blending hot liquids. Return the puréed soup to the pot and stir in the heavy cream. Taste and adjust for salt and black pepper. Re-warm before serving, if necessary.
Meanwhile, make the savory granola. Pre-heat your oven to 350 degrees. In a medium bowl, toss together the oats, nuts, seeds, salt and cayenne pepper. In a separate small bowl, whisk together the olive oil, agave nectar and the egg white. Pour this liquid mixture over the dry ingredients, stirring until well coated. Then spread the granola out onto a rimmed baking sheet and bake in your pre-heated oven for about 25 minutes, or until golden brown, stirring once halfway through cooking time. Remove and set aside to cool completely. The granola can be stored in an airtight container at room temperature for several days.
To serve, ladle the warm soup into bowls. Top with some of the savory granola and a few microgreens or fresh herbs, if desired.
https://www.floatingkitchen.net/red-kuri-squash-and-fennel-soup-with-savory-granola/
December Eat Seasonal Recipes
Beet & Pomegranate Green Smoothie by JoyFoodSunshine
Kale and Brussels Sprout Salad with Lemon Vinaigrette by Flavor the Moments
Mini Fruitcakes by Healthy Seasonal Recipes
Garlic and Herb Twice Baked Baby Potatoes by She Likes Food
Roasted Butternut Squash and Grape Crostini by Vintage Mixer
SaveSave
SaveSave
SaveSave
SaveSave
SaveSaveSaveSave
SaveSave
This post was originally published here on December 19, 2014. I've since updated the photographs and text. Please let me know if you try it out for the Holidays!
I think I've finally recovered enough from my post-Thanksgiving sluggish-ness (i.e. excessive pie and wine) to get started on some Christmas baking endeavors. Are you with me?
I sure hope so. Because today I'm bringing back an old favorite from way back in the day (circa 2014, which is like an eternity in the blog-o-sphere): my Braided Cardamom and Chocolate Hazelnut Bread.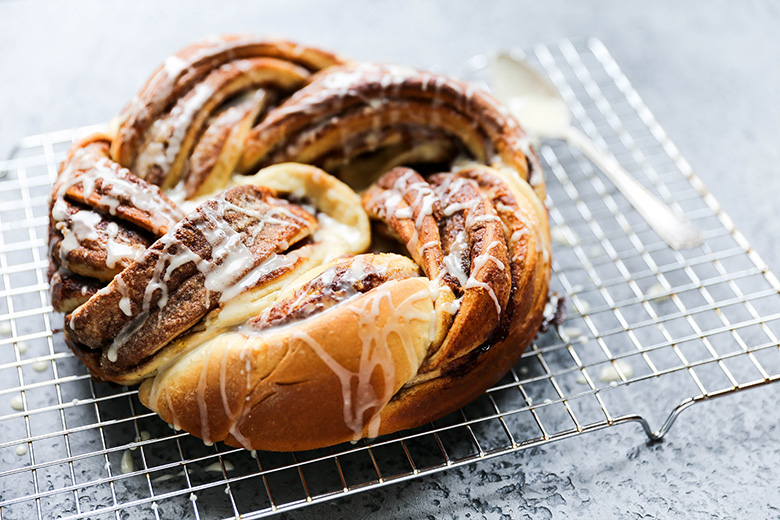 I still remember the first time I ever made this recipe. Because as soon as I pulled it out of the oven, I immediately snapped a photo of the finished product and sent it to my Mom with the caption "Look! I made something pretty!". I was so stupidly proud of how beautiful the bread turned out, that I just had to share that moment with someone. And my Mom was the obvious choice. Because really, who else can we brag to about all our accomplishments, even if they seem silly and insignificant?
In my eyes, however, this Braided Cardamom and Chocolate Hazelnut Bread was a masterpiece of epic proportions. Luckily, my Mom agreed with me.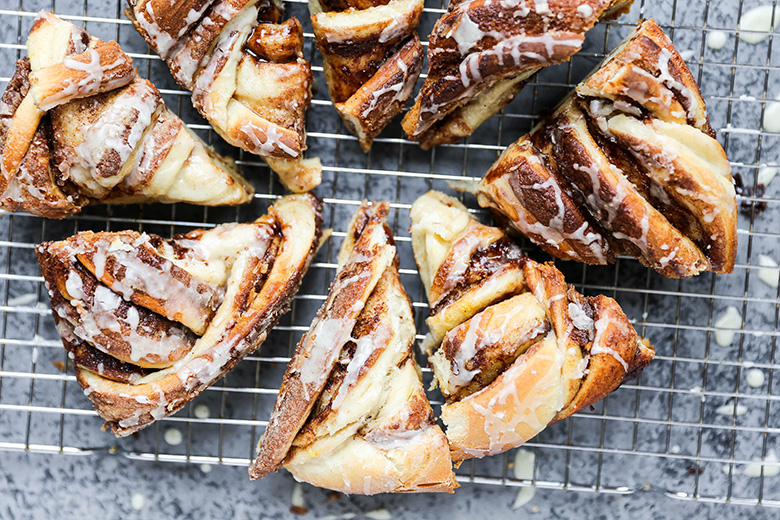 Since that fateful day, I've made several other versions of this sweet, yeasted bread. The base recipe never fails to rise and bake up perfectly. And it's show stopping presentation is one that always has my family and friends ooh-ing and aah-ing. It's perfect for a special occasion, like Christmas brunch. Or for any weekend morning when you have a few hours of extra time on your hands. I love waking up early on a cold Winter morning to start the dough rising while I enjoy my first cup(s) of coffee. Nothing fills my kitchen with warmth and happiness like fresh, homemade baked goods.
Please don't be intimated by the braiding part (steps 10 and 11 in the recipe instructions). It's really not that complicated. And it doesn't have to be perfect, either. The different sized swoops and swirls is what I think makes this bread feel so inviting and homey. It's perfectly imperfect in all the best ways!
Cheers,
Liz
Recipe adapted from my Pecan Sticky Buns
Ingredients
For the Dough
3 - 3 1/4 cups all-purpose flour
1/3 cup sugar
1 tsp. salt
1 tsp. ground cardamom
1 package (2 1/4 tsp.) active dry yeast
1 cup milk
1/4 cup (4 tablespoons) unsalted butter, room temperature
1 egg, lightly beaten

For the Filling
1/2 cup sugar
1 tsp. ground cardamom
3 tablespoons unsalted butter
3 tablespoons chocolate-hazelnut spread (like Nutella)
Finely grated zest from 1 orange

For the Glaze
1/2 cup confectioners sugar
1/4 tsp. ground cardamom
About 2 tablespoons orange juice
Instructions
In the bowl of your stand mixer, whisk together 2 cups of the flour, the sugar, salt, ground cardamom and yeast. Switch to the dough hook attachment.
Warm the milk to 120-130 degrees Fahrenheit. Add the butter and let it soften in the warmed milk. It doesn't have to melt completely, you just want it to be very soft. Then add this mixture along with the beaten egg to the dry ingredients. Beat on medium speed for 1-2 minutes, scraping down the sides of the bowl as necessary. Once the mixture is well combined, start slowly adding in more flour, about 1/4 cup at a time, until the dough is soft, easy to handle and easily leaves the side of the bowl. You'll need anywhere between 1 to 1 1/4 cups flour.
Mix the dough on low-medium speed for about 5 minutes, pulling the dough down off the hook as needed. The dough should be smooth and elastic. Alternatively, you can knead the dough by hand on a lightly floured countertop for about 5 minutes.
Gather up the dough with your hands and shape it into a ball. Transfer it to a lightly oiled bowl, turning the dough to coat it with a thin layer of oil on all sides. Then cover the bowl loosely with a thin kitchen towel and let the dough rise in a warm place for 1 to 1 1/2 hours, or until roughly doubled in size.
Once the dough has risen, gently punch it down to deflate it. Remove it from the bowl and transfer it to a floured countertop. Then shape it with your hands into a rectangle. Next, use a rolling pin to roll the dough out into a 24 X 12-inch rectangle. This will take a little bit of time, because the dough can be fairly elastic and "springy" at first. If it's bouncing back too much, let the dough rest for a few minutes, then try rolling it out again.
Once the dough is rolled out, make the filling. In a small bowl, stir together the sugar and cardamom and set it aside. In a separate microwave safe bowl, microwave the butter and chocolate-hazelnut spread for 20-30 seconds, or until the two are just soft enough to be well combined.
Spread the softened butter/chocolate-hazelnut mixture out in a thin layer evenly over the surface of the dough, leaving about a 1/2-inch boarder around the edges. Then sprinkle the sugar/cardamom mixture evenly over the top. Finally, top with the orange zest.
Beginning at one of the long edges of your rectangle, tightly roll up the dough into a log. Then pinch the edges of the dough together to seal the log as best you can.
Spray a baking sheet and the ring of a 9- to 10-inch springform pan with non-stick cooking spray and set them both aside.
Using a sharp knife, slice the roll lengthwise, creating two equal sized long halves, but leaving one end still attached by about 3/4-inch at the very end. Slightly rotate the halves outwards so the layers are facing upwards. Then starting from the end that is still attached, cross the two halves over each other. Continue doing this until you end up with a single twisted/braided rope. Pinch together the end of the rope.
Gently slide the rope onto your greased baking sheet. Starting with one end, spiral the rope into a closed circle. The circle doesn't have to be tight, because the bread will rise and puff up as it bakes, filling in any small spaces. But it shouldn't have a large hole in the center, either (think about making a shape that resembles a snail shell, not a wreath). Tuck the very end of the rope under the circle so it doesn't stick out.
Place the ring of your springform pan over/around the dough circle to contain it. Then cover loosely with a thin kitchen towel and let the dough rise in a warm place for 30 minutes.
Meanwhile, pre-heat your oven to 350 degrees. Position an oven rack in the middle position.
Remove the kitchen towel from the dough, but leave the springform pan in place. Transfer the baking sheet to your pre-heated oven and bake for about 30 minutes, or until the bread is golden brown and puffed. Then remove the baking sheet from the oven and allow the bread to cool for 10-15 minutes before carefully sliding it off onto a wire rack to continue cooling.
While the bread cools, whisk together all of the ingredients for the glaze. Then drizzle the glaze over the bread before slicing and serving.
This bread is best when it's enjoyed the day it's made. Leftovers can be stored in an airtight container at room temperature for about 2 days, and re-warmed slightly before eating.
https://www.floatingkitchen.net/braided-cardamom-and-chocolate-hazelnut-bread/
SaveSave
SaveSaveSaveSave
SaveSave
SaveSave
SaveSaveSaveSave
SaveSave
SaveSaveSaveSave
SaveSave