Happy New Year! I hope 2017 is off to a wonderful start for everyone.
I must say, this first week of January has been pretty good to me. I'm feeling more rested and relaxed than usual. And I may have even detected a small "spring in my step" the other day when I was out walking my dog. I guess I was anxious (and long overdue) for a bit of a reset.
In general, I always love this time of year. Christmas is safely behind us (remember that I'm a big Scrooge!). And everything seems sparkly and fresh. And while I'm not one for making New Year's resolutions (I find they cause me unnecessary stress and anxiety), I was prompted by a friend to set three words of intention for 2017, and I decided to give that a go. It's a seemingly simple task, but it did force me to pause and think about what I would like to achieve going forward into the New Year.
So my three words for 2017 are: create, peace, present.
What are your intentions for 2017? If you have three words you'd like to set, I'd love to hear them in the comments below!
So…let's talk about this Winter Vegetable Minestrone Soup. YOU GUYS it's so freaking good. I made a giant pot last week and I didn't share it with anyone. I greedily ate it all by myself. And I reveled in the fact that I didn't have to cook for several nights. I was in heaven.
This soup is full to the brim with delicious seasonal vegetables, nourishing ingredients and all the feel good vibes you can handle. It's a great way to kick off the New Year. And trust me, you won't feel deprived one bit. I'm totally digging it. And I know you will be too.
To make this minestrone soup recipe all cozy for winter, I used butternut squash and fennel in place of the usual carrots and celery. Then I added in a couple big handfuls of dark, leafy kale and lots of fresh herbs to keep things bright. I stuck with the more traditional ditalini and white beans, but you could certainly use any small-ish pasta and/or beans that you like. It's all good in my book.
This recipe calls for a large jar of tomato Passata, which is an uncooked tomato purée that has been strained of the seeds and skins. Look for tomato Passata in your grocery store, located next to the other jarred/canned tomato products. Canned tomato purée is cooked and usually not strained, so it's not an exact substitute. But you could probably use it in a pinch, if necessary. The other option would be to purchase canned whole tomatoes, then run them through your food processor or blender and strain them to achieve a smooth consistency.
This soup recipe itself is dairy free. I do like to shred some Parmesan cheese on top to finish the dish for serving. However, if you're going dairy free, just leave that part out. Easy peasy!
I'm sharing this Winter Vegetable Minestrone Soup recipe today as part of our monthly 30 Minute Thursday series. That's right! You can make this gorgeous, satisfying soup in only 30 minutes! Just be sure to use a big pot for increased surface area and faster cooking. And keep the vegetables small and uniform so they cook up quickly and evenly. And before you go, check out the links below to see the other #30MinuteThursday recipes created by some of my blogging buddies!
Cheers,
Liz
Winter Vegetable Minestrone Soup
Ingredients
2 tablespoons extra-virgin olive oil
2 cups peeled and cubed butternut squash
1 cup diced yellow onion
1 cup diced fennel
3 garlic cloves, peeled and minced
1 tablespoon fresh rosemary, minced
1 tablespoon fresh thyme, minced
1 tsp. salt
1/2 tsp. black pepper
4 cups vegetable broth
1 (24.5 ounce) jar tomato Passata (about 3 cups)
1 cup water
1 cup uncooked ditalini pasta
1 (15.5 ounce) can cannellini beans, rinsed and drained
2 cups thinly sliced kale leaves, loosely packed
1 cup fresh parsley leaves, chopped and divided
1 tablespoon lemon juice
Shredded Parmesan cheese for serving, if desired
Instructions
Warm the olive oil in a large stock pot over medium heat. Add the butternut squash, onion and fennel and cook, stirring occasionally, for 8 minutes. If the pot is getting dry, you can add an additional tablespoon of olive oil. Stir in the garlic, rosemary, thyme, salt and black pepper and cook for 2 minutes more.
Add the vegetable broth and Passata. Use the water to rinse out the Passata jar and add it to the pot. Bring the soup to a simmer and cook, stirring occasionally, for 10 minutes.
Meanwhile, bring a pot of water to a boil and cook the ditalini according to the package instructions until it's al dente, about 8 minutes. Drain and set aside.
Add the cannellini beans, sliced kale and 3/4 cups of the chopped parsley to the soup and cook for 2 minutes. Stir in the cooked ditalini and lemon juice. Taste and adjust the soup for salt and black pepper.
Ladle the hot soup into bowls. Top with some of the reserved parsley and a sprinkle of shredded Parmesan cheese, if desired. Serve immediately.
Leftovers can be stored in an airtight container in your refrigerator for 2-3 days. The soup will thicken oven time. You can add additional vegetable broth to thin the soup when re-heating it, if desired.
http://www.floatingkitchen.net/winter-vegetable-minestrone-soup/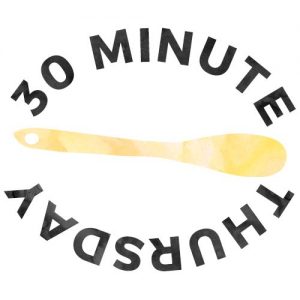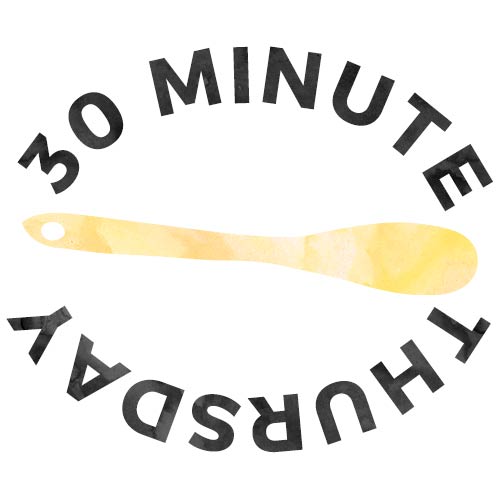 Fajita Gnocchi Skillet with Avocado Salsa from She Likes Food
Chicken Bacon Ranch Panini from Pumpkin N' Spice
30-Minute Chicken with Greek Avgolemono Sauce from Flavor The Moments
One Pot BBQ Chicken Chili Mac from The Recipe Rebel
30-Minute Sausage and Shrimp Gumbo from My Kitchen Craze
Spiralized Veggie Thai Noodle Bowls from Sweet Peas and Saffron
If you're a pumpkin lover, then today is your special day. Because it's the second annual Virtual Pumpkin Party hosted by Sara from Cake Over Steak. Which means that dozens and dozens of brand spanking new savory and sweet pumpkin recipes from some of your favorite food bloggers will be hitting the internet. It's kind of epic.
Me? I've never really been bitten by the pumpkin bug. In fact, I'm sometimes even audibly opposed to the whole idea. Part of this is for social/cultural reasons. I just can't stand the pumpkin mania that descends upon us every August. It's too soon. August is for eating watermelon until your hands and face are sticky. And for enjoying fruity cocktails in the sun until you feel that warm glow both inside and out. August is not meant for pumpkin. So I find myself shunning pumpkin, maybe more harshly than it deserves. Because in my own weird way, it's how I rebel against the early adopters.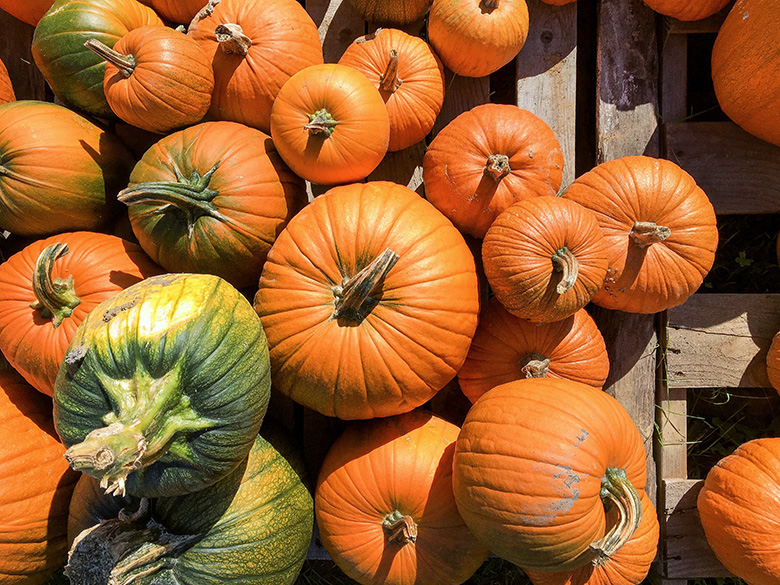 Also, I've come to realize that I'm just not a super huge fan of either the canned stuff or the overpowering flavor that can come from pre-made pumpkin spice mixes. Sure, I've used them in the past with success. And I probably will again in the future. There is no denying their convenience. But maybe going forward, they won't be my main source for pumpkin inspiration.
So to try to learn to love pumpkin (or at least to not so fiercely oppose it), I'm setting my focus on the fresh stuff. Real pumpkins. Grown locally and harvested in season. And you know what? I may be turning over a new leaf.
For last years #virtualpumpkinparty, I crafted this festive Pumpkin Beertail with Tequila and Spiced Rum (have you seen the color of this baby?). So this year, I decided to go the savory route. I picked up some fresh pumpkins from the local farm stand (the ones for cooking will be labeled "sugar pumpkins" or "pie pumpkins") and got to work at creating this easy Chicken and Pumpkin Chili. It's super hearty, filled with big chunks of pumpkin, shredded chicken and both white and black beans. And it's loaded with warming spices like ginger and cumin. Oh and don't skip the corn tortilla chips for serving. They are absolutely necessary, in my humble opinion.
To make my life easier, I used shredded chicken that I removed from one of those grocery store rotisserie chickens. It's one of my favorite kitchen shortcuts, and I have no shame in admitting that. But you can cook your own chicken at home and use that instead, if you prefer.
Dismantling a whole pumpkin can be a bit intimidating. And I'm certainly no expert at this task. I cut mine into wedges, scooped out and discarded the seeds. Then removed the skin with a standard vegetable peeler before dicing the flesh into cubes. If you have a better way of handling things, please let me know! Oh and if you're opposed to pumpkin (or simply can't find any fresh ones), you can substitute in an equal amount of peeled and cubed butternut squash or sweet potato.
To check out all the other bloggers pumpkin recipes, visit Sara's blog HERE for the full list. And here is last years list, if you need even more inspiration!
Cheers,
Liz
Recipe adapted from Gluten Free Goddess
Chicken and Pumpkin Chili
Ingredients
For the Chili
2 tablespoons extra-virgin olive oil
1/2 red onion, peeled and chopped
4 garlic cloves, peeled and minced
1 jalapeño pepper, diced
2 cups peeled and cubed (cut into about 1-inch pieces) fresh pumpkin
2 tsp. ground ginger
2 tsp. dried oregano
1 tsp. ground cumin
1 tsp. ground chili powder
1/2 tsp. ground coriander
1/2 tsp. salt
4 cups chicken broth
2 (15-ounce) cans white beans, rinsed and drained
1 cup black beans, rinsed and drained
3 cups cooked and shredded chicken
1 tablespoon agave nectar
Juice from 1 lime

For Topping
Corn tortilla chips
Fresh cilantro
Instructions
Warm the olive oil in a large heavy-bottom pot over medium-high heat. Add the red onion and cook, stirring frequently, until slightly softened, about 3 minutes. Add the minced garlic and diced jalapeño pepper and cook, stirring frequently, until fragrant, about 1-2 minutes. Add the cubed pumpkin and all the spices, stirring to coat the vegetables in the spices.
Stir in the chicken broth and beans. Cover the pot and bring the chili to a boil. Then turn down the heat to maintain a simmer. Cook the chili, covered, for about 15-20 minutes, or until the pumpkin is tender. Stir in the shredded chicken, agave and lime juice and cook until the chicken is warmed through.
To serve, ladle the chili into bowls. Top with crushed tortilla chips and fresh cilantro, if desired.
Leftovers can be stored in an airtight container in your refrigerator for 2-3 days.
http://www.floatingkitchen.net/chicken-and-pumpkin-chili/