This post was originally published here June 8, 2015. I've updated the recipe instructions so this Dutch baby pancake can now be made miniature in a standard 12-cup muffin tin! So if you don't have a cast iron skillet, it's not a problem!
If you're a regular around these parts, then you know I love a good Dutch baby. But I often get asked "can I make this recipe if I don't have a cast iron skillet?". And up until now, I didn't have a satisfactory answer to that question. So I decided to find out.
Spoiler alert: YES you can!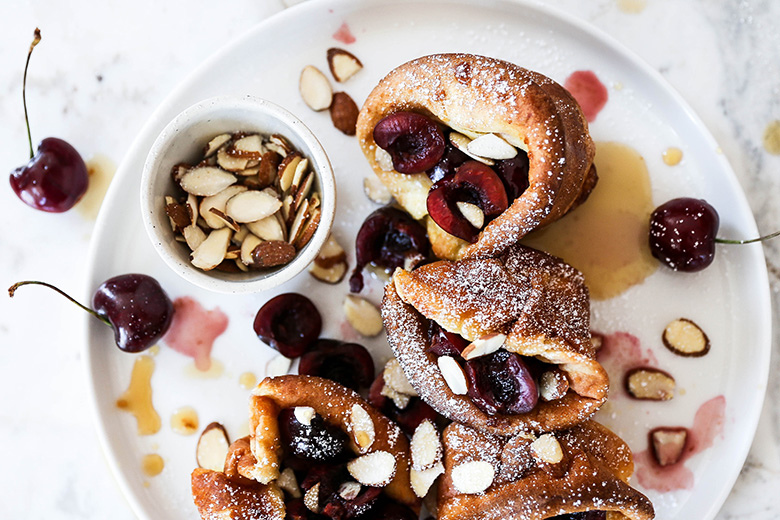 These Mini Bourbon-Soaked Cherry and Almond Dutch Baby Pancakes are baked in a standard 12-cup muffin tin. And I'm confident in saying that a muffin tin is a kitchen item that most people have in their homes. So I hope that makes this recipe more accessible to everyone. Because I firmly believe that a Dutch baby should be part of everyone's cooking repertoire!
Other than baking these individual Dutch babies in a muffin tin instead of making a single large pancake in a cast iron skillet, the rest of the process is the same as ever: (1) make the batter in your blender, (2) pour it into your pre-heated baking vessel with melted butter, (3) bake and watch it puff up through the window of your oven, (4) add all the toppings and enjoy!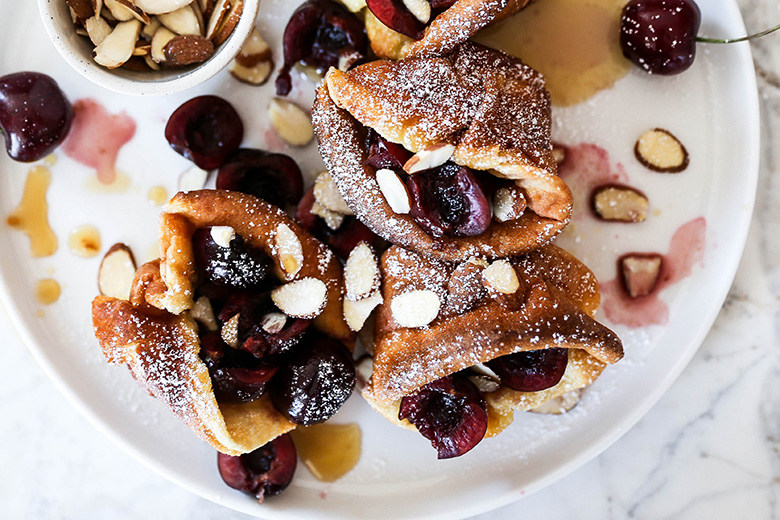 These Dutch babies are topped with fresh cherries that have been soaked in bourbon, sliced almonds, powdered sugar and of course, maple syrup. I think these miniature versions might be even MORE fun to top, because each one is like a little purse that you can fill up with whatever you desire! It's super satisfying to do so. Almost as satisfying as eating them!
Cheers,
Liz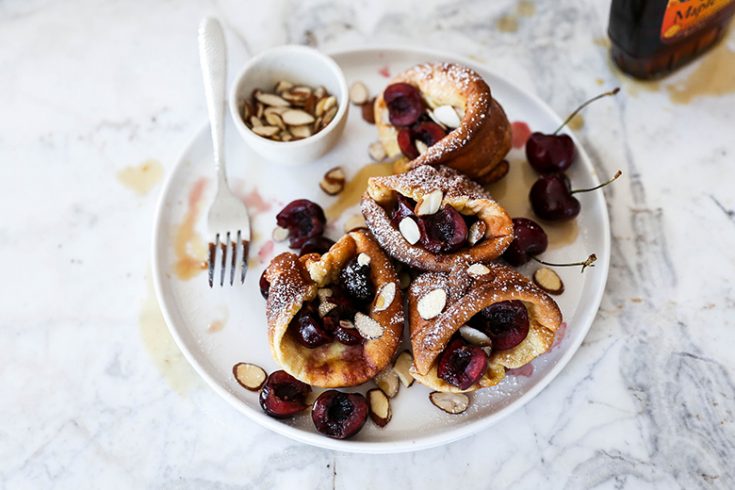 Mini Bourbon-Soaked Cherry and Almond Dutch Baby Pancakes
Yield: Serves about 4
Prep Time: 10 minutes
Cook Time: 15 minutes
Additional Time: 1 hour
Total Time: 1 hour 25 minutes
Ingredients
For the Cherries:
2 cups fresh cherries, stemmed, pitted and halved
About 2 tablespoons bourbon
For the Dutch Baby:
1 cup all-purpose flour
1 cup whole milk
1/4 cup granulated sugar
4 eggs
1 tsp. almond extract
1/4 tsp. salt
6 tablespoons salted butter, cut into 12 pieces
For Serving:
About 1/2 cup sliced almonds
Maple syrup
Powdered sugar
Instructions
Place the cherries in a shallow bowl. Add the bourbon and stir to coat the cherries. Let the cherries soak in the bourbon for about 1 hour at room temperature, stirring them every 15-20 minutes.
Add all the ingredients for the Dutch baby except for the butter to your blender. Blend on high for about 20-30 seconds. Then stop and use a spatula to scrape down the sides and around the blades of the blender. Blend again for about 20 seconds. Set the batter aside to rest.
Place an oven rack in the middle of your oven, removing any racks positioned above it. Then set your 12-cup muffin tin on the rack. Pre-heat your oven to 425 degrees. Once the oven is pre-heated, carefully remove the muffin tin. Add one piece of butter to each of the wells in the muffin tin. Then place the muffin tin back in your oven to fully melt the butter, about 1 minute.
Carefully remove the muffin tin and scoop 1/4 cup of the batter into each of the wells. Transfer back to your oven and bake for 13-15 minutes, or until the Dutch babies have puffed and are golden brown.
Remove the muffin tin from the oven and set it on a wire rack to cool for about 2 minutes. The Dutch babies will start to deflate almost instantly. That is normal.
Using a pair of tongs, remove the Dutch babies from their wells and place them on your serving plates. Fill each one with some of the bourbon-soaked cherries and sliced almonds. Then drizzle with maple syrup and dust with powdered sugar, if desired. Enjoy immediately.