This FABULOUS Ginger Guacamole with Slow Roasted Tomatoes was inspired by a dish I had when I was in Florida back in February.
Remember vacations?
It was the best dish I ate on the entire trip (and we did a lot of great eating!). And I knew after my first bite that I would be re-creating the recipe once I was back at home.
So I did just that. And I was planning to post it here with the hopes that we'd all get to make it at our Cinco De Mayo celebrations. But, well, that certainly is not going to be happening.
BUT! I still wanted to share the recipe with you today. Because it's crazy delicious. Like the best guacamole of my life delicious. And you probably shouldn't go another day without having tried it.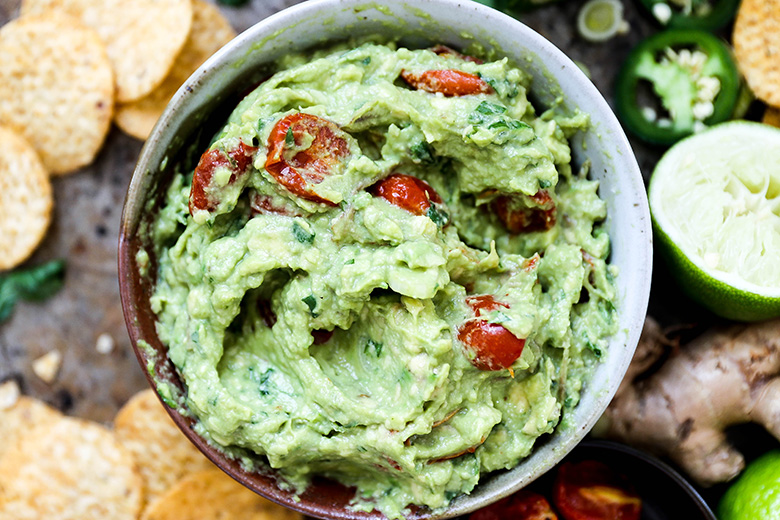 Also, I see you all at home eating ALL THE SNACKS. So why not upgrade from your usual boring chips and dips and make my Ginger Guacamole with Slow Roasted Tomatoes instead! It's got some major zip from the fresh ginger and jalapeño peppers. And the slow roasted cherry tomatoes give it another level of both savory and sweet flavors. The tomatoes are seriously like candy when they come out of the oven. It's hard to resist not eating them straight off the baking pan!
If you make my Ginger Guacamole with Slow Roasted Tomatoes please let me know! And more importantly, tell me what type of margarita(s) you paired with it!
Cheers,
Liz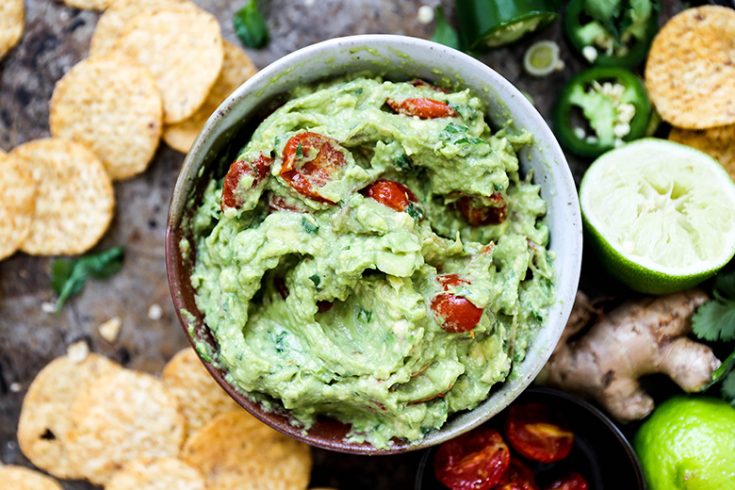 Ginger Guacamole with Slow Roasted Tomatoes
Yield: Serves 8-10
Prep Time: 10 minutes
Cook Time: 1 hour
Total Time: 1 hour 10 minutes
Ingredients
For the Tomatoes:
1/2 pint cherry tomatoes
2 tsp. extra-virgin olive oil
Salt
Black pepper
For the Guacamole:
3 avocados
1 lime
3 scallions, white and light green parts thinly sliced
2-3 tablespoons peeled and minced fresh ginger
1-2 tablespoons minced jalapeño pepper
2 tablespoons fresh cilantro, roughly chopped
1 tsp. salt
Instructions
Pre-heat your oven to 300 degrees. Slice the cherry tomatoes in half and toss them with the olive oil. Spread them cut side-up in a single layer in a glass baking dish and sprinkle with salt and black pepper. Transfer the baking dish to your pre-heated oven and roast the tomatoes for 50-60 minutes. The tomatoes should be wrinkly, but still glossy (i.e. not completely dried out). Remove and set aside.
Cut the avocados in half and remove and discard the pits. Scoop the flesh out into a medium bowl and discard the peels. Zest half the lime into the bowl. Then cut the lime in half and squeeze the juice over the avocado flesh. Use a fork to partially mash the avocados.
Add the scallions, ginger, jalapeño pepper, cilantro and salt to the bowl. Stir to combine the ingredients, mashing the avocados to your desired consistency as you stir. Fold in the roasted tomatoes.
Serve with your favorite chips.
Guacamole is best when served immediately. But it can be covered tightly with plastic wrap and stored in your refrigerator for several hours, if necessary.