This post was originally published here April 4, 2017. I've since updated the text and photographs. This light, bright vegan salad is a great side dish for Spring!
Asparagus has got to be one of the most ubiquitous Spring vegetables in my kitchen. I love to roast or grill it and serve it as a side dish. It's wonderful when stirred into risotto. And I've even been known to put it on my avocado toast!
And, no surprise here, I also love adding it to my salads. What can't asparagus do!?!?
My Shaved Asparagus and Arugula Salad with Farro and Edamame is an easy way to showcase this seasonal vegetable. I keep the asparagus raw and simply shave the stalks into thin ribbons using a standard vegetable peeler. Then I toss those ribbons with cooked farro, arugula, edamame beans, sliced radishes (another iconic Spring vegetable!) and some fresh mint leaves.
The dressing is a simple combination of lemon juice, sesame oil and olive oil. And I use just barely enough to coat and bring together all the ingredients into one cohesive dish.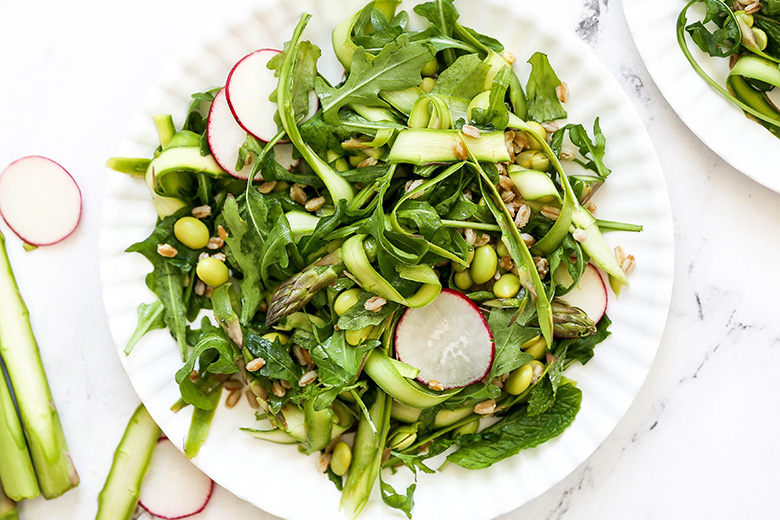 Normally I'm all about the "salad as a main meal" type of lifestyle. But this is one case where I'm going to recommend serving this salad as a side dish instead of a main dish. It's so light and bright, that I think it's much more well suited to be enjoyed alongside something a little more substantial. I served it at Easter dinner and it went PERFECTLY with our baked ham and scalloped potatoes.
If you haven't cooked with farro before, it's important to note that farro can be sold as "whole", "semi-pearled" or "pearled". Those categories refer to whether or not the bran has been removed. Most large chain grocery stores typically carry pearled farro, which cooks the mostly quickly and it's what I've used in this recipe. But if you can only find whole or semi-pearled, just follow the cooking instructions on the package. And if by chance you can't find any farro varieties, you can substitute it in this salad with cooked quinoa, brown rice or orzo.
Cheers,
Liz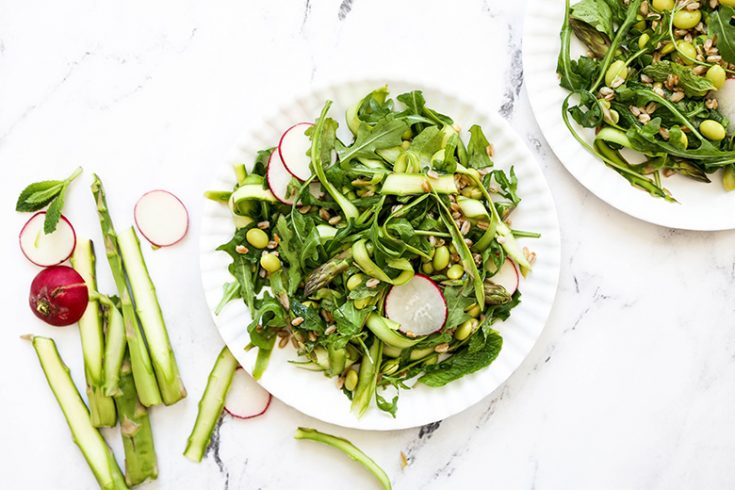 Shaved Asparagus and Arugula Salad with Farro and Edamame
Yield: Serves about 4
Prep Time: 10 minutes
Cook Time: 30 minutes
Total Time: 40 minutes
Ingredients
1 cup water
1/2 cup pearled farro
1/2 lb asparagus
Juice from 1 lemon
1 tsp. sesame oil
1 tsp. extra-virgin olive oil
1/4 tsp. salt
2 cups arugula
1/2 cup shelled and cooked edamame beans
2 tablespoons fresh mint leaves, torn
2 radishes, trimmed and thinly sliced
Instructions
In a medium saucepan, bring the water to a boil. Stir in the farro. Cover the saucepan and reduce the heat to maintain a simmer. Cook the farro for 25-30 minutes, or until the water has been adsorbed. Remove the saucepan from the heat and fluff the farro with a fork. Set it aside to cool.
Meanwhile, remove the tips from the asparagus and place them in a large bowl. Then using a vegetable peeler, shave the remaining stalks into thin ribbons. Add these ribbons to the bowl. Drizzle the asparagus with the lemon juice, oils and sprinkle with the salt, tossing to coat. Then add the arugula, edamame, mint leaves, radishes and cooled farro. Toss to combine.
Divide the salad between serving plates and enjoy immediately.