This post was originally published here November 9, 2013. I've since updated the text and photographs. This is a great vegan and gluten-free dish for the Holidays!
Warm salads can be very hit or miss. There is a fine line between delectable and mushy, especially when there are leafy greens involved. But this warm Maple and Spice Roasted Winter Vegetable Salad has stuck with me throughout the years. So I guess it's safe to say that it's definitely NOT mushy. In fact, I'd claim it to be pretty gosh darn close to being perfectly balanced in terms of textures and flavors. It's a great dish for the Holidays. And it can be served as a main dish (it's both vegan and gluten-free friendly), or as a side dish. I love that it covers so many bases in just a single dish (potatoes, squash, greens!).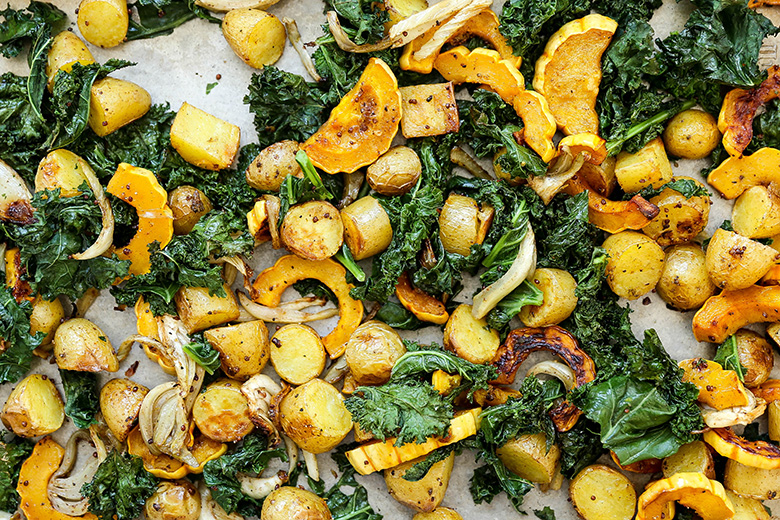 The key to getting the roasted vegetables to come out tender and caramelized, while preventing the kale from turning into green slime, is cooking them on separate baking sheets. So yes, you'll need two large rimmed baking sheets for this recipe. On one sheet, you'll roast the potatoes, delicata squash and fennel. And when those ingredients are close to being finished, you'll pop the second baking sheet with the kale into your oven for the last 10 minutes of cooking time. This is just enough time to make the kale tender, while maintaining some of its characteristic crunch.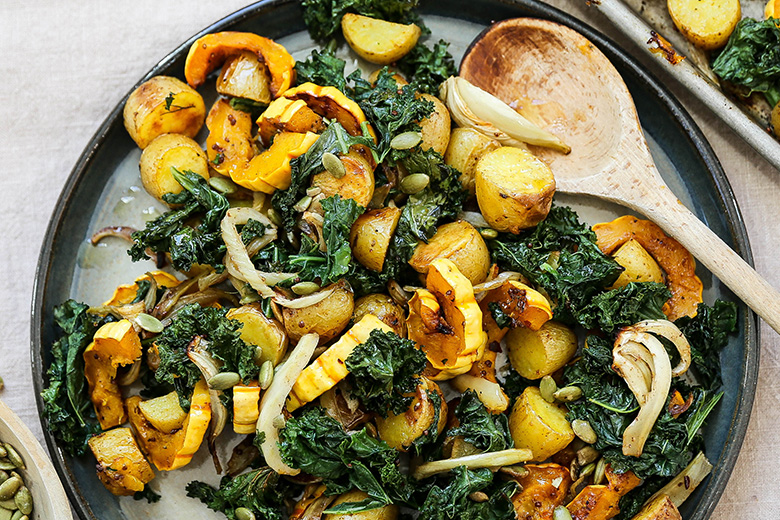 The dressing for the roasted vegetables is a heavenly and aromatic combination of maple syrup, whole grain mustard, cinnamon, nutmeg, cayenne pepper and red pepper flakes. So as you might have guessed, it's got a little bit of heat. But I find this to be a welcome change to the sometimes overly sugary preparations of squash and potatoes that tend to be common this time of year (I'm looking at you sweet potato casserole with marshmallows!). This recipe definitely brings the cozy!
Ideally, this salad should be served immediately after cooking while it's still warm. But nothing terrible will happen if it sits at room temperature for a bit. No one ever ruined Thanksgiving or Christmas dinner over a salad. And I promise you won't either!
Cheers,
Liz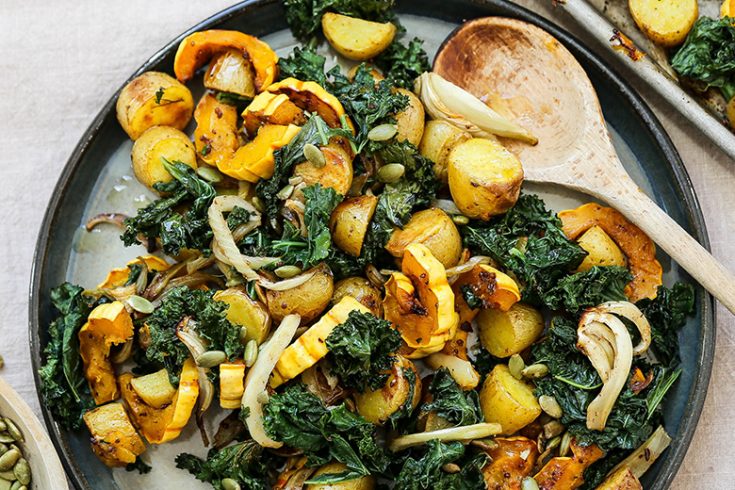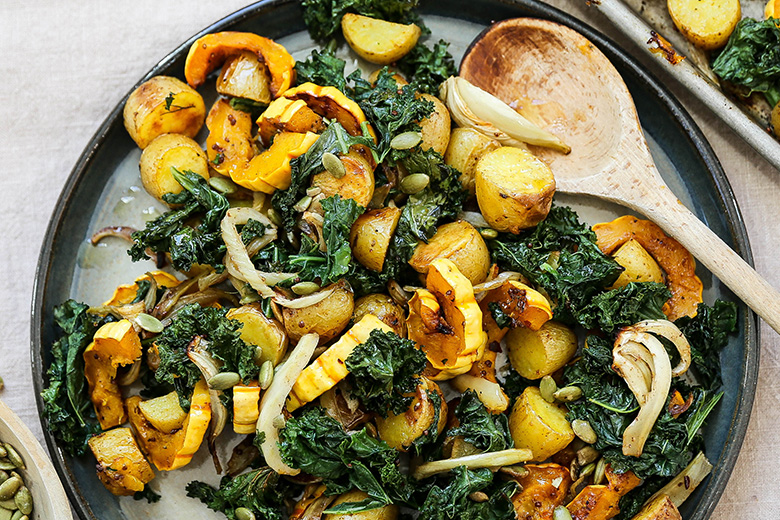 Maple and Spice Roasted Winter Vegetable Salad
Yield: Serves about 4
Prep Time: 15 minutes
Cook Time: 45 minutes
Total Time: 1 hour
Ingredients
For the Dressing:
2 tablespoons extra-virgin olive oil
2 tablespoons maple syrup
1 tsp. whole grain mustard
1/2 tsp. salt
1/2 tsp. black pepper
1/2 tsp. ground cinnamon
1/4 tsp. ground nutmeg
1/4 tsp. cayenne pepper
1/4 tsp. red pepper flakes
For the Vegetables:
1 lb new potatoes, cut into 1-inch pieces
1 delicata squash, halved, seeds removed and sliced into half-moons
1 fennel bulb, trimmed and sliced
1 large bunch curly kale, thick stems removed and leaves torn
1 tablespoon extra-virgin olive oil
1/4 tsp. salt
2 tablespoons roasted and salted pepitas
Instructions
Pre-heat your oven to 400 degrees.
In a small bowl, stir together all the ingredients for the dressing. Set aside.
Add the potatoes, delicata squash and fennel to a large bowl. Scrape in all the dressing and toss until everything is well coated. Dump everything out onto a large rimmed baking sheet. The baking sheet will be very full and the vegetables will overlap some. Transfer the baking sheet to your pre-heated oven and roast for 35 minutes.
Meanwhile, add the kale to the same large bowl. Drizzle with the olive oil and then use your fingers to massage it into the leaves. Spread the kale out onto a second rimmed baking sheet. Sprinkle with the salt.
After 35 minutes, stir the roasting vegetables and return them to your oven. And add the baking sheet with the kale. Roast everything for an additional 10 minutes.
Remove both baking sheets from your oven. The vegetables should be soft and browned in a few places. The edges of the kale should be slightly crisp.
Toss the roasted vegetables and kale together and transfer to a serving dish. Top with the pepitas. Enjoy immediately.