This post was originally published here June 10, 2015. I've since adjusted the recipe slightly. And I've updated the text and photographs to reflect those changes. I hope you try out this fun Summer treat
GRILLED WATERMELON!!! ARE YOU HERE FOR IT???
This is one of the most fun things you can do with watermelon during the Summer months. Other than blending it into boozy slushies. Or turning it into portable margaritas. Or making it into a refreshing gazpacho.
OK. I think you get the point here. I love watermelon in all forms. And grilled watermelon is just another way I get all excited to enjoy it!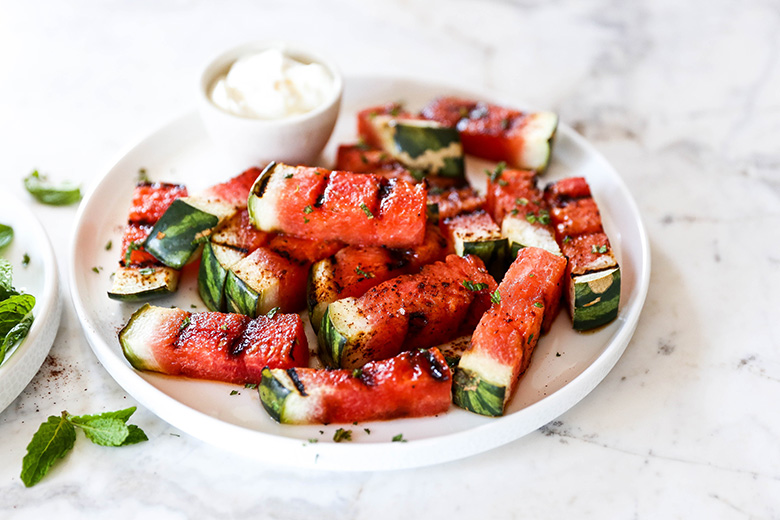 This Spicy Grilled Watermelon with Honey-Yogurt is one of those "non-recipe recipes". The formula of which goes something like this: cut up a watermelon, sprinkle it with chili powder or cayenne pepper, grill it for a couple minutes, then hit it with some lime juice, flaky sea salt and fresh mint. Done.
Oh and while you're at it, stir a squeeze of honey into some Greek yogurt for dipping. It's the perfect little cool down for the spicy grilled watermelon.
This is such a crowd-pleasing recipe for any Summer cookout or potluck. It's a must-try at your next outdoor gathering!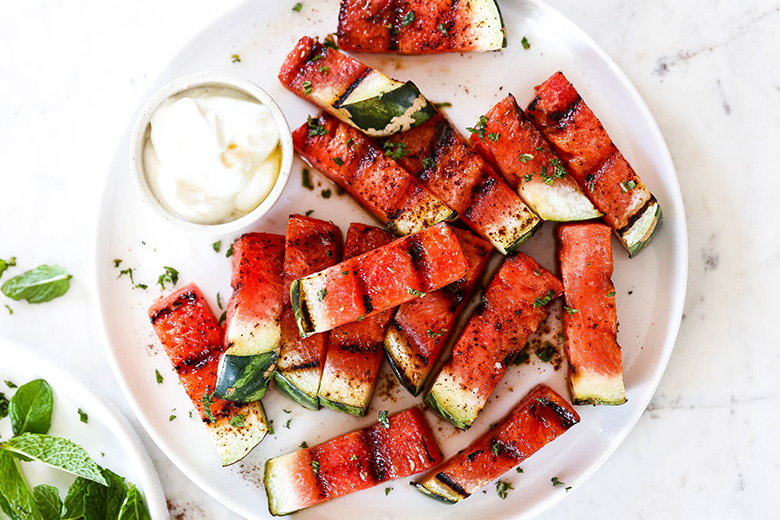 I will only demand you follow one part of the instructions exactly as written. And it's this: cut your watermelon into batons. Yes. This makes all the difference. I know it seems like a silly thing. But trust me. I used to make this recipe by cutting the watermelon into wedges (what was I thinking?). But the batons are so much easier to grill and serve. AND they are more enjoyable to eat, too (easier to handle and dip)!
If you try out my Spicy Grilled Watermelon with Honey-Yogurt (or any of my other watermelon recipes!) this Summer, give me a shout out on social media. I'd love to hear from you!
Cheers,
Liz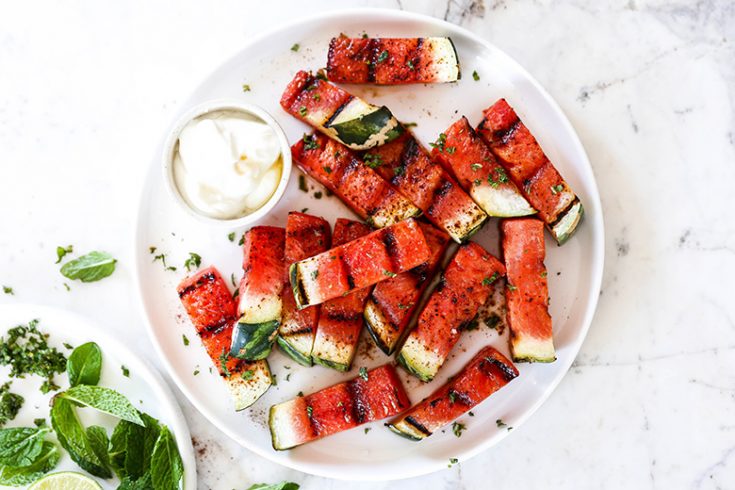 Spicy Grilled Watermelon with Honey-Yogurt
Yield: Serves about 6
Prep Time: 10 minutes
Cook Time: 5 minutes
Total Time: 15 minutes
Ingredients
1 small seedless watermelon
Ground chili powder or cayenne pepper
1/2 lime
Flaky sea salt
Fresh mint, minced
1/2 cup full-fat Greek yogurt
1 tablespoon honey
Instructions
Pre-heat your grill to medium-high.
Cut the watermelon into batons and place them on a large tray. Sprinkle the batons with a few pinches of chili powder/cayenne pepper. Then place the batons directly on your pre-heated grill. Cook for about 1-3 minutes per side, or until they become slightly soften and develop grill marks in a few places.
Remove the grilled watermelon batons and place them back on your tray. Squeeze the lime over the batons while they are still warm. Then sprinkle with a few pinches of flaky sea salt and fresh mint.
Meanwhile, stir together the yogurt and honey. Serve alongside the grilled watermelon batons.