This post was originally published here June 15, 2015. I've since changed the recipe slightly. And I've updated the text and photographs to reflect those changes.
Two Big F*cking Salad recipes in a row can only mean one thing. We're on the cusp of peak salad season!
You all know that I love a BFS any time of the year (and any time of the day!). But Summer is just begging for ALL the salads to be made and enjoyed. And with the unofficial start of Summer fast approaching, I've got and BFS's on my mind!
If the previous salad was a celebration of Spring, then this Almond-Crusted Chicken Caprese Salad is a nod towards Summer. Because there is no better Summer salad than a caprese salad (I'll fight you on this if you disagree). And my Almond-Crusted Chicken Caprese Salad is essentialy an amped up version of that.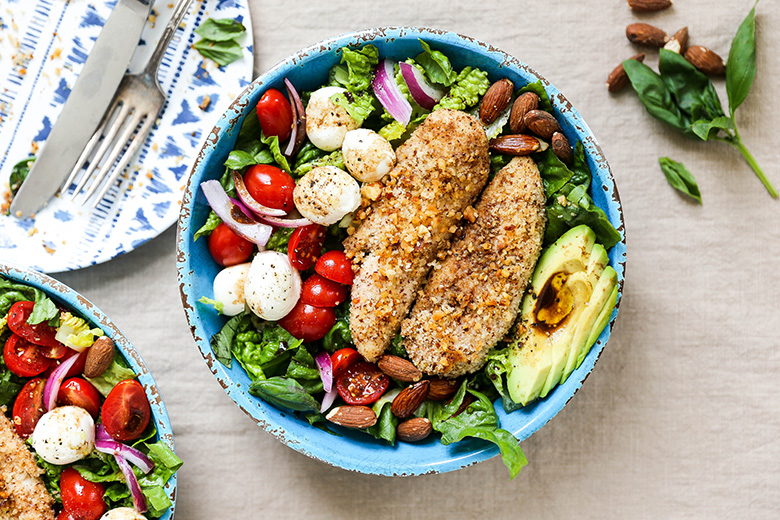 This salad has all the caprese salad must-haves, including fresh tomatoes, fresh mozzarella, fresh basil and some good quality olive oil and balsamic vinegar. I've added in some sliced avocado and red onion. And lots of chopped romaine lettuce for maximum crunch and freshness.
I top each salad with a couple homemade almond-crusted chicken tenders. These are incredibly quick and easy to make, especially if your grocery store carries pre-cut boneless, skinless chicken tenders (mine always does, but if yours doesn't, you can buy regular chicken breasts and slice them into strips). For the coating, a simple mix of almonds, panko breadcrumbs and a few seasonings is all you need. And they bake in the oven in under 15 minutes. They are barely any more effort than reaching for a box of frozen chicken fingers (although there is no shame in that game once in a while!).
Oh and I highly recommend serving these Almond-Crusted Chicken Caprese Salad in a blue bowl for maximum Memorial Day Weekend vibes. That was a happy accident on my part, but I'm digging it now!
Cheers,
Liz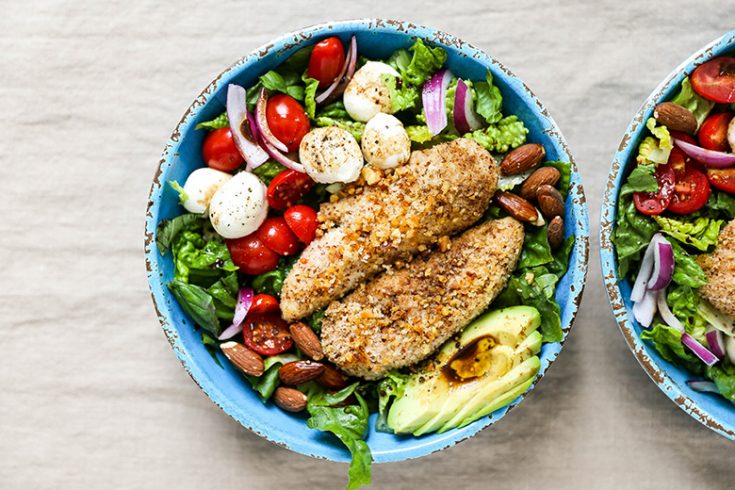 Almond-Crusted Chicken Caprese Salad
Yield: Serves 4
Prep Time: 15 minutes
Cook Time: 15 minutes
Total Time: 30 minutes
Ingredients
For the Almond-Crusted Chicken:
3/4 cups roasted, salted almonds
1/2 cup panko bread crumbs
1/2 tsp. salt
1/4 tsp. black pepper
1/4 tsp. cayenne pepper
1.25 lbs boneless, skinless chicken tenders
For the Salad:
1/4 cup extra-virgin olive oil
1/4 cup balsamic vinegar
2 tsp. maple syrup
1 tsp. Dijon mustard
1/4 tsp. salt
1/4 tsp. black pepper
4 heads romaine lettuce, chopped
8 ounces fresh ciliegine mozzarella balls, drained
1 pint cherry tomatoes, halved
1 avocado, pitted, peeled and sliced
1/4 cup thinly sliced fresh basil leaves
1/4 cup thinly sliced red onion
1/4 cup roasted, salted almonds
Instructions
Pre-heat your oven to 400 degrees. Spray a 9 X 13-inch baking dish with non-stick cooking spray and set it aside.
In your food processor with the blade attachment, pulse together the almonds, panko bread crumbs, salt, black pepper and cayenne pepper until the mixture resembles coarse sand. Transfer the coating mixture to a large zip-closure bag. Add the chicken tenders to the bag and seal it. Then shake the bag, separating the chicken tenders if they get stuck together, until the chicken tenders are evenly coated.
Spread the coated chicken tenders out in a single layer in your prepared baking dish. Top each with about a tablespoon of the remaining coating mixture, pressing it down to adhere, then discard the zip-closure bag and any remaining coating mixture. Transfer the baking dish to your pre-heated oven and bake the chicken tenders for 12-15 minutes, or until fully cooked. The juices should run clear and the internal temperature should measure 165 degrees. Remove from the oven and set aside to cool.
Meanwhile, in a small bowl whisk together the olive oil, balsamic vinegar, maple syrup, Dijon mustard, salt and black pepper. Set aside.
To assemble the salads, divide the chopped romaine, mozzarella, tomatoes, avocado slices, basil, red onion and almonds between 4 bowls or plates. Top with the chicken. Drizzle with the dressing. Enjoy immediately.