The avocado extravaganza that I eluded to last week continues today.
But here is the thing. These Sweet Potato and Broccoli Crostini with Avocado and Za'atar, in all their plant-based, carbolicious glory, seem rather trivial and trite at the moment. Because as you've probably noticed, things in this country are getting bad. Like real bad.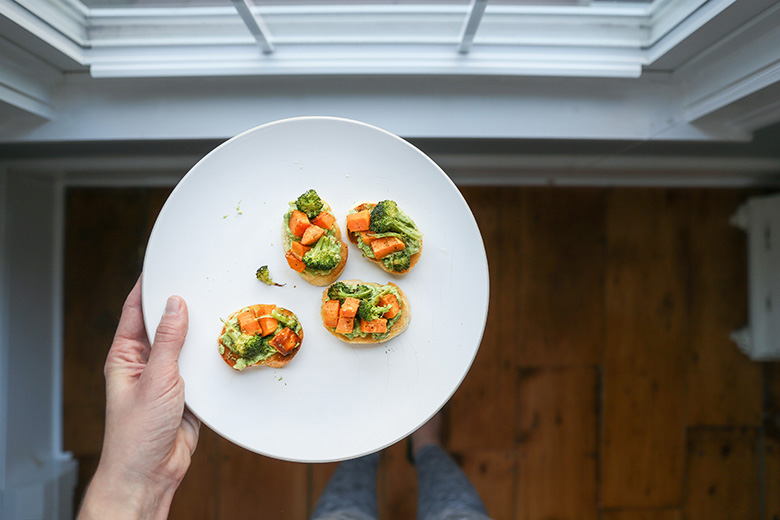 And yes, I know that this blog is a place for sharing recipes, photography and the occasional bad joke. I understand that those are the reasons why you've come here today, why you've visited in the past and why (hopefully) you'll be back in the future. I get it. Really I do. And that is precisely why I don't get overly personal in this space on a regular basis.
But to stand by and say nothing, seems wrong. Silence isn't an option anymore. Things aren't normal. And I can't (and won't) act like they are. I don't support the decisions being made by our President. And I'm fighting those decisions in ways that I know how to do – like by signing petitions, donating money to reputable organizations, contacting my elected officials and joining protests.
I hope that many of you are doing some of these very same things.
I'm also eating my feelings. And I'm not ashamed to admit that these Sweet Potato and Broccoli Crostini with Avocado and Za'atar have been getting me through some tough moments. As an extreme lover of avocado toast, the combination of bread and smashed avocado has basically evolved into my version of comfort food. It soothes me. Screw alcoholic beverages, bubble baths and massages. Just give me avocado toast.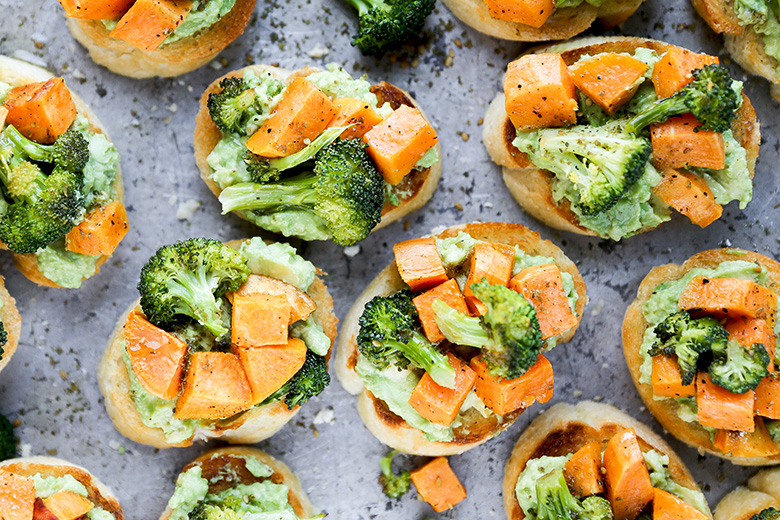 As with a lot of crostini recipes, this one is pretty customizable. Butternut squash would be great. You could try roasted cauliflower instead of the broccoli. And a drizzle of balsamic vinegar or agave nectar would be a nice addition, too. Oh and of course a little cheese never hurts. I left it out to keep these little appetizers vegan (just be sure to check the ingredient list on your bread). But goat cheese plus avocado is a favorite combination of mine, and I know it would work beautifully here in this recipe, if you're so inclined.
Peace, love and respect.
Cheers,
Liz
Ingredients
2 small sweet potatoes, peeled and cubed
5 tablespoons extra-virgin olive oil, divided
1 tsp. salt, divided
1/2 tsp. black pepper
1 head broccoli, cut into florets
2 tablespoons fresh squeezed lemon juice, divided
1 (12-ounce) French baguette, sliced
2 ripe avocados, halved and seeded
About 1 tsp. za'atar seasoning
Instructions
Pre-heat your oven to 425 degrees.
Toss the cubed sweet potatoes with 2 tablespoons of the olive oil, 1/2 tsp. of the salt and the black pepper. Spread the sweet potatoes out onto a large rimmed baking sheet and roast in your pre-heated oven for 10 minutes. The remove the baking sheet from your oven and add the broccoli and an additional tablespoon of olive oil. Stir to combine. Return the baking sheet to your oven and roast the vegetables for an additional 10-12 minutes, or until they are soft and starting to brown in a few places. Remove from the oven and sprinkle with 1 tablespoon of the lemon juice. Set aside to cool slightly.
Pre-heat your broiler. Spread the baguette slices out onto a second rimmed baking sheet. Brush the tops lightly with the remaining olive oil. Then place the baguette slices under your broiler until they turn golden around the edges, about 1-2 minutes. Remove from the oven and set aside to cool slightly.
Meanwhile, scoop the flesh out of the avocados and add it to a medium bowl. Add the remaining tablespoon of lemon juice and the remaining 1/2 tsp. of salt. Then mash the avocados lightly with a fork.
To assemble the crostini, spread some of the mashed avocado on the toasted baguette slices. Top with some of the roasted squash and broccoli. Sprinkle with za'atar seasoning. Serve and enjoy.
https://www.floatingkitchen.net/roasted-sweet-potato-and-broccoli-crostini-with-avocado-and-zaatar/
Hi Friends! I hope you all had a fabulous Christmas! Was Santa good to you? Have you come down off your cookie-induced sugar high yet?
I think I'm still somewhere floating in the sugary clouds. I ate A LOT of cookies. Way too many to count. And even if I had counted, I certainly wouldn't put that number down in writing for the whole world to see.
So I'm popping in real quick today to bring you this Warm Spinach Salad with Roasted Grapes and Sweet Potatoes. It's the perfect recipe if you're feeling the need to hit the "reset" button. And it would also be a great salad to add to your New Year's Eve menu, if you just so happen to be hosting a party (or going to a party!).
The inspiration for this dish came from one of my favorite spinach salad recipes from the archives. I added some roasted sweet potatoes to make it a bit more filling (this could totally pass as a "main meal" type of salad). And I decided to give it a bit of a New Year's Eve twist with the addition of roasted grapes. Did you know that grapes are one of the traditional and/or lucky foods that you're suppose to consume on New Year's Eve? As it goes, at midnight you eat twelve grapes, one to symbolize each of the twelve months in the upcoming year. You're suppose to finish all twelve grapes before the last stroke of midnight, which apparently is a task that's easier said than done. I think I'll give it a try this year!
You want the spinach in this recipe to wilt slightly, so be sure to scrape in the roasted sweet potatoes and grapes (and any olive oil from the pan), while they are still warm.
I hope you all have a fun and safe New Year's Eve. I'll be sipping on these Grapefruit and Sage Champagne Cocktails. If you haven't tried them yet, it's the perfect time to do so!
See you in 2017!
Cheers,
Liz
Ingredients
2 cups red seedless grapes
1 large sweet potato, peeled and sliced into thin triangles
1/4 cup extra-virgin olive oil
1 tablespoon maple syrup
1 tablespoon fresh rosemary, minced
1/2 tsp. salt
8 cups baby spinach
2-4 tablespoons balsamic vinegar
1/2 cup hazelnuts, chopped
1/2 cup crumbled goat cheese
Instructions
Pre-heat your oven to 400 degrees. In a large bowl, toss together the grapes, sweet potatoes, olive oil, maple syrup, rosemary and salt until the grapes and sweet potatoes are evenly coated with the olive oil. Transfer to a large rimmed baking sheet and roast in your pre-heated oven for 20 minutes, stirring once halfway through the cooking time. The sweet potatoes should be soft and the grapes should be slightly wrinkly. Remove from the oven and set aside.
Place the spinach in a very large bowl. Add the warm roasted grapes and sweet potatoes to the spinach, making sure to scrape in any oil left behind on the baking sheet. Toss gently to combine, sprinkling with some balsamic vinegar as you do so. Add the hazelnuts and goat cheese, tossing gently to combine.
Transfer the salad to serving dishes and enjoy while still warm.
https://www.floatingkitchen.net/warm-spinach-salad-with-roasted-grapes-and-sweet-potatoes/